For stonemason Tina Hart, working on the restoration of Calgary's 109-year-old city hall was a labour of love.
"I got a chance to use all my masonry training and learn more about restoration work," she says. "In a shop environment, I was only cutting stone. I needed to use my trowel skills and the project had the best of both worlds. I could do the cutting and the carving of the stone as well as work on the building itself."
Hart was part of a small team of stonemasons working on a $34.1-million restoration of the historic sandstone building. The structure is the only surviving city hall from its time period in Western Canada.
The work under way is extensive and includes restoration of the building's foundation and roof and new structural steel inside the 100-foot clock tower. Nearly all of the building's 15,522 pieces of sandstone — ranging in size from five to nearly 300 kilograms – are being cleaned, structurally fortified or replaced.
The project is expected to be completed this summer.
It was painstaking work, but for Hart, who's worked on blocks for historic buildings across North America, the laborious process of methodically removing stones from the building and refinishing them was just the ticket.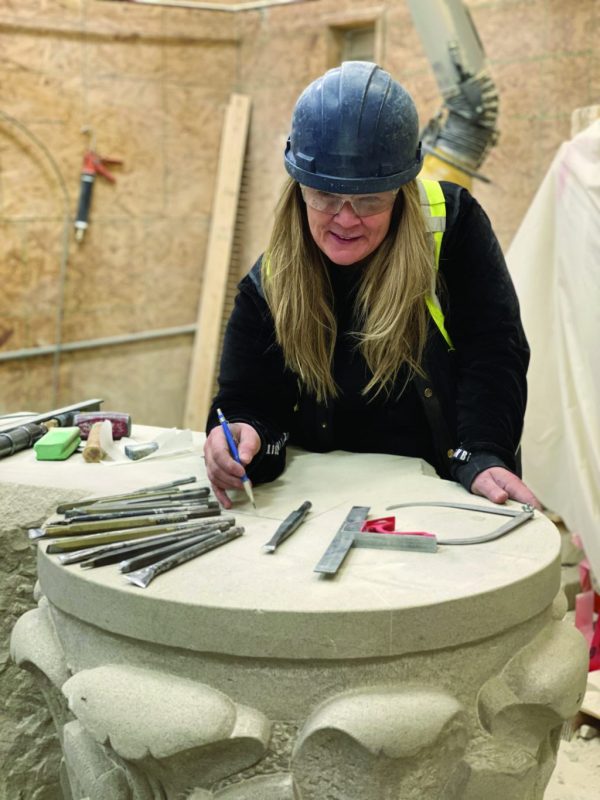 She'd worked on old sandstone blocks many times before, but it was always in the shop.
"In a shop environment, I wouldn't see the sandstone in the wall. I didn't have the chance to see the original in it's proper place."
Her path to working on the city hall project was a long and winding one. Hart, now in her late 40s, got into the trade a little later than most, having worked as a bylaw enforcement officer for 15 years. She'd been building a log house in Ontario and noticed that a carpenter doing work for her always seemed happy.
"I said, 'Oh, my God, what a novel idea, to be happy doing something you love.'"
A twist of fate turned her to the masonry side of things. She had some fieldstone and was getting quotes for a stone fireplace, but they were too expensive. So, she went to B.C. and completed a short course. Upon returning home, she did a few projects on her property. From that time on, she was hooked.
"That's when I decided that I wanted to be a mason," she says.
Hart originally trained in the brick and stone program at the Ontario Masonry Training Centre in Mississauga then did her apprenticeship at Old World Stone in Burlington.
"They said, 'Would you like to learn this?' They said they would train me right from zero, so I said, 'Sure, yes.'"
She completed her 5,600-hour apprenticeship over a two-and-a-half-year period and wrote her Red Seal exam.
Hart says she was drawn to masonry because it was so permanent. Her grandfather and uncles were all carpenters, so it was a bit of a departure to wield a hammer and chisel instead of a saw and hammer.
She was working at Traditional Cut Stone Ltd. in Mississauga when she saw an ad for the Calgary city hall project. She called right away and talked to a foreman at RJW Stonemasons, the contractor doing the work.
The rest is history.
"I saw the project and the carvings and thought, 'This would be a great thing for me,'" says Hart.
She worked on the project for a year-and-a-half and recently returned to Mississauga to be near family.
The project, she says, was everything she figured it would be, namely challenging.
Sometimes, the sandstones required minor repairs. Other times, entire stones had to be removed so the finish between them could be repaired. The exterior of city hall and carving work on the building were originally done in 1911 and, after weathering the elements for more than a century, have deteriorated.
A difficult part of the project, says Hart, was matching new stone to the old. When city hall was built, the stone was sourced from three quarries, so the sandstone has slightly different textures. This makes the work more difficult. Some of the sandstone is also very detailed and requires very fine chiselling work.
Hart and her colleagues had to ensure that the carvings replicated the original designs, as the goal of the project is to restore the building to its original appearance and only replace materials where necessary.
The building is also architectural cut stone which is different from sculpture. The blocks are precision-measured and each has a purpose. As a result, masons must be cognizant of the shape and form of the blocks.
Hart says she learned so many lessons from being on-site and it was an experience she will never forget.
Her biggest takeaway?
"I learned that it takes more than one person to get a stone in the wall. I saw all that. In a shop environment you don't get any of that."