In his 2018 study on the state of the elevator industry in Ontario, retired Justice Douglas Cunningham issued what might be considered a damning report.
Conducted on behalf of the non-profit Technical Standards and Safety Authority (TSSA) and the Ministry of Government and Consumer Services, the independent study exposed many deficiencies, including an inadequate number of qualified elevator technicians, along with a poor maintenance and safety record.
In response to that report, Mohawk College and its industry partners moved quickly to address that shortage by creating two programs to teach apprentices and students how to install, maintain, and service elevating devices in accordance with government regulations and safe industry best practices. Offered at the Marshall School of Skilled Trades & Apprenticeship in Stony Creek, Ont., they include the Elevating Devices Mechanic apprenticeship (636-E).
Mohawk is one of only two approved non-union delivery agents for this apprenticeship program in Canada which got underway in August 2019 with a first cohort of 28 apprentices.
Similar to other trade apprenticeships, the Elevating Devices Mechanic apprenticeship covers the required in-class training for the elevating devices mechanic trade.
Apprentices who have found an employer or sponsor and who are registered with the Ministry of Labour, Training and Skills Development (MLTSD) must complete 8,000 hours consisting of 7,280 hours of on-the-job work experience and 720 hours of in-school training, divided into three 240-hour blocks, says Angelo Cosco, associate dean with the Construction and Building Systems department.
Comprised of eight weeks of learning every year during the three-level apprenticeship, the in-school portion includes subjects such as basic hydraulics, mechanical print reading, rigging and hoisting, and elevator car equipment maintenance.
Also offered is a part-time module where apprentices attend the college one day a week over the duration of their apprenticeship, which can last from three to five years, depending on an apprentice's progress in acquiring the necessary skills, he says.
Not everyone can find an employer or sponsor and many employers do prefer apprentices with some prior knowledge and training, says Cosco, in underlining the importance of the second program.
Just launched this fall with a first wave of 37 students, the two-year Mechanical Technician Elevating Devices (484-684) diploma program is the first of its kind in Canada.
Intended to develop an understanding of elevating device electrical, mechanical and hydraulics systems, the diploma program will give graduates: "an edge and they can hit the ground with boots on (at graduation)."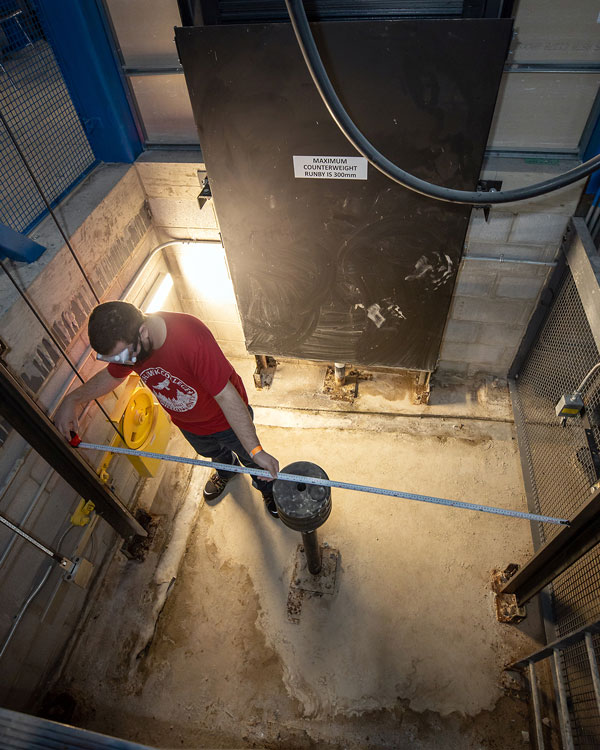 Embedded with the four-semester program are same 25 reportable modules of the apprenticeship program and students must successfully complete the modules assigned in their particular level before they can advance to their next block, he says.
A major feature of the diploma program is an optional one-year co-op which would commence after the third semester. Once the co-op is complete, students would return to Mohawk for the fourth final semester.
Graduates will still need to be hired and registered as apprentices through the MLTSD, says Cosco, stressing the college will be actively pursuing both co-op placements and permanent positions for the students.
Both the apprentice and diploma programs are following the exact same curriculum set by the College of Trades and TSSA, he says.
"There is a desperate need for this training. Our industry partners are very excited to see it begin."
A "second to none" 557-square-metre (6,000-square-foot) elevator laboratory built with the assistance of Delta Elevator and Brock Elevator and just opened this past September, is the training facility for both the apprentices and the two-year students.
Erected by TRP Construction General Contractors in a new general purpose building with "great heights", it houses two separate construction shafts, one traction and the second hydraulic, and two fully functioning elevators.
"By installing two separate construction shafts, students can learn and experience the installation of both technologies. The purpose of the elevators is to teach the service, maintenance and troubleshooting side of the business."
Having the two separate shafts was the one of the many recommendations of an industry program advisory committee which Mohawk established with the assistance of the Canadian Elevator Contractors Association.
A confluence of events led to the creation of that committee and subsequently the two training programs, says Cosco.
"For many years we (the college) received inquiries regarding elevator mechanic programs from students and parents and that was especially the case at our 2017 open house."
But the need for a formal training program was dramatically highlighted in Justice Cunningham's study, he says.
Key findings in that report combined with continuous inquiries from students and parents, the support of the building industry identifying the need for certified journeypersons, plus the fact that Mohawk was willing to build a training facility and its reputation as leader in skilled trades and apprenticeship training, all contributed to its successful MLTSD application to deliver the programs, he says.