With new workplace risks and hazards arising from the pandemic, mechanisms had to be developed in order to ensure Joint Health and Safety Committee (JHSC) certification training could continue.
Such is the reason why Ontario's Ministry of Labour, Training and Skills Development (MLTSD) moved training to several different online formats, explained Kate Cowan, a director in the training and awareness branch of the ministry.
She presented JHSC Compliance in Challenging Times – The MLTSD Perspective on Jan. 28 during a webinar hosted by Workplace Safety and Prevention Services.
"The importance of these committees has really increased during COVID," said Cowan. "The ministry has worked very hard recognizing this has been very challenging for a number of businesses across the province."
All provincial workplaces in Ontario with 20 or more employees are required to have a JHSC which identifies health and safety issues and brings them to the attention of the employer. Members must successfully complete a Chief Prevention Officer (CPO) training program.
On May 1, 2020 changes were made to the JHSC training program and training provider standards that JHSC members must fulfil to become certified and by June, e-learning and distance learning were available.
"Distance learning is an educational method which the instructor and learner are separated by synchronous learning, which means the class is live and the teacher and the learner interact in real time," she explained. "We've got a second option, which is e-learning. It is delivered online but it is asynchronous which means there is no live interaction and the learner can complete the training at their own pace."
Providers and learners show interest in online training programs.
The JHSC Certification (J Cert.) Training Program Standard includes three components: Part One Training, which is generic to all workplaces that require both employer and worker certified members, regardless of workplace sector; Part 2 Training which focuses on the concepts of hazard recognition, assessment and control and evaluation of hazard controls; and Refresher Training which reviews key concepts from part one and part two.
"Over the spring we did have quite a bit of volume, quite a bit of activity in terms of getting applications in from providers who were interested in this new modality of delivery," said Cowan. "About 41 per cent of our CPO-approved J Cert. training providers are now also approved to deliver training through distance learning — 23 per cent for part one, 22 per cent for part two and 17 per cent for refresher. Two providers became approved for e-learning. "We're estimating 3,000 to 6,000 individuals opted for that mode of delivery."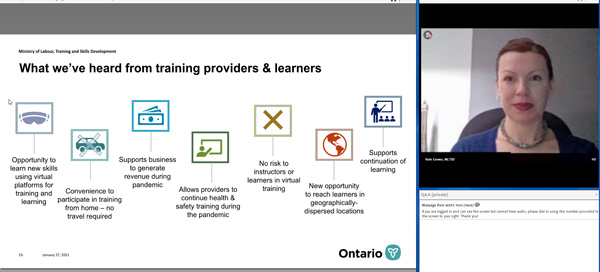 For distance learning, providers must show they are able to adapt to the online format.
"These providers must be approved to provide face to face as well and show that they are going to meet the additional challenges of teaching online including keeping learners engaged, promoting interactivity and learner evaluation," said Cowan.
New online training methods have pros and cons
Cowan says the response to the new delivery methods has been overwhelmingly positive.
"There is certainly less cost for a participant," Cowan noted. "It did give folks a bit of that peace of mind to be able to train safely from their homes during the pandemic, both for the learners and the instructors."
Training providers were also able to reach learners in geographically dispersed locations, she added.
However, there were some challenges for those using the online platform.
"With new technology some people are more comfortable, some people are less comfortable, so there is certainly a learning curve that goes along with that," Cowan explained. "We do know that internet connection is a problem in certain areas of the province.
"We know that there was cost elements for providers. They may have to purchase a platform or a licence or upgrade their internet."
Next steps
The MLTSD is looking to include the distance learning criteria permanently.
"We are looking to have that come into place next month (February)," said Cowan. "This is not going to affect anyone if you already have been approved for distance learning. We are also looking at doing a review of the JHS standards and we're targeting that for sometime during the calendar year. We also have an ongoing Working at Heights five-year review so I would encourage you to take a look at that."
For more information click here.
Follow the author on Twitter @DCN_Angela.