A new report detailing the early career earnings of Canada's trade certificate holders finds women are concentrated in lower-earning trades and, as a result, earn considerably less than men overall.
The joint research project, released by the Labour Market Information Council (LMIC) and the Education Policy Research Initiative (ERPI) is entitled, How much do they make? New Evidence on the Early Career Earnings of Trade Certificate Holders.
"Our mandate really is to provide Canadians with as much information as we can so they can make more informed decisions about their careers including what they should study, be it training or maybe a more formal education," said Steven Tobin, executive director for the LMIC.
He pointed out there have been a number of reports that found there is a skilled trades labour shortage, which is unique given the current pandemic.
"It's really about raising that question of do people actually know how much they can actually make by undertaking training and certification in a skilled trade?" Tobin noted.
"That's what we're trying to illuminate here.
"If people are thinking about reskilling or upskilling or maybe finding a new career, here's some information that we hope you will take into consideration."
The report analyzes earnings from Statistics Canada's Education and Labour Market Longitudinal Platform (ELMLP) with a focus on those who received certification in the Red Seal trades.
It focuses on data of those who received their certificate in 2009 in the categories of architecture and construction; mechanical, electrical; vehicle and related; metal and other. It follows their annual earnings from the first full year following certification to 2017.
Findings show 'promising career earnings' in trades
According to the report, individuals in Red Seal trades, which are those that have national standards, earn, on average, $64,000 in their first year, compared to $55,500 for non-Red Seal trades.
Those incomes grew on average 2.1 per cent annually over the eight-year study period to reach $73,800. Those certified in mechanical trades earn the most in their first year ($76,500) followed closely by electrical trades ($74,200).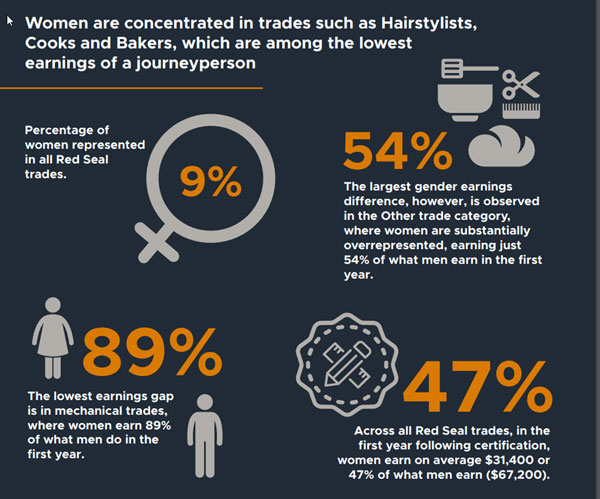 "The first thing that we really took note of looking at the Red Seal trades is that the early career earnings are quite promising," Tobin said, adding earnings is only one factor Canadians consider when deciding what education or training to pursue.
However, it's a different story when looking at women.
In the first year following certification, women earn on average 47 per cent of what men earn, and 46 per cent eight years out.
"The first thing we note is that in general there are very few women entering the Red Seal trades to begin with," said Tobin.
"When we are looking at that group of Red Seal trades, less than 10 per cent are women. Some of the very specific trade comparisons, bricklayer for instance, are difficult because there are not enough women that have Red Seal bricklayer to even compare."
Men account for most trade certificate holders, or journeypersons, with the exception of the "other" category, which includes hairstylists, cooks and bakers, which is the lowest earning category. Women make up over 65 per cent of the category and earnings start at $31,800 in the first year.
"When you put together the fact that very few are entering and the vast majority are concentrated in holding certificates where the earnings are really low then it brings down the average when you are looking at the group of Red Seal," Tobin explained. "It's really due to the distribution. We see in contrast to women, men are actually relatively equally distributed across the different Red Seal trades."
Researchers find key differences between men and women in the trades
When looking at broad trade categories, the largest earnings difference between men and women is in the other category, where women earn 54 per cent of what men earn. The lowest earnings gap is in the mechanical trades category, where women earn 89 per cent of what men earn, the findings state.
Researchers found people who complete their apprenticeship earn about nine to 10 per cent more than trade qualifiers after certification, starting at $65,600 in the first year.
Also, the findings indicate men with trades certificates earn more ($70,500) than those with college-level certificates ($37,200), diplomas ($40,500) and bachelor's degrees ($42,800) in their first year following certification/graduation. However, the gap narrows in the following years, especially with bachelor's graduates.
In comparison, the study found women with trades certificates have similar earnings ($31,500) to those with college-level certificates ($32,500) and diplomas ($32,100) in their first year following certification, but less than bachelor›s degree graduates ($39,600).
Follow the author on Twitter @DCN_Angela.