Leaders who work to advance equity, inclusion and human rights were recognized for their efforts during the recent 2021 Bromley L. Armstrong Awards.
The Toronto and York Region Labour Council, in partnership with the United Way Greater Toronto and Labour Community Services, presented the awards to labour activists who have demonstrated excellence in equity and human rights at a virtual gala May 26.
Bromley Lloyd Armstrong, a Jamaican-Canadian member of the autoworkers union, was a labour activist, community champion, social justice leader and societal visionary who helped lead the Toronto Joint Committee on Human Rights in the 1950s. He passed away in August 2018.
The award was established by the council in 2005.
Winners honoured for championing equity and inclusion
Chris Campbell, the first equity and diversity representative of the Carpenters' District Council of Ontario (CDCO) was one of the recipients of the award this year. Campbell is also a member of the Carpenters' Local 27 and the co-chair of the Toronto Community Benefits Network. In addition to his role as an educator and advocate for community benefits on large infrastructure projects, Campbell was recognized for bringing attention to anti-Black racism and publicly addressing incidents of nooses being hung on construction sites over the past year.
"I have spent years working hard, not just for myself and my family, but also for my union brothers and sisters, for people in the community," Campbell said in his virtual acceptance speech.
"I see us all as one big family, so when the nooses were found on our construction sites it was clear that action had to be taken to keep the family safe, to educate those who need it, to let the perpetrators know such actions would not be tolerated."
Campbell was nominated by Mike Yorke, president of the CDCO. Volunteering has always been important to Campbell.
"I love volunteering in the community because it gives me the opportunity to dispel stereotypes about the construction trade union and introduce the community to a collective voice that they can be a part of," Campbell said. "Volunteering is an opportunity to pay kindness forward that was shown to me as an apprentice carpenter 30 years ago.
"Let's keep fighting for change as Bromley did."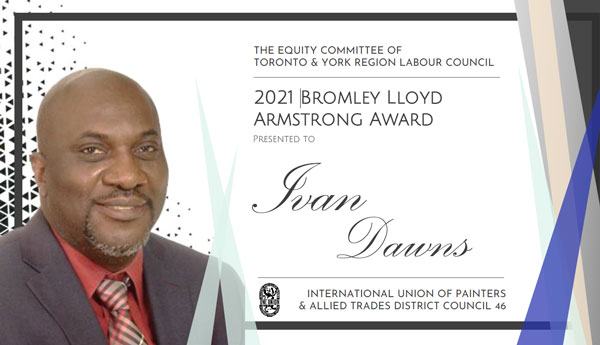 Ivan Dawns of the International Union of Painters and Allied Trades (IUPAT)- District Council 46, who was the first Black business representative in Canada for IUPAT and holds the position of political director in his union, was also presented with an award.
"I don't do this work for praise, I do it because it is necessary," Dawns stated.
"Sometime ago I was speaking to a young man about the trade. He said, 'if I met you years before the nine-plus years I spent in jail I wouldn't have spent it, I would have been working in the trade.' I said to him 'you are the reason why I do this.' And that is the reason I push even harder every day to move beyond the stigma."
Dawns also co-wrote a resolution for the recruitment and retention of Black people and women in the trades, which aims to see those underrepresented groups attain leadership positions within their union in Canada and the United States.
"The world is changing and we must change with it," Dawns said. "We must be a union activist in the community and a community activist in the union."
The next chapter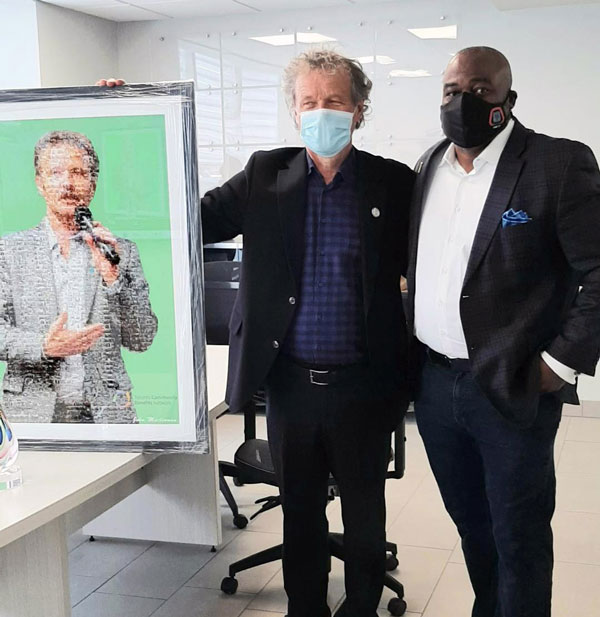 John Cartwright, president of the Toronto and York Region Labour Council, was given a Recognition of Service award. Cartwright, who is stepping down from the position this year, has been instrumental in the labour movement in Toronto and York Region. He is also a carpenter by trade and past co-chair of Toronto Community Benefits Network.
"Bromley was a proud Jamaican-Canadian and I know this other Jamaican that is about to make history too," said Cartwright. "Her name is Andria Babbington. Next Thursday she will be sworn in as the president of the Toronto and York Region Labour Council, the first Black woman, the first woman of colour to lead this labour council. The first woman of colour to lead any labour council in this country. I can't think of a better way for our movement to continue to grow and build power and build a better country and a better world."
Babbington is looking forward to her new role
"I look forward to building on my previous sisters' legacy and harnessing the power of intersectionality and boldly propel this organization into a sustainable post pandemic future," she said. "We in the labour movement have not chosen an easy line of work.
"In my new capacity at the council I will not be silent. Bromley Armstrong's legacy was not built in silence."
Other Bromley Lloyd Armstrong Award recipients included Liyu Guo, Ontario Public Services Employees Union Local 594 family service Toronto bargaining unit; the late Megan Whitfield from the Canadian Union of Postal Workers; and SEIU Healthcare, representing health care workers in Ontario, which was the first union to receive the award.
The Gala can also be rewatched here: https://www.youtube.com/watch?v=u_MQwvx9wJQ&t=1s
Follow the author on Twitter @DCN_Angela.