Despite no family background in construction, Sherry Larjani developed a fascination for building.
As a young woman, she started working as a designer at a luxury architecture firm in Toronto.
"I found I couldn't sit behind a computer and it seemed a waste that I couldn't see what was designed on paper getting built," she says.
She left her job at the firm and explored various other career options, "but my heart was in construction and it was a natural thing to see myself on construction sites."
Her family agreed to invest in Larjani's idea to buy land and construct a house. She found a site in Riverdale West in Toronto, then followed up that project by buying more single-family lots and did new single-home builds and renovation jobs.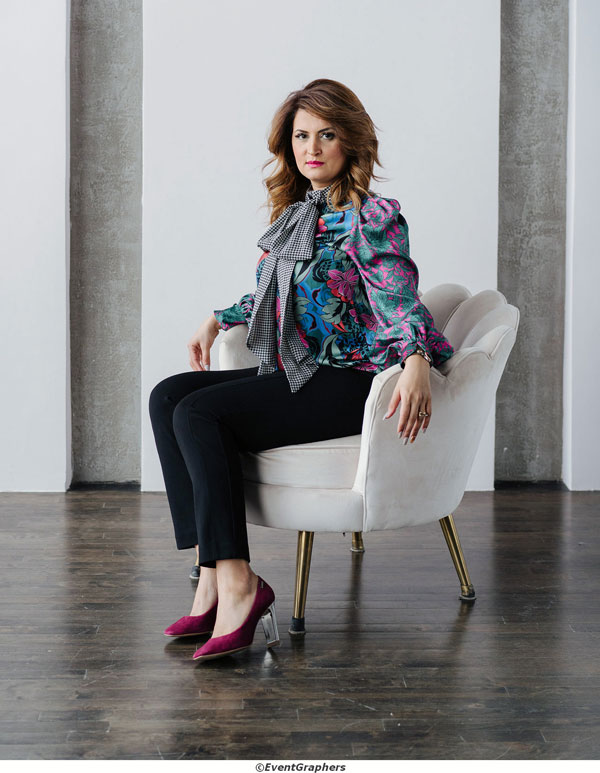 Larjani named her business Spotlight Development as she tried to build in many different locations in Toronto, putting a "spotlight" on that area.
Since its inception in 2010, Spotlight has grown to a real estate development firm with 10 employees specializing in the acquisition of properties to redevelop into high density residential, commercial and mixed-use projects. As well as Spotlight's own projects, Larjani has partnered with other major developers such as Liberty Development Corp. and Urban Capital among others.
"When I started in 2010, I didn't know any other young women doing what I was doing and it didn't sit well with some of the men on the construction site that I was the boss and telling them what to do," she recalls. "I had to arrive on the jobsite before they did. I had to make sure I understood what they were doing. I had to know every single profession and contractor."
She dedicated herself to learning as much as she could about every aspect of the job and didn't hesitate to get hands-on.
"If there was a box, I'd move it. If there was drywall to be moved, I helped. I was not just the supervisor. I was trying to show them there was no difference between men and women on the site."
Initially, some of the men would pass by her and pretend she wasn't there.
"It got to the point where I had to put my foot down and tell them they had to answer to me or not to show up on the jobsite. Some of them had grandkids my age and I wasn't just a woman, I was a young woman."
In 2013, she was pregnant but was on the jobsite until the day before she gave birth and even made her husband stop by the site on their way to the hospital.
"It was difficult (working on site during pregnancy) but it gave me enjoyment to show the men that women can still be mothers, wives and do everything else."
Building single-family homes wasn't enough for Larjani, who had her eye on a bigger goal: to bring more density to some sites. With no urban design or planning background, she started going to city planners to gain knowledge. One in Richmond Hill was particularly helpful, walking her through the Planning Act and Official Plan, explaining various proposals and what the city's vision was for those sites.
Larjani acquired a site she was seeking a partner on and started cold-calling developers.
"I called Urban Capital and talked to David Wex and that's one of the best calls I made in my life. He's been an amazing friend and mentor."
She says "no school can teach you development. You have to go into firms and learn. I found the development industry has been kinder to me as a woman than construction was."
In 2019, Urban Capital's director of development Taya Cook reached out to Larjani creating a project with Canada's first all-female development team to raise awareness of gender inequality in the industry and the many roles women can play. The result is Reina, an Etobicoke mid-rise condo on the Queensway. The initiative garnered extensive media attention and accolades for its design.
"When Taya came to me with Reina, I thought it was an amazing idea and a conversation that needed to happen," says Larjani. "I didn't think we'd get the feedback we did. I've been reached out to by so many young girls in school who see us as an example and see what is possible for them. It wasn't hard at all to find capable women for our team, no matter what field they worked in. They had just never been talked about or celebrated."
Spotlight has several other projects in the works, including a six-storey condo in Richmond Hill, a project of semi and detached homes in Newmarket, and a retirement living project in Ajax. Larjani is also partnering with Urban Capital and with Liberty Development Corp. on a condo project at Queen and River streets in Toronto.
She is also taking on a challenging yet exciting project in Port Hope, the conversion of an old file factory on the banks of the Ganaraska River into a building with live-work condo lofts, a European-style market and microbrewery. It's still in the early stages.
"This industry has so much opportunity," Larjani says. "People are more motivated to mentor, more kind in many ways, because the industry is learning about the struggles women had to go through. This is the time young girls and young boys should take advantage of to break those stereotypes. They have to be broken and the gender conversation shouldn't be there anymore."