Derek Pushkar has completed two training programs at Anishinabek Employment and Training Services (AETS) and he is using his training as a jumping off point to build a career in the skilled trades.
"It's been a great learning experience," said the 26-year-old, who is part of the Red Rock Indian Band located near Nipigon, Ont. "I've never been this happy with my employment.
"It made me change my vision and how I'm going to proceed to the future and employment opportunities."
Through the 16-week pre-apprenticeship program based in Thunder Bay, Ont., Pushkar achieved drywall/acoustics/lathing applicator Level 1 and completed 32 hours of introductory training for welding and metal cutting. Last year he completed the pre-apprentice carpentry training through the AETS and worked to get his high school diploma.
The AETS programs are offered to citizens of First Nations communities in partnership with the Ministry of Labour, Training and Skills Development and the Carpenters' Local 1669 Training Centre.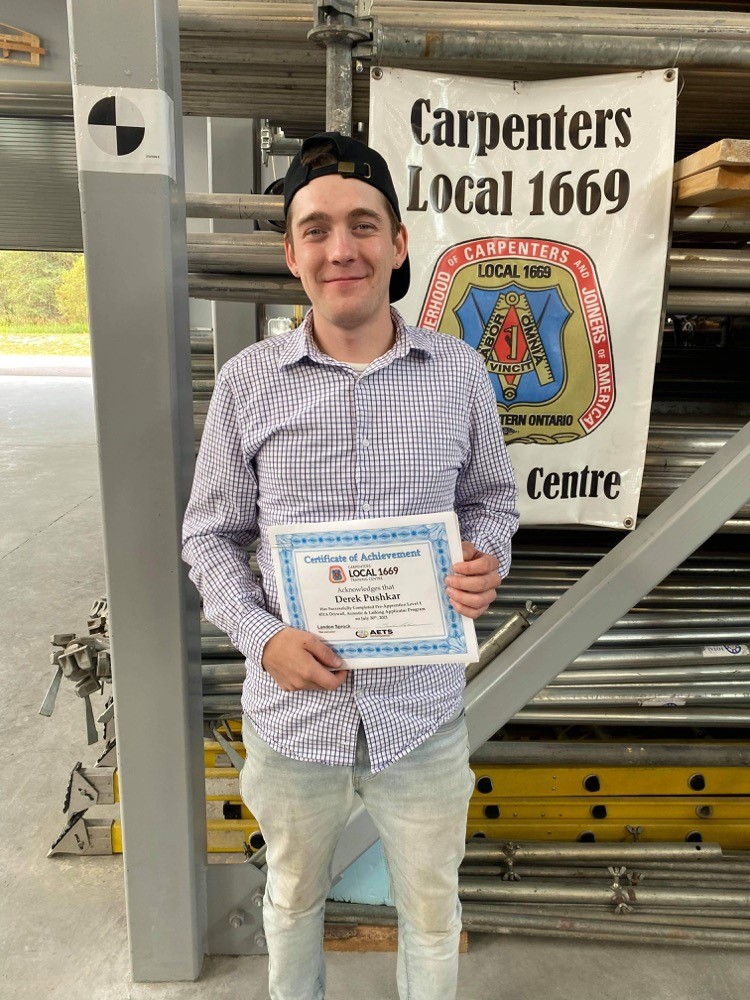 Although he had other jobs before applying at AETS, Pushkar said he was drawn to the skilled trades.
"I enjoyed the hands-on work and being able to use my skills and abilities towards something like building houses," he noted, adding he applied to the drywalling program after completing the carpentry program in 2020 in order to build up his skill set. "Having more knowledge on the process of everything goes a long way."
He also recognizes the job opportunities available.
"I figured it was something really good to get into because everyone is always looking for labourers and skilled workers," said Pushkar.
He is currently looking for a work placement opportunity with support from AETS.
"We had to send our resumes, so we're just waiting to hear back from them about job placements," he said. "Hopefully it works out where we get our job placement sooner rather than later. With the whole COVID situation it's been pretty hard to find a job. They're pretty scarce. Now that everything is opening back up it's a good opportunity to get out there and find employment."
In terms of next steps, Pushkar has his sights set on college.
"After my work placement I'm hoping to get my Level 2 and eventually get my journeyman and Red Seal certifications," he noted. "It takes about four years. It's something that is good to have."
He learned a lot of useful skills in the training program.
"We learned how to install and apply drywall, especially in a house, and we also learned to do ceiling frames," Pushkar said. "We even learned how to read blueprints. Our instructor went above and beyond."
Landon Sprock, a member of Local 1669 Thunder Bay, a certified interior systems mechanic and instructor for the drywalling program, said getting certified isn't easy but it's worth it.
"I jumped through all the hoops, did all the hours," said Sprock, who went to Sudbury to complete his Level 1 and Hamilton for Level 2 certification. "I'm happy I did it. After success there I wrote my ticket, got my Red Seal in interior systems and pushed for my general carpentry ticket as well."
Although he identifies as Indigenous, he did not grow up on a reserve, but his family did. The most important part of the program is enabling First Nations citizens from the surrounding communities to have access to knowledge, learning how to do things properly and building skill level.
"The information isn't always there for them," said Sprock. "They don't have the resources available to learn how to frame or build something as simple as a shed.
"Just get the training out there so they can actually go back and build houses, build schools, build whatever is needed," he said, adding he built houses in First Nations communities in his apprentice days. "A lot of times these communities don't have people who are capable of actually doing the work. There is just a lack of knowledge to do it properly."
The key is to provide basic knowledge to get started in the trade.
"We provide the trade knowledge, tool knowledge, safety, lots of print reading, construction fundamentals, lots of framing, drywall types, layout, lots of estimation, lots of math," said Sprock. "You want to hit a broad spectrum to really paint the picture of what can be expected."
And the ultimate goal?
"It's for them to come out with the proper skills that they can bring back to their communities, to help out around there and pass knowledge on," Sprock explained.
"A lot of these young guys, they don't understand what hoops have to be jumped through. If in any way I can help them understand and get direction in the construction industry, carpentry or interior systems, I feel like I've done my job."
Read part one of this story here to learn more program details.
Follow the author on Twitter @DCN_Angela.