It took over two decades but Rokhaya Gueye is finally working in the field she loves.
Twenty-two years after graduating from George Brown College's (GBC) construction engineering technician management program, Gueye is pursuing an apprenticeship at the College of Carpenters and Allied Trades in Vaughan, Ont.
"I wear many hats," said Gueye, a carpenter with Local 27 and co-founder and CEO of Global Connection Venture. "You can't put me in a box. I'm passionate about construction, empowering women and youth and I am a mentor and coach. I'm a community organizer and a serial entrepreneur."
After she finished the program at GBC in the late '90s, Gueye, who is originally from Senegal but has lived in Toronto and the surrounding area for over 30 years, got hired by a construction company.
She quickly realized her chosen field wasn't ideal for a single mother.
"When I finished the program I got hired," recalled Gueye. "I was ecstatic. It was starting at $45 an hour, with the union, working at Pearson airport. I did the orientation and they said the following day we start work at 7 a.m. Guess what? Day care opens at 7 a.m. I couldn't do the job."
Instead she started working at a telecommunications company where she stayed for 17-and-a-half-years.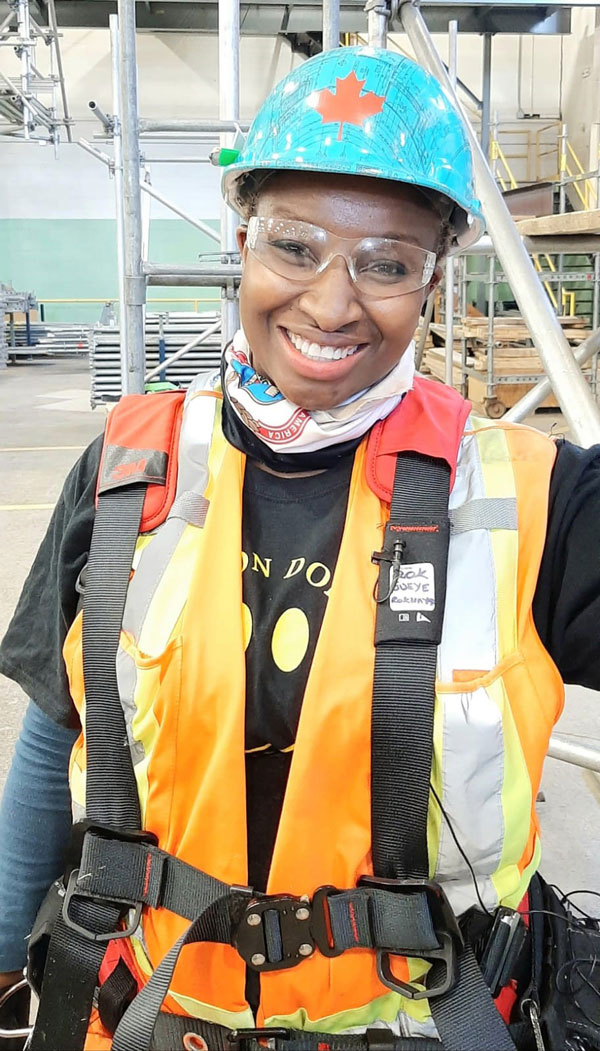 "I had to pivot completely," Gueye said. "My heart has always been in construction. That's why I did it on the side, I was always volunteering. No matter what I did it was always bringing me back."
Over the years she has volunteered with Habitat for Humanity and Million Dollar Smiles which builds playgrounds for children battling critical illnesses. She would also work with her father doing renovations.
Then in 2019 she got laid off and everything changed.
"When I got laid off I thought this is amazing. I could now go back to what I love best, so I started looking into it," Gueye said. "In 2020 I decided to go online to find out how can I get into the union, where can I go, what can I do, and surprisingly I found a flyer from Toronto Community Benefits Network (TCBN). I called, signed up with my girlfriend and we said let's do this. The rest is history."
While volunteering to hand out flyers, Gueye met Mike Yorke and Chris Campbell of the Carpenters' Union Local 27. She signed up to be part of the union and is also on the diversity and inclusion committee.
"They gave me a shot," Gueye said. "I've been just in awe of all the things we can do in the trade and really happy to be in it."
She is currently doing the basic general carpentry training Level 1. She completed many of the training courses online during the COVID-19 pandemic. She hopes to complete her Red Seal.
"What is great about the apprenticeship program you learn as you earn," she added. "That's something that I really loved."
Over the years, Gueye worked for Hardrock Forming on the Woodbine Casino project. She also started her own company focused on mentoring and coaching youth and is a mentor with TCBN's NexGen Builders.
"I was the only Black woman out of 350 on the site," said Gueye, adding some of the other workers on the site were supportive and some were not. "Some of them were like 'what are you doing here? You haven't quit yet?' Some of them said, 'Rok, you're too positive. In two months you will be negative.' And I say, 'no my positivity will rub off on you and then we'll all be positive.' "
Her training has taught her how to be able to fix things herself.
"A few years back, I was a single mom, lived in a townhouse, things were falling down and every single time I would wait until my neighbour's husband came home to help me fix things," Gueye explained. "I started buying the tools and trying to use the drill. I thought 'why can't I do it instead of waiting for someone to come and lend me the tools?' "
Being able to see something that you built is another rewarding part of the job.
"The thing I love about construction is it's tangible," she said. "You do a project and when you walk by or drive by you can say 'I've done that.' This is so impressive. And the fact that you are learning every day."
She hopes to inspire other women to enter the trades.
"The trades are really a skill that you will be able to use your entire life," she said. "Once you have a skill nobody can take it away."
Gueye has received a number of awards including the Business Impact Award, Humanitarian Award and Top 100 Black Women to Watch in Canada.
Follow the author on Twitter @DCN_Angela.