Delegates to a mass timber seminar in suburban Toronto recently got a tour at a carpenters' training centre to watch students assembling timber mockups as a part of a four-week course on the new building medium.
The only one of its kind in North America, the course, held at the College of Carpenters and Allied Trades (CCAT) centre in Woodbridge, Ont., saw a dozen journeypersons and experienced carpenter apprentices learn the fundamentals of mass timber construction through a largely hands-on process.
Using mass timber modules that represent important segments of buildings is an important teaching method to understanding assemblies in the field, says David Moses, principal at Moses Structural Engineers Inc., who engineered the modules and partnered with the Carpenters' union and CCAT on the course curriculum.
"These (mass timber) projects are so different from stick frame that they (students) really need that face time. They need to actually handle it to understand how to use it."
He says even drilling in and backing off some of the many types of self-tapping screws without breaking them can require patience and practice.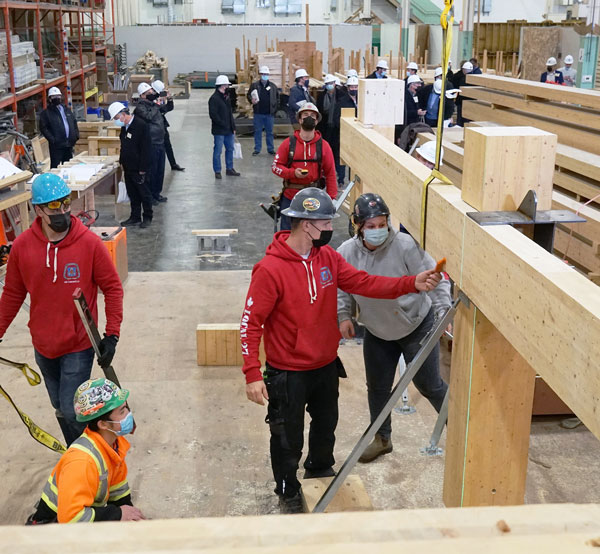 Students work with cross-laminated timber (CLT), glued laminated timber (glulam) and nail-laminated timber panels.
The modules, which can be disassembled for reuse in future classes, include a two-storey CLT house shearwall; a CLT stair core module; a cross section with slabs on point-supported columns; and a fourth mockup illustrating how to use K- X- and Chevron-bracing systems on two-storey CLT shearwalls. The bracing is designed to resist wind or seismic forces, says Moses.
Rigging and handling is a critical part of the course curriculum, he adds, noting all drawings show the weight of each timber element so students can determine how to use cranes safely to lift them into place.
The structural engineer hopes the course leaves students asking questions about methods and technologies as they go to various sites to work because no project is identical.
"They are going to be learning something new again but at least they'll understand the fundamentals."
While it is important to continue training as many carpenters as possible to understand mass timber installations, Moses adds others need guidance including some municipal officials in smaller communities, building owners and developers.
"It's definitely evolved though to where there is much greater awareness of mass timber that wasn't there even three or four years ago."