According to new Ontario Building Trades business manager Marc Arsenault, the province's construction sector works best when project teams are set up for success months and years in advance, after extensive collaboration and precision planning to determine future workforce needs.
Arsenault, who assumed the role at the Provincial Building and Construction Trades Council of Ontario on Jan. 1, replacing longstanding top executive Patrick Dillon, comes to the job with 25 years of experience in the trade union sector.
He previously served as director of stakeholder relations with Ontario's Ironworkers District Council, where he worked on workforce planning in partnership with project owners, contractors, governments and Ironworker Training Centres.
He participated first-hand in planning to ensure there were well-trained workers for the Bruce Power and Ontario Power Generation refurbishment projects.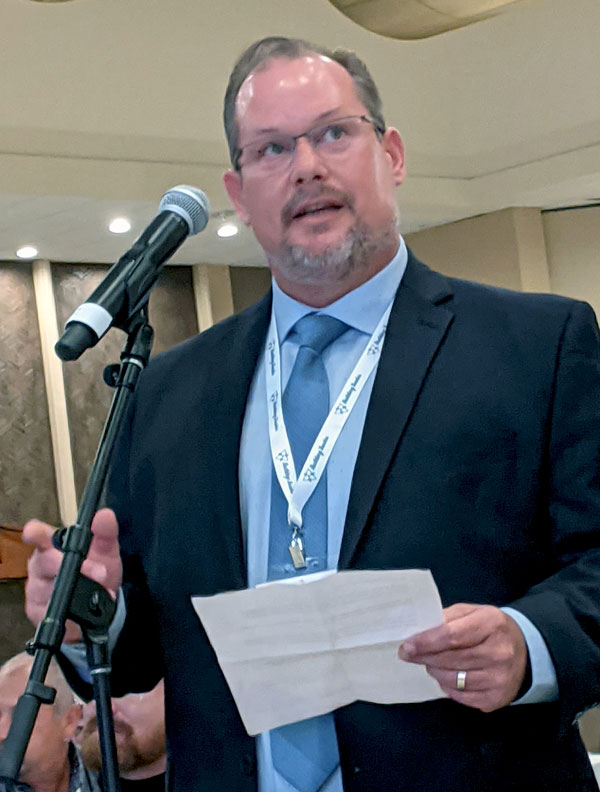 "There can be precision on a trade-by-trade basis on what the labour demand forecasts are going to be," he said.
"What are the principal trades for these projects and what year of the project will the trades be involved? How do we best prepare the skilled labour supply chain and its training centres to ensure the availability of talent required to perform these projects safely, on time and on budget?"
On the refurbishment projects, the owners shared information on work schedules and projected wind-down, when workers could be shuttled to the next project.
"It was so precise that they had it dialed in to the hours of work. We're not talking about months, or weeks. They got it within days."
Among his major goals as he starts his term, Arsenault said he is eager to replicate that success on other projects, including the large-scale builds planned by Infrastructure Ontario.
Arsenault said he is not intimidated by the task ahead, taking over from Dillon at a time when Ontario's construction sector is facing an acute skilled trades shortage and his input will be sought as the new Skilled Trades Ontario is launched this month.
The new business manager said he has strong partners on the council, supported by 12 craft unions in the construction sector representing 150,000 workers.
"Nothing gets built in our industry by one person, it is a team effort," said Arsenault.
"Best practices are built through their relationship with their training centres and their contractor communities. We discuss those best practices and add additional tools to our toolkit to apply them at the workplace."
Among the additional tools the council is developing is a new program to develop pathways into apprenticeships. The Building Trades were approached by the provincial government to participate in an apprenticeship developmental program and last year received Skills Development funding.
"In terms of providing an entry to the Ontario construction industry, it's a proven pathway we do exclusively in partnership with our training centre networks in our local building councils," he said of the program, which launched last April.
"We look forward to being successful with those pilot projects. But that success once again is a team effort with our training centre networks, our contractor community and our local trade councils."
Arsenault said the partnership represented an opportunity to boost the recognition of Ontario's apprenticeship system and the value of obtaining an Ontario certificate of qualification.
He said the Building Trades will continue to advocate for large-scale infrastructure spending, with the projects representing onsite learning environments for the province's next generation of skilled, unionized workers.
"To see those projects as the breeding ground for the next generation of skilled journeypeople, requiring that apprentices engaged on those projects are duly registered in approved training programs, is something that we will see that value in in five, 10, 15 years from now, when there are larger percentages of skilled trades folks in the province who are holders of a trades licence by way of their Ontario certificate of qualification."
Follow the author on Twitter @DonWall_DCN.