A group of female trainees from northern Ontario First Nations communities recently graduated from the All-Women Line Crew Ground Support (LCGS) program with 25 transferable certificates and skills to pursue a career on the Wataynikaneyap Power Transmission Line.
"It provides women an opportunity to get training and employment in the powerline industry, because in the powerline industry the line crew people are predominately male," said Laura Calmwind, training manager with Opiikapawiin Services, which organized the program.
"The purpose of delivering this training was to create a labour force on the project. We wanted to get more of our women working in that area, increase training and employment opportunities for females in general on the project as well as specifically in doing the line work that needs to be done on the Wataynikaneyap project."
Wataynikaneyap Power is a licensed transmission company, majority-owned by a partnership of 24 First Nations in partnership with Fortis Inc. and other private investors. It is regulated by the Ontario Energy Board.
Wataynikaneyap Power has engaged Valard Construction as the project's engineering, procurement and construction contractor. The project includes 1,800 kilometres of transmission lines and substations in northwestern Ontario to connect 17 remote First Nations to the power grid.
The LCGS program is the only one of its kind in Canada specifically organized for First Nation women from the transmission company's owner communities. All the women who graduated were pre-selected for apprenticeships with Valard and have been offered employment by the contractor.
"They are really excited to be applying their knowledge and their training to the jobs that they are doing," Calmwind said.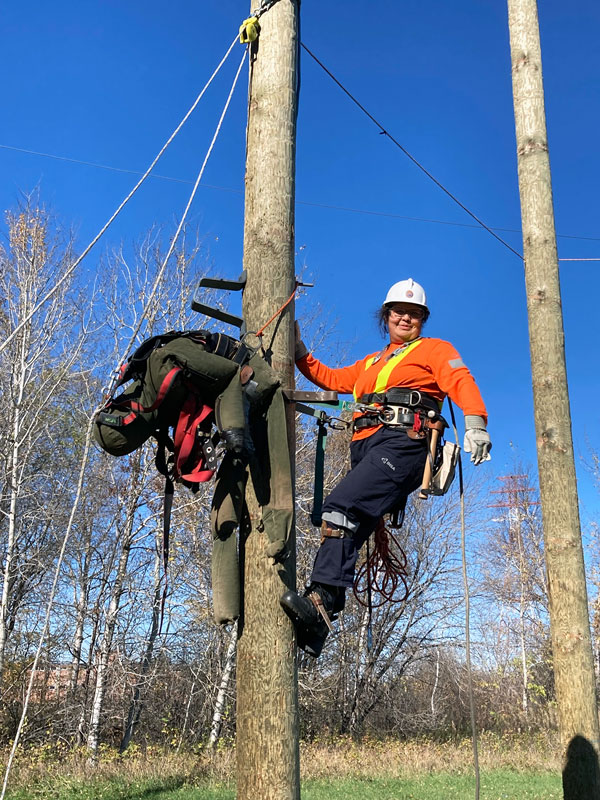 The course structure was provided by the Ontario Infrastructure Health and Safety Association (IHSA). Opiikapawiin Services worked with the IHSA to provide 14 sessions on Indigenous knowledge, land-based learning and health and wellness workshops.
The course started in August 2021 and ran for 14 weeks; seven weeks at the Quetico Conference Centre near Atikokan, Ont. followed by seven weeks at the Fort William First Nation training site near Thunder Bay, Ont. for hands on skills, pole climbing and equipment training.
"There isn't another program that offers that many certificates and that are specialized in the line crew training," said Calmwind. "This is the first session ever where the program was for females, in particular for Indigenous females, so that also made it unique like a trailblazing program."
Some of the unique certificates include traffic control in temporary work zones; basic safety hoisting and rigging; electrical safety high voltage; an introduction to electrical theory; propane in construction; safe pole handling; equipotential grounding and bonding; mobile crane operator, 0-8 ton hydraulic aerial equipment; securing anchors; rescue practices; ladder handling; and electrical safety, hydrovac operators, to name a few.
In preparation for the training, webinars were held so that women knew what the program was about. Other women working in the powerline industry presented and shared their experiences.
"Then we were also able to look at some of the challenges or the barriers that women have in terms of getting employment or training opportunities," Calmwind explained. "As a result of that we were able to provide child care services for women that needed that support. We were also able to provide mentorship."
One of the mandates of the project is Indigenous participation.
"We are responsible for the Indigenous engagement and the Indigenous participation which includes preparing our communities…looking at providing the training and also tracking the employment numbers and ensuring that we are following through on the mandates," said Lucie Edwards, CEO of Opiikapawiin Services. "In addition to that we do a lot of work with communities on business readiness, working with First Nation JV contractors and some of the opportunities that are currently happening on the construction site on the project."
Margaret Kenequanash, CEO, Wataynikaneyap Power, said the contract for the project was issued in 2019 and they are working to connect the communities. The work includes the assembling and installation of towers, foundation work and stringing of powerlines.
"Given that the geographic area that we are dealing with is a real virgin territory, there are a lot of things that we have to take into consideration as we do this project including our land users and our homeland in terms of how development is viewed in our area," Kenequanash said. "It is owned by our First Nations and they have a vision in mind."
The target date for completion is June 2024.
Follow the author on Twitter @DCN_Angela.