Protesting Ontario dump truck operators say their current withdrawal of services is about much more than rates of pay, it's also about respect and safety.
Some 1,500 members of the Ontario Dump Truck Association (ODTA) started their job action throughout the GTA March 21, with members visiting jobsites daily to engage in disruptions and raise awareness of grievances they want to see addressed through a new nine-page standard contract.
The protest is the second in the sector this month, following a similar nine-day job action by members of the Ontario Aggregate Trucking Association (OATA) that was called off March 24 after aggregate producers hiked fees paid to aggregate haulers by 20 to 25 per cent.
ODTA adviser Bob Punia said dump truck operators are looking for a rate hike that works out to a 20 to 35 per cent increase six years after the last one but that's only one demand in the package of measures they are looking for.
"Everybody understands that this industry can't operate the way it's operating," said Punia.
"It's incredible that it's gone this far. And that's why everyone's looking for positive change, to make sure that this industry is a viable industry, that's it's a safe industry to operate in going forward."
Punia spoke from the parking lot of the Khalsa Darbar temple on Dixie Road in Mississauga. The location is serving as headquarters during the job action, with protesters returning each afternoon amidst rows of parked dump trucks after venturing to jobsites in the morning.
Punia said the ODTA members originally met to decide how to support the protesting OATA operators and decided they had their own set of grievances, starting with lack of access to washrooms and no scheduled breaks.
"People reiterated the same thing over and over again, that the vehicles need to be in good condition to be roadworthy…if you're not getting paid enough and you can't upkeep your vehicle, should they be going to work because now you're endangering people," said Punia.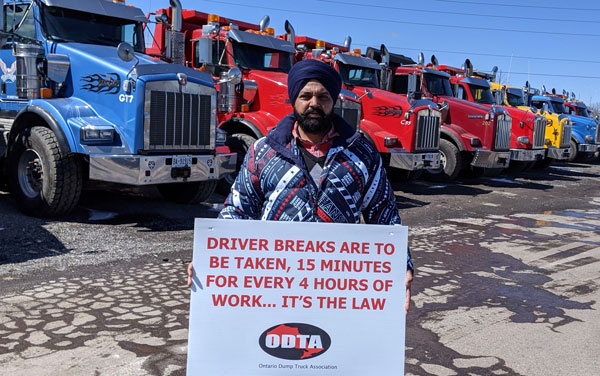 Dump trucks typically remove excavated materials from construction sites and Punia noted because of their maneuverability on difficult terrain they can get pressed into service performing other tasks including carrying aggregate. The trucks take a beating driving on rutted surfaces, he said, operators are required to spend significant amounts on maintenance.
"That's sort of where the problem starts," said Punia. "If these individuals aren't getting compensated enough to maintain their vehicles, it's going to compromise safety and the public."
The dump truck owners, most of them of South Asian descent and small business operators, work through brokers who contract with contractors, associations and members of the Associated Earthmovers Association. Typical fees range from $65 to $90 per hour which is not nearly enough for the businesses to be profitable, Punia said, with diesel fuel costing twice what it was a year ago and maintenance, wages and other costs soaring.
"A driver's pay is 27 bucks or so," said Punia. "You do the math, how is a $300,000 vehicle with fuel able to operate with less than $30 pay. It's not possible. This is just ridiculous."
Punia said the new ODTA contract outlines the individual's rights, opportunities for breaks, working conditions such as the length of a workday, situations where a contractor tells a worker to go home without pay, and safety issues such as overloaded trucks.
"We're saying straight that it's not going to happen anymore."
Punia said the job action will continue until enough buyers agree to abide by the contract. Asked the impact it is having, he said, "That is unknown, but I think holding 1,500-plus trucks from the market is a significant impact to the industry."
Patrick McManus, executive director of the Ontario Sewer and Watermain Construction Association, said last week the job action had not hurt projects much yet given that it was early in the season but it will become more of a problem if it lasts long.
The Earthmovers Association could not be reached for comment.
Giovanni Cautillo, president of the Ontario General Contractors Association, addressed the disruptions caused by both trucking associations and said industry stakeholders believe the trucking industry and the role of brokers needs to be better regulated.
"We have a lot of questions to ask about that industry. I think a light needs to shine on the trucking industry," said Cautillo.
"In the bigger picture, this could have totally been avoided. They didn't have to go to these extremes and basically frustrate construction in order to get their plight heard."
Cautillo said the associations gave little notice and did not adequately consult with stakeholders.
Follow the author on Twitter @DonWall_DCN.