Rodworkers are the latest trade to nix a proposed provincewide settlement, joining carpenters, plumbers and pipefitters, precast erectors, operating engineers and labourers.
The precast erectors subsequently ratified a second deal presented to them.
Carpenters, operating engineers and demolition workers remained on strike in the ICI May 16 with several trades and their employers set to sit down for negotiations this week.
Meanwhile, ICI bricklayers and tile and terrazzo workers ratified deals last week.
Mike Yorke, president of the Carpenters' District Council of Ontario, said his members have stated unequivocally they need to keep up with the cost of living through their next contract. As with the other ICI trades, the Carpenters' previous three-year deal expired April 30.
"We heard loud and clear from our members that the cost of living, which clocked in at 6.7 per cent in March and 5.7 per cent in February, that they're having a difficult time keeping up with the cost of living, with spiralling costs," said Yorke. "There's an affordability crisis, whether it's gasoline to get to work, whether it's groceries to put food on the table or rent or housing.
"They're concerned, they're anxious. Our members are asking our union, let's get something done here."
LIUNA international vice-president Joe Mancinelli said it's the same with labourers.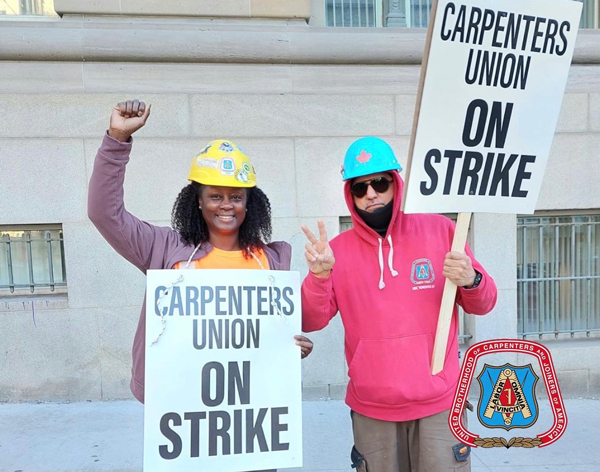 "They understand the need to have a decent increase. We're not gouging our employers and our employers know it, that our demands are actually very, very level," he said.
Negotiators for the carpenters and the employer bargaining agency met May 12 but Yorke said his team was unable to secure an immediate date to resume negotiations. Carpenters went on strike May 9 with around 14,000 workers said to be disrupting over 100 jobsites.
"We made it clear that we were prepared to meet even over the weekend and we're prepared to meet this morning or tomorrow, or Wednesday," Yorke said May 16, noting there were scheduling conflicts on the employers' side on May 19 and 20.  
The employer negotiators said they had to undertake more research before returning to the table, Yorke said. The next scheduled meetings are May 24, 25 and 26.
"When a whole industry is worth billions in Ontario and drives other sectors and is a big piece of Ontario's GDP, the responsibility was to meet to resolve our issues, not to delay further," said Yorke.
Representatives of the employers bargaining agency did not return requests for comment.
Ironworkers and rodworkers union negotiator Kevin Bryenton reported only that the rodworkers had turned down a proposed settlement so it was "back to the table." Ironworkers previously ratified their deal, signing for nine per cent for three years with Toronto workers earning a 0.5-per-cent premium.
In February electrical workers negotiated a deal that gave them 8.6 per cent over three years with an escalator clause that boosts pay depending on later settlements.
On April 30 steeplejacks ratified a deal that contained a wage hike of 14.7 per cent over three years.
The deal reached by ICI bricklayers worked out to 9.2 per cent over three years, with Toronto workers getting 9.7, reported Tony DiMaria, an executive with the Brick and Allied Craft Union of Canada. He said Toronto tile workers ratified a deal with a 9.2-per-cent pay raise over three years while workers elsewhere in the province will see a hike of 8.7 per cent over three years.
Bricklayers also have a me-too clause that will give them a match with the deal eventually negotiated by the labourers, up to 12 per cent.
Both deals were ratified May 13.
"I don't look at other people. I have to look at my part of the industry, where the competition is," said DiMaria.
"I told the guys there was a fair deal, and they were happy with it. You know, you're always going to get some guy that says I want more. Well, that's fine, but it's a true democracy."
Representatives of the employer bargaining agencies in the two sectors did not return requests for comment.
Among other trades:
LIUNA negotiators representing ICI cement masons, waterproofing and cement finishers will be at the table May 19.
There has been no deal reported yet by the Teamsters in ICI with no update offered.
Brad Farrell, business manager of International Union of Elevator Constructors Local 50, has reported elevator constructors have approved a deal worth 4.25 per cent in the first year with years two and three to be determined by the average of the top three highest wages of the 10 main building trades.
ICI insulators were slated to meet with their employers May 17 and 18. Language and wages are still on the table.
Plumbers and pipefitters were to vote to ratify a new deal May 17.
Sheet metal union executives will be counting ratification votes May 17.
Bargaining sessions for ICI roofers are scheduled for May 19 and 20.
Follow the author on Twitter @DonWall_DCN.