For the Toronto Society of Architects (TSA), this year's Toronto Pride Parade is an opportunity to make a statement by celebrating the LGBTQ community but also educating people on queer spaces in the city and their significance.
"We are all carrying these giant building silhouettes and they represent LGBTQ spaces from the past and present of Toronto," explained Joël León, programming director with the TSA.
"Those in black are spaces that have been lost and those in bright magenta are the spaces that continue to serve the community to this day. For us it's also a bit of an education effort of giving spatial qualities to the LGBTQ community because we often don't think about a space being queer or a space serving a community, but all these buildings and spaces are deeply meaningful to the community."
The Pride Parade will be held this Sunday, June 26. One of the mandates this year was to be more sustainable so there is no vehicle included in the float. Instead, marchers will carry about 35 signs representing queer spaces.
"We want them to be big enough that people recognize them from a distance and it's Pride so you've got to make a statement," said Kurtis Chen, Pride initiative lead.
"Each of the buildings has a history attached to it so we will also be doing a social media campaign on Instagram where we will be showing a marcher holding the building cut out and describing the building."
The earliest building represented is the Letros Tavern, a famous bar on King Street in Toronto.
"It was known, even in the 1940s, to host drag shows," said León. "It is one of the earliest spaces we know in Toronto that had queer events."
Other queer places around the city include the AIDS Memorial, designed by Patrick Fahn in 1994 in Barbara Hall Park and The 519, a community centre on Church Street which serves the neighbourhood but also serves the LGBTQ community across the entire city.
Hanlan's Point, where the nude beach is located, was the site of the predecessor to Pride, the Gay Picnic.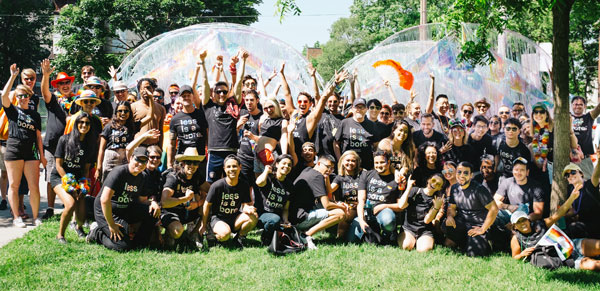 The famous Barracks Bath House was raided twice throughout Toronto's history.
"It really is the raid of these bath houses that led to Pride as a protest and a march," León said.
"Many of these spaces are things that we walk by. You might not always recognize their importance…so we're quite happy to be able to highlight these."
León said there are so many interesting spaces with great stories that the TSA is planning to launch an architectural walking tour of the village next year.
The Carpenters' Locals 27 and 675 will be marching in partnership with the TSA this year.
"Our members have volunteered over the years to build many Pride floats for various groups, but this is the first time ever we are marching in the Pride Parade openly," said Chris Campbell, director of equity diversity and inclusion for the Carpenters' District Council of Ontario, who will be marching in the parade with his family.
"It's no longer enough to say we are in support or stand in solidarity from a distance. We as industry leaders cannot change the past, however, we as construction trade union leaders can speak up and work on being more inclusive going forward.
"They were excited, they want to participate, they want to march, they want to show support for our members who are LGBTQ. There is a whole new generation of folks that sees things differently that is causing this change."
The Carpenters Union's participation in the parade is being led by Mulisius Joe, a concrete form worker who has been with Local 27 for 12 years. Although she has been participating in the parade for years, this will be the first time she will be participating with the union.
"I'm out at work and when I was asked I jumped at the opportunity because I'm of the community," said Joe. "It was a learning experience for me because this year Pride isn't doing any diesel-powered vehicles in the parade so we had to come up with a cool way of having a float without actually having a vehicle."
About 70 people have signed up so far including members and their friends and family.
"I'm very proud to be walking with Local 27 this year because I feel like in the last few years Local 27 has made some strides with equity, diversity and inclusion," said Joe. "A big thank you to the executive board and the membership because without them we wouldn't be able to do this…I hope we can see more strides like this."
TSA has also extended invitations to others in the architecture profession to join as well.
Those who want to participate can do so by emailing their name and T-shirt size to mulisius.joe@gmail.com.
The group will be meeting at St. James Town West Park.
Follow the author on Twitter @DCN_Angela.