After two years in virtual mode, TimberFever, the design-build competition for university engineering and architectural students, was back to normal, with nearly 100 participants competing at the eighth annual three-day event, hosted at the Toronto Metropolitan University (TMU) campus.
Students from universities in four provinces and even some U.S. schools were split into 16 teams and supplied with lumber, materials and given a deadline to design a garden pavilion for a specific vegetable.
"The idea was to bring everyone together in this hypothetical community garden setting," says Alex Winslow, a fourth-year TMU architectural student and one of the TimberFever committee organizers who developed the community garden theme.
Each pavilion was scored points based in part on criteria specific to the vegetable it would house, taking into account the crop's eventual height, its spacing needs as well as the sun and moisture requirements, explains fifth-year TMU engineering student Ishkreet Merwaha, who is also on the organizing committee.
For Israel Castro, a third-year structural engineering student at the University of Toronto, the event's emphasis on collaboration was seminal.
"The architects did the design and then passed it over to us (engineers) and we did the numbers, calculations. We passed it back and forth a few times to get it right."
Castro added that mentors from Carpenters' Local 27 gave tips on how to ensure the designs could be practically constructed.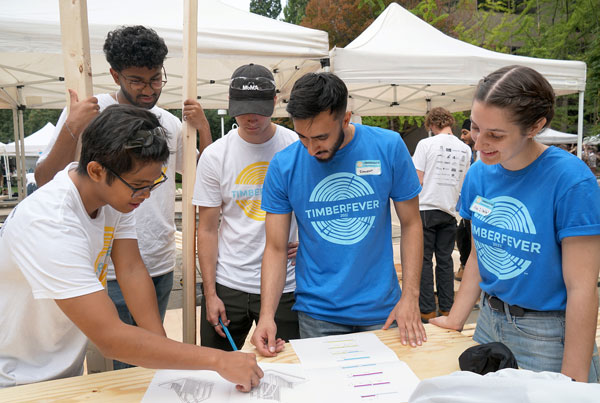 "This event really shows you all the steps of the design and construction process."
Architectural student Carmen Carretero, who flew in from the University of California, Berkeley to get a Canadian perspective on timber construction, agrees with Castro.
The interdisciplinary aspect to the competition is lacking in the university curriculum, she says, pointing out that working with engineering students helped her understand facets of design that she might otherwise overlook.
Carpenters' Local 27 sent more than a dozen carpenters to volunteer as mentors to the students during the construction phase of the event.
Local 27 provided a safety talk, tool demonstrations and walked around to help work through the kinks of construction.
"We're connecting with the future generation of architects and engineers," says Sean Blake, a carpenter with Local 27, who volunteered a good portion of his weekend to help keep the competition on course.
The event exposes future engineers and architects to the importance of collaborating with builders, which helps minimize conflicts between the disciplines when they go to work in their fields, he says.
"When they sit down in their offices to create (design) these structures, they will tend to have a little more reasoning for the construction side because of this event," Blake adds.
"Their approach to details will be a little more informed, I think.
"At the end of the day we're all involved in putting up a structure…wanting to deliver the best product possible."
Blake believes architectural and engineering firms are starting to pay more attention to their communication roles with the building trades.
Medhat Shehata, professor of civil engineering at TMU, says events like TimberFever "offer great opportunities for innovation and experiential learning."
Presented by Moses Structural Engineers, TimberFever is the brainchild of David Moses who says the hands-on experience of building with wood has been a prime objective from day one.
"Since the beginning, we've felt a real sense of community around TimberFever, where everyone comes together to collaborate, teach and inspire," he adds.
The event was judged by engineers and architects, with cash prizes to the winning teams.