The 170 guests gathered to sip champagne and mark the official opening of the LIUNA Local 837 E.H. Mancinelli Training Centre on Hunter Road in Grimsby, Ont. were offered a brief history lesson on how far training has come for labourers in the construction sector.
Fifty years ago, once speaker remarked, training consisted of dragging a new worker out to a jobsite and saying, "Do what he's doing."
In the early 1980s, business manager Richard Persi said, Local 837 trainees were introduced to the trade in what was basically a barn, with no heating, makeshift classrooms, 90 per cent of training being hands-on and English as a second language a core competency.
Fast forward, past the most recent 8,000-square-foot training facility which represented a notable step forward for the local, guests at the Oct. 12 reception beheld the next-generation facility – a sprawling 45,000-square-foot structure that LIUNA general president Terry O'Sullivan called one of the most advanced of LIUNA's 72 North American training facilities.
"The new building has allowed us to not only expand our training and offer more apprenticeship classes, but it has allowed us to strengthen our partnerships – partnerships with the Indigenous community, with new Canadians, school boards, youth at risk. It's just amazing," said Persi.
The new facility is named after the father of Joe Mancinelli, Hamilton-based LIUNA international vice-president and regional manager for central and eastern Canada. Like his son, Enrico (Henry) Mancinelli rose through the ranks of LIUNA to become a top executive.
Joe Mancinelli said he could not discuss his father for fear of becoming too emotional but instead noted the new training facility would be a springboard for new trades workers aiming to build Ontario amidst a government project spending boom.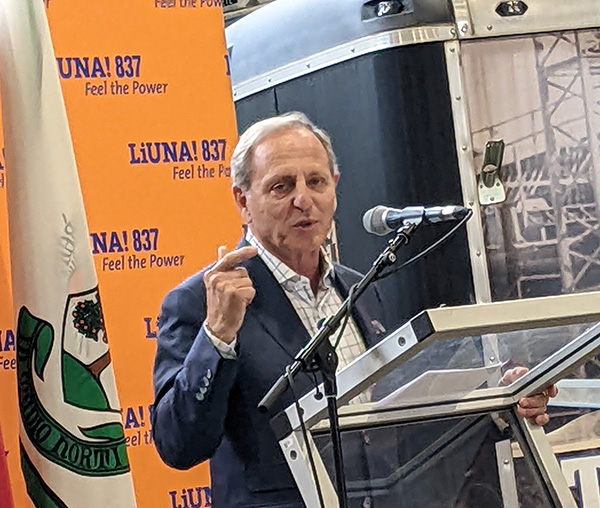 "It highlights the importance of adding enough labour in order to do these projects, and that highlights the need for training. That's what we're here to do today," said Mancinelli.
Mancinelli is the chair of the Local 387 training trust that spearheaded construction of the new facility.
Designer for the project was Lintack Architects.
"Several years ago, when the training trust got established, we never would have thought that we would have a facility of this magnitude and this calibre, that feels like an education centre," commented Mancinelli.
Local Hamilton MP Filomena Tassi, the federal minister responsible for the Federal Economic Development Agency for southern Ontario, acknowledged the presence of several members of the Mancinelli family and the unveiling of images of Enrico Mancinelli.
"You and your family feel a great sense of pride in this fantastic scene. They're gathered as we unveiled the beautiful rendition of your father and we saw tears in your family's eyes," said Tassi.
"This is really something that is special…Your father was a champion for workers and you picked that up that charge. By your dedication and commitment to creating a workplace that is providing workers with the skills they need, it is second to none."
Other guests included Sean Strickland, executive director of Canada's Building Trades Unions, and provincial cabinet ministers Monte McNaughton and Caroline Mulroney.
Follow the author on Twitter @DonWall_DCN.