The construction industry across Canada is constantly in motion, evolving with current events and adapting to an ever-changing environment.
But as much as the industry continues to move forward, some issues will always be at the forefront.
This was a telling discovery the Daily Commercial News (DCN) team made while going over the archives, checking out what was covered in the initial pages of the DCN's inaugural issue in 1927 through to today.
As we celebrate the publication's 95th anniversary, we thought we'd share a small sample of what issues are standing the test of time and how it was covered then and now.
Labour strife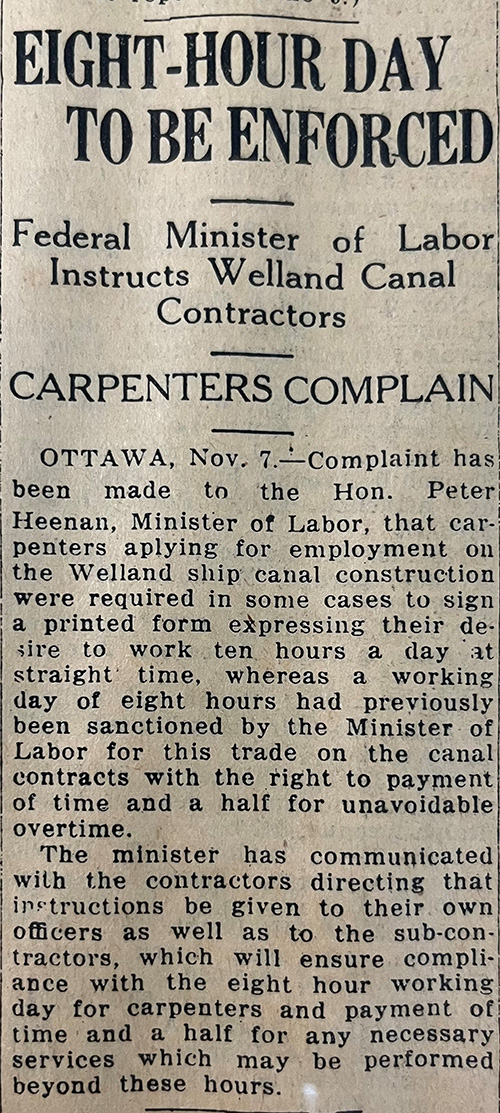 Collective bargaining agreements across the sector expired this year and with that came strikes, disputes and some difficult negotiations as unions and those representing employers faced off.
Katherine Jacobs of the Ontario Construction Secretariat recently gave a snapshot of the season for Ontario's 25 trades.
As of September 2022, 24 of 25 trades had ratified three-year collective agreements. Wages rose between $5 and $9 per hour in the three-year packages, and there were eight tentative agreements rejected by union members.
There were five strikes in ICI totalling 60 days: by the carpenters, demolition workers, glaziers, operating engineers and painters.
The DCN featured an article dated Nov. 8, 1927 entitled "The End of the Strike," with the first line reading, "Peace has been restored, and striking members of the United Brotherhood of Carpenters and allied building trade unions have returned to the jobs."
In the same edition another article highlights how an eight-hour workday was to be enforced on the Welland Ship Canal construction.
Supply chain challenges
Project delays, cancellations and contractor reluctance to bid on projects has become a growing trend throughout the pandemic as supply chain and material shortages plague the industry.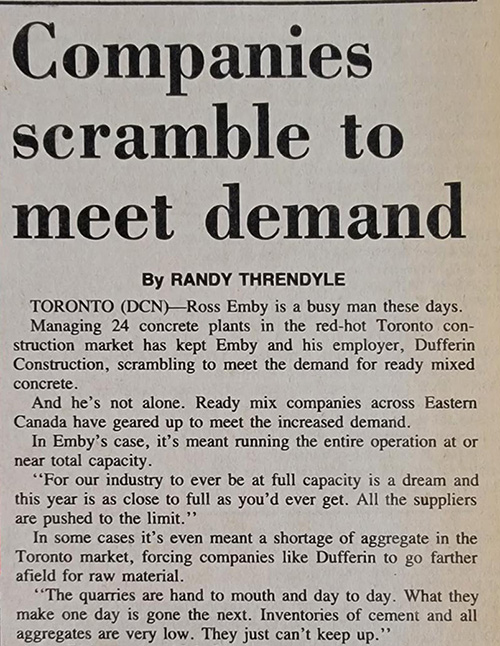 Throughout 2022 the DCN has covered cement and concrete shortages, sky-high lumber and steel prices and created a feature page on the state of supply chains across North America.
But this isn't the first time supply chain issues have graced the pages of the publication.
Albeit for different reasons, a 1987 edition of the DCN highlights how Dufferin Construction scrambled to meet demand as the industry ramped up projects.
"Ready mix companies across Eastern Canada have geared up to meet increased demand," it reads, later stating, "In some cases its even meant a shortage of aggregate in the Toronto market, forcing companies like Dufferin to go farther afield for raw material."
Housing hurdles
The Ontario government's More Homes Built Faster Act has been touted by many in the industry as a "once-in-a-generation" piece of legislation that will help the province reach its goal to build 1.5 million new homes over the next 10 years.
It's meant to tackle what's been coined a housing crisis in Ontario where there isn't enough supply to meet demand or enough people being able to afford homes in the first place.
But housing hurdles are anything but a new problem.
While it may be top of mind now for politicians, it's an issue that has long been making headlines.
As a July 1987 article highlighted, "Home costs 'not likely to fall off.'"
In it the former director of the Toronto Home Builders' Association stated, "This industry is in a position right now where, even if sales activity remains quiet this year, it will be working at capacity levels for the balance of the year."
He added the high level of activity and lingering material and labour supply problems would keep the pressure on builders.
Does this sound familiar?