Skyway Canada has announced it has formed a partnership with the Tobique First Nation of western New Brunswick to train its members in scaffolding, swing stage erection and shoring.
Skyway, which also offers engineering, erection, rope access, fireproofing and dismantling services, will work with Carpenters' Union Local 1386 and the Tobique partnership entity called Moskwən-Way to develop the next generation of scaffolders for its ICI portfolio.
It's Skyway's first such partnership in New Brunswick after launching several in Western Canada.
"We are excited to develop Moskwən-Way and to be collaborating with our partners from the Tobique First Nation Development team," said Randy Brown, regional manager of Skyway's Atlantic region.
"We've been known to grow the Aboriginal business and create as many jobs as we can for the Aboriginal communities in doing so, and we're very involved in safety and in training for the people and to be well equipped to do the job successfully."
Tobique First Nation (Neqotkuk) is one of six Wolastoqiyik Nation reserves in the province. Currently, there are six journeymen scaffolders from the community. Four are working on a rehabilitation project for NB Power at the Tobique Narrows Generating Station, one of Moskwən-Way's first projects.
One of the Skyway's best assets in recruiting from the remote community is foreperson Randy Perley, uncle of Chief Ross Perley and a foreperson on the generating station job. Perley has been working as a journeyperson scaffolder attached to the Carpenters' since 2006 and has spearheaded previous attempts by the union to train scaffolders from Tobique First Nation.
This time around, with support from Skyway, Perley believes some of the members whose scaffolding credentials have lapsed and other First Nations young people will climb aboard.
"Not too many guys went to work because I guess they were all greenhorns, and not too many people really want to travel out at that particular time," he said of the previous training efforts. "But now that everybody's a little older, they get families and they get kids and they want to work, so they're looking to me to try to help them expand their careers in the scaffolding business."
Perley has been an ambassador for the union elsewhere as well, addressing various First Nations communities about the benefits of a good union job in the trades.
He said he and the other scaffolders come back to the Tobique community with money in the bank and enjoy new trucks and good homes, serving as an incentive for community members to consider the trade.
"The pay is better than anything. It's better than doing residential or commercial work because all this is industrial work," he said. "I try to tell the men, 'What are you doing here, working for 15 bucks an hour when you can go make 25 bucks an hour?'"
Tobique First Nation has 2,200 inhabitants. The nearest community college offering trades training is an hour away, Perley said, so Skyway's offer to come to the reserve to train workers removes a disincentive.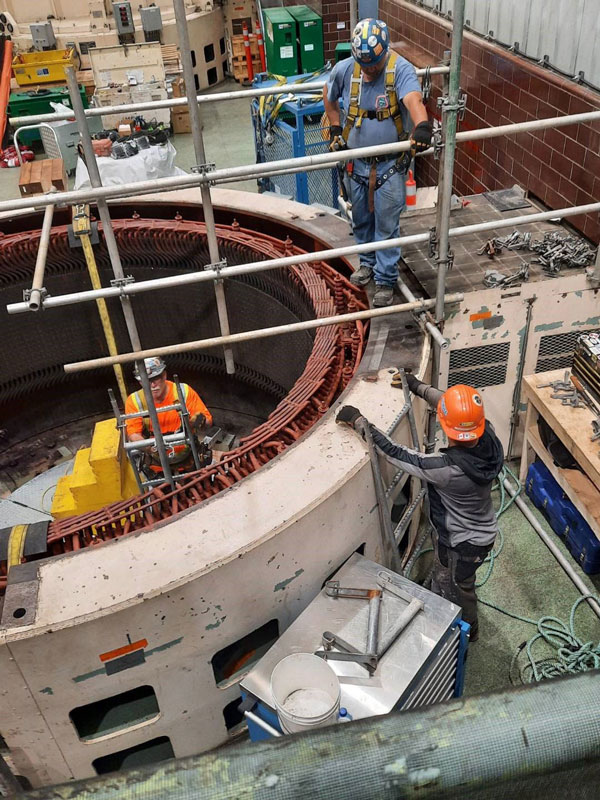 The Tobique Narrows Generating Station was completed in 1953 and has a capacity of 20 megawatts. The Skyway crew installing scaffolding is working in a tube 40 feet deep inside a dam, enabling other crews to refurbish one of the turbines.
Perley notes the scaffolders are 20 feet under the water level.
"We got a lot of confined-space work going on. A lot of climbing going on," he said, noting he can detect fear in the eyes of young scaffold workers in such situations.
"I can spot somebody scared of a confined space and I try to coach them along, slowly but surely, and then they get used to it."
A March 2022 BuildForce report on workforce needs in the province over the next five years identified that New Brunswick's construction industry will need to recruit 3,600 new workers to offset the retirement of 4,200 workers. Carpenters were listed as a trade in high demand.
Brown said there will be ample future work for scaffolders on projects like the generation station job and it's hoped that the journeyperson scaffolders from the Tobique First Nation will be able to lead their junior colleagues.
"As we grow this into other areas of projects, the apprentices will be out front and centre," he said.
Brown noted Skyway's partnership with Tobique First Nation aligns with its commitment as a Progressive Aboriginal Relations committed member of the Canadian Council for Indigenous Business.
Beyond reconciliation, he said, the partnership is "there to generate business, undoubtedly, for both parties. And especially for the generation of business and health and welfare for the Tobique First Nation."
Follow the author on Twitter @DonWall_DCN