A celebration of the No. 2 Construction Battalion, the first and only all-Black battalion-sized unit in Canadian military history, will be among the events marking Black History Month this February.
In association with the Carpenters' District Council of Ontario, the Painters Union, the Plumbers Union and others, Afroglobal Television is presenting its annual Black History Month showcase celebrating the First World War battalion Feb. 23 from 6:30 to 9:30 p.m. at the Bellagio Boutique Event Venue — by PeterandPauls in Vaughan, Ont. The theme will be Honouring the Past, Inventing the Future.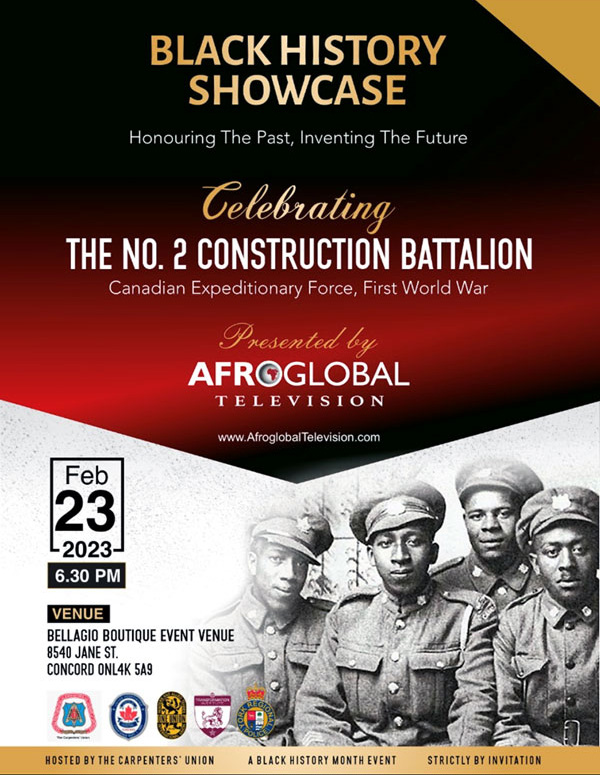 The No. 2 Construction Battalion is also being remembered on the 2023 issue of the Royal Canadian Mint's ongoing Commemorating Black History series. The 2023 $20 fine silver coin honours the service and sacrifice of battalion members.
When the First World War began, hundreds of Black Canadians tried to enlist but racism prevented many from joining, states a release issued by the Royal Canadian Mint. In 1916, persistent lobbying and a request from the British for labour battalions provided an opportunity for a Black unit to be created.
The No. 2 Construction battalion served alongside the Canadian Forestry Corps in the forests of France, helping with lumber and milling operations, including the loading and transportation of finished timber by rail.
The timber was vital to the Allied war effort, lining trenches, supporting observation posts and for the construction of aircraft in France, the mint states.
The coin, by artist Kwame Delfish, features a soldier of the No. 2 Construction Battalion standing at attention between two railroad tracks with his battalion's cap badge prominently displayed on his right, adjacent to a landscape of France's Jura region where the battalion assisted with logging and building a railroad.
To his left, battalion comrades march in a parade prior to their March 1917 deployment to Europe.
Descendants of the No. 2 Construction Battalion and their allies campaigned for a formal apology for the racism and discrimination endured by battalion members. Prime Minister Justin Trudeau and Minister of National Defence Anita Anand delivered the apology before descendants in Truro, N.S. July 9, 2022.
The Carpenters' are also sponsoring the Annual Black History Month Celebration, Boonoonoonos Brunch 2023, celebrating Black youth excellence on Feb. 12.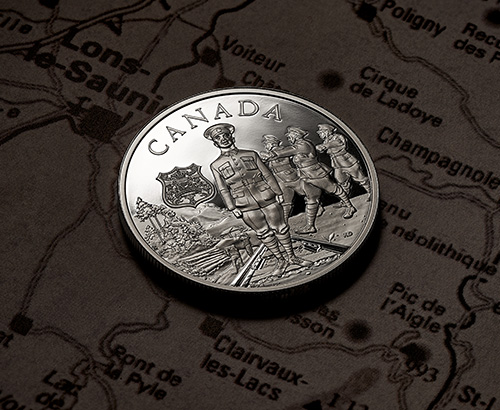 It will be held at the Jamaican Canadian Community Centre in North York, Ont. Award recipients include Rokhaya Gueye, member of Carpenters' Union Local 27; Cheryll Case, founder and executive director, Community in Public Planning; Yanique Williams, public policy manager, Uber Canada; and Julius Lyndsay, director, sustainable communities with the David Suzuki Foundation.
For more information visit www.jcaontario.org.
Other associations are also hosting events throughout the month.
On Feb. 16, the Toronto Community Benefits Network (TCBN) is hosting UNDPAD (United Nations Decade for People of African Descent) — A National Conversation with Labour virtually. Those in attendance will hear from experts from both labour and community discussing how the first eight years of the Decade for People of African Descent, which comes to an end in 2024, has progressed and what the focus needs to be going forward. It will take place from 6 to 8 p.m.
The Afro Canadian Contractors Association is running a campaign to build a Black contractors directory across Canada in collaboration with TCBN.
Those who refer a Black contractor are entered into a draw to win a getaway. The nominators and the contractors will be entered into a draw to win two $1,000 Air Canada gift certificates. The draws take place Feb. 28.
EllisDon is hosting a Dismantling Racial Bias in the Workplace with Sean Mauricette webinar on Feb. 27 at 11 a.m. A graduate of the University of Toronto's Faculty of Architecture as well as an actor, musician, educator and motivational speaker, Mauricette has worked on various projects including the Jane and Finch Centre for Green Change.
He was also head architectural designer for the Toronto Community Housing's support centre for young fathers. He has received more than 20 awards and in 2012 was presented with the Medal of Appreciation for his work with youth from the United Nations Association of Canada. 
Mauricette will discuss Black history prior to slavery, cycles of oppression and collaborative solutions to dismantle racial bias in the workplace. To register, visit Webinar Registration – Zoom.
Follow the author on Twitter @DCN_Angela.