There may yet be a short-lived recession in the economy as a whole but Ontario's ICI contractors are generally confident about workloads over the next 12 months, they told the Ontario Construction Secretariat (OCS) in a recent contractor confidence survey.
Overall, 32 per cent of contractors in Ontario expect an increase in work in 2023, while 49 per cent believe they'll do the same level of work as in 2022 and 16 per cent expect less compared to 2022.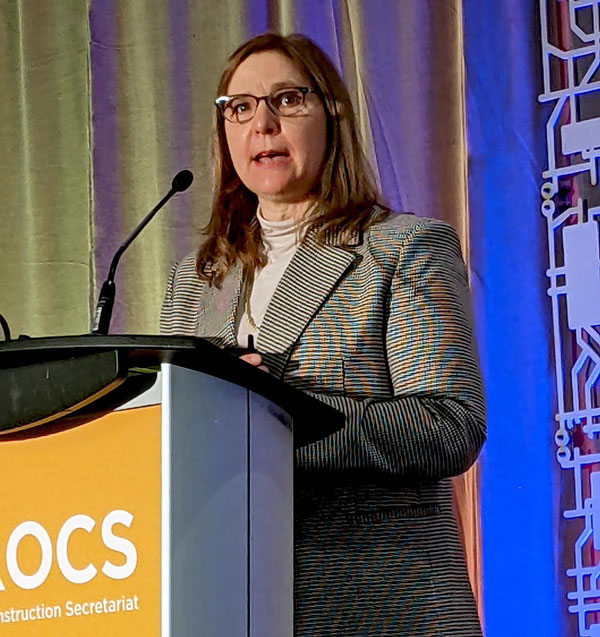 The results of the OCS's annual Contractor Survey were unveiled by Katherine Jacobs, OCS director of research, at the organization's State of the Industry and Outlook Conference held in Toronto March 2.
Unlike the precarious residential sector, Jacobs said, ICI contractors remain positive as they weather such challenges as labour market shortages, high material costs and supply chain disruption.
The survey found the severity of those issues abated somewhat from the 2022 survey, with material availability and supply chain disruptions showing improvement.
Right now, there is over $169 billion in major projects driving ICI construction activity in Ontario.
"We have a massive pipeline in the province of Ontario," said Jacobs. "There's just a lot of work out there and a lot of opportunity for us to remain busy over the next five years."
She quoted from the comments of one respondent among 500 who responded to the survey, conducted between Jan. 11 and Jan 27.
"One contractor said, 'Ontario's growing, and we're happy to be part of that,'" said Jacobs. "There's an abundance of riches there and I think contractors are pleased to be part of this industry."
REGIONAL OUTLOOK
Assessed regionally, the outlook for the GTA is similar to that of the province.
Thirty-two per cent anticipate more work, 47 per cent expect the same, and 16 per cent expect less. Both Ontario and GTA expectations are slightly below those of 2022, where 36 per cent believed there would be more business.
A chart presented by Jacobs showed $9-billion-plus projects on the books for the GTA, including the continuing OPG Darlington refurbishment program and the GO RER Electrification project, which carries a price tag of $10.58 billion.
In southwestern Ontario, 32 per cent of contractors believe there will be more work, 50 per cent think there will be the same, and 18 per cent expect less work.
Headlining the project roster in that region is the 13-year Bruce Power refurbishment project, valued at $13.5 billion.
In eastern Ontario, 30 per cent expect more business, 56 per cent expect the same, and 10 per cent anticipate less. This is less than in 2022.
In central Ontario, 27 per cent of contractors expect more work, 52 per cent expect the same, and 17 per cent expect less. This is much lower than what was expected for 2022, where 39 per cent of contractors expected more work.
Northern Ontario has the most positive expectations. Half of contractors expect more work, 31 per cent expect the same amount of work, and 19 per cent expect less. This is much more positive than last year, when 30 per cent expected more work.
COST CONCERNS DROP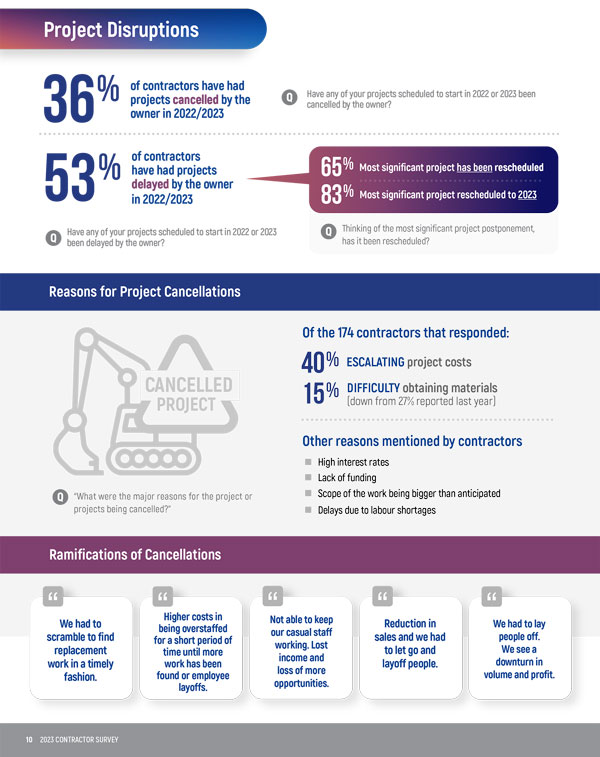 Similar to 2022, the availability of experienced skilled labour and material costs are the top concerns this year. But the percentage of contractors rating material costs (29 per cent) as the highest concern is much lower than in 2022 (44 per cent).
Material availability also dropped as a top worry, with 17 per cent of contractors rating it as their top concern, compared to 34 per cent last year.
The survey also tracked the consequences of the threats.
Jacobs stated, "Sixty-three per cent of contractors told us that costs just basically increase. We don't have the labour when we need it."
Fifty-eight per cent said the start or completion dates of projects are stretched out.
Some contractors noted they are using less qualified workers or had to turn work down.
"These are serious and it's important for us in the industry to seek solutions to this," said Jacobs.
LOWER HIRING EXPECTATIONS
There was a modest softening in hiring expectations by contractors, the researcher stated.
In 2023, 33 per cent of contractors said they'll be hiring more employees this year. Last year, that number was 43 per cent.
Overall, 64 per cent of contractors said they would hire at least one apprentice. Broken down by union affiliation, 83 per cent of unionized contractors said they would hire apprentices, in contrast to 54 per cent of non-union contractors.
Commented Jacobs, "Certainly I think the unionized sector is showing leadership in that field and continuing to bring in those apprentices and to train them to build that next generation of workers."