HAMILTON, ONT. — A group of students from Mohawk College have created an illustrated poster series and art exhibition celebrating women in the trades to mark International Women's Day.
Students in the Graphic Design program collaborated with tradeswomen across Ontario for the project. Each student was assigned a specific tradeswoman as their subject and asked them to write about their career journeys. The students then artistically interpreted their subjects and their trades through art and typography.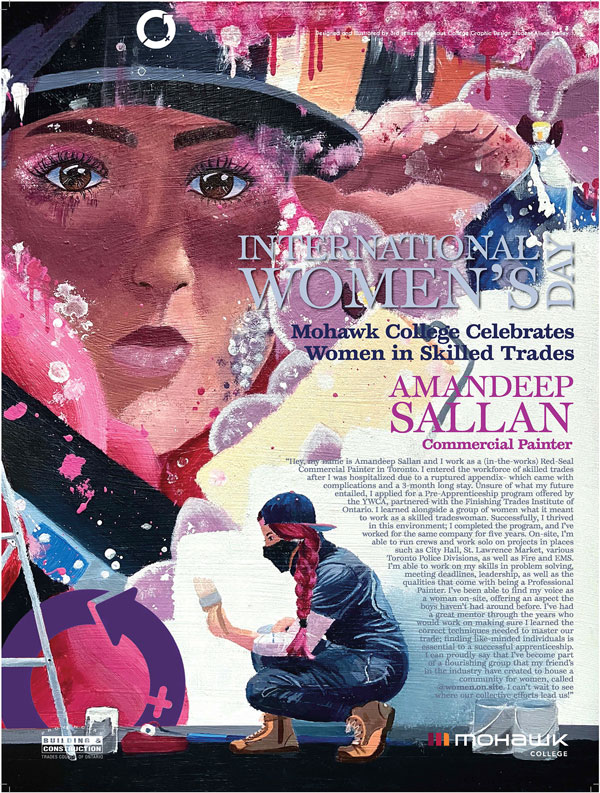 They were tasked with creating an acrylic portrait or montage of their subject doing her work and then designing a poster to illustrate that tradeswoman's career journey. The paintings and posters will be the focus of an art exhibit at the Workers Arts and Heritage Centre in Hamilton.
The college worked in partnership with the Ontario Building and Construction Tradeswomen organization, which is affiliated with the Provincial Building and Construction Trades Council of Ontario.
"This poster series is the product of the students' creative collaboration, celebrating the work of women and underrepresented gender identities in the skilled trades," said Leif Peng, the graphic design professor who assigned the project, in a statement. "Women and gender-diverse workers across sectors still struggle for gender parity, safe workplaces, and pay equity. Like the tools these artists and skilled tradeswomen use in their daily work, we know that a brighter future is in our hands. We hope these posters will inspire future tradeswomen and encourage solidarity for all women and gender-diverse workers."
The exhibit will take place at the Workers Arts and Heritage Centre located at 51 Stuart St. in Hamilton. It opens today (March 8), to coincide with International Women's Day, and will run until April 15.