An Ontario housing technology company has unveiled a scalable, mass timber, energy-positive model showhome along with plans to create a 67-unit, off-grid, net-zero community in Augusta Township in eastern Ontario.
The 752-square-foot showhome from CABN was designed using a patent-pending Energy Informed Design (EID) strategy, incorporating thermal bridge-free components, airtight construction, onsite renewable energy generation and an electric system with heat exchange ventilation.
CABN CEO Jackson Wyatt entered the housing sector with credentials as the founder and head of design for a Dragons' Den-approved sustainable products company, Greenlid, for which he built over 50 products distributed in 25 countries worldwide.
"We can make sustainable housing to address climate change, to address the housing crisis, right now for most people, and I think in the near future for every person, regardless of geographic location or economic position," said Wyatt.
"This is a stepping stone. I think the timing is right now. We're fulfilling the net-zero goals of 2050 right now in 2023."
Residences from CABN are manufactured using CLT at a research facility in Brockville, Ont. Wyatt said the firm is busy, working hard to keep up with demand from buyers across the continent.
The EID strategy incorporates biophilic principles to achieve results that approach and surpass Passive House standards, Wyatt said. Optimized design elements, such as roof slope and window placement, reflect the orientation of the sun. Placing solar panels on roof overhangs along with solar shading systems prevent extreme weather fluctuations and help control energy consumption rates.
"The energy-informed design is based on a parametric approach, which, to be honest, starts at a Passive House standard, and then we take all the inputs and tend to cherry-pick and pull out all the best forms and optimization from a myriad of LEED and different Passive House certifications and then apply them in a modelling process so that we can exceed the existing standards," said Wyatt.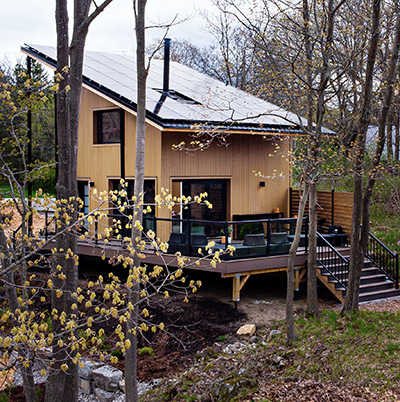 The homes can be assembled in three days and finished in weeks. They come in one- to four-bedroom models.
The units are available for sale to individual consumers or community developments, offering both on- and off-grid capabilities. Wyatt said the optimal arrangement is in five-home clusters.
Prices for homes in the Augusta Township development have not yet been determined. Wyatt said the firm is getting more efficient all the time in all aspects of its operations, which is enabling lower prices. Prefabrication lowers costs and the homes offer low lifecycle utilities costs.
Wyatt suggested the one-bedroom home could be priced in the "sweet spot" of around the $300,000 mark but that is an initial goal and "we're looking to do much better."
CABN COO Alex Kelly said the co-operation of Augusta Township is enabling CABN to move quickly on the project, which also enables the firm to manage its costs effectively. CABN did its homework to seek out underutilized lands in the community.
"The rapidity that we're able to do things with the supportive community and being able to use what would traditionally be underutilized land, I think all of that helps us to make the math make sense in terms of what we're doing and at the end of the day, also offering…that missing middle and providing much needed housing," she said.
Several members of Augusta Township council and staff attended the official opening of the CABN showhome in Mallorytown, Ont. on May 11. Wyatt hopes for groundbreaking in 2024.
Wyatt described an endless set of inputs that enable customer-specific, project-specific and community-specific designs. For example, every potential site in Canada has different climate data that must be sourced.
"Knowing every little minute input down to, like, if it's two adults and a child versus three adults, all these things factor into the performance of the buildings," he said. "You can make the decisions onsite, how you orient, mirror, all these different things that make it even more efficient."
CABN worked with B+H Architects to incorporate biomimetic elements into their community development plans and with EQ3 on showhome interiors.
B+H director of biomimicry Jamie Miller explained in a statement, "With biomimicry, we are moving beyond the long-standing separation of human versus natural systems and instead recognizing that humans are a core part of our natural environment. Our work with CABN has been led by nature."
 Follow the author on Twitter @DonWall_DCN