The new Miss Canada is a municipal construction development inspector who intends to use her public platform to promote female recruitment into the construction industry and the STEM sector.
Ashley Borzellino, 25, an employee of the City of Brantford, Ont., was crowned Miss Canada in Montreal on May 21. The graduate of Mohawk College's Civil Engineering Technology course had two work internships with the City of Hamilton and worked in the private sector before landing the position in Brantford a year ago.
The Hamilton resident said pageants are no longer the beauty contests of the past and contestants are urged to develop a "platform," a cause to speak about in the pageant setting and elsewhere. Since 2021, when Borzellino began pursuing pageant crowns, she has adopted the cause of "occupational diversity" and, given her immersion in the construction sector, it has evolved into more directly advocating for the promotion of the industry to women.
"I wanted to pick something that's unique and that's also very authentic to what I see and what I experienced on a daily basis," she said.
She got into pageantry with the idea of wanting to be purposeful and "not just do it for fun," said Borzellino. "I think with this title, I'm going to be reaching a bigger audience."
Borzellino was born in Italy and during her school years developed proficiency in math and physics while balancing volunteering. She was a finalist for the Hamilton Spectator Youth Volunteer of the Year Award and served with the Royal Canadian Air Cadets for six years, ending up as a section sergeant.
Borzellino was an Ontario Scholar when a female guidance counsellor at Cathedral Secondary School alerted her to the civil engineering technology course at Mohawk. A benefit to the program was its internships; another similar course did not offer that exposure. Her intern work for the City of Hamilton confirmed her interest in the inspection field.
"The foundation to your career is your internship. That's the first time you really step outside of a classroom. And it's really important to have a good experience in that moment."
She was aware construction was dominated by men but only when she started taking classes at Mohawk did the realize the extent of the disparity.
"To see it with your own eyes is something different. When I first started attending college, I noticed there weren't many of us, and I didn't let that discourage me. It was just something that couldn't go unnoticed."
Borzellino still had to get used to being the rare woman on the job once she started her career.
"I've been doing this now for four-and-a-half years, and I think over the period of time I've really become a lot more comfortable, not just in my position, but being the only woman onsite.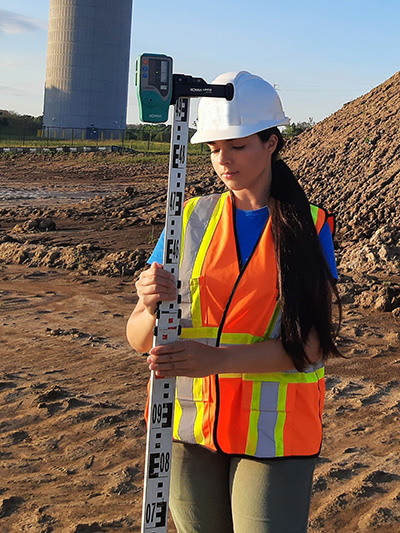 "Right now, I'm used to it and I shouldn't have to be used to it but I am."
The work is highly enjoyable, she said. She gets to work with construction teams who start with a vacant piece of land and take it to the finished product of a subdivision or commercial development, all the while consulting on project changes and ensuring design specifications are followed and work is high quality.
It's a "beautiful" experience, said Borzellino.
"It starts from nothing and it grows and it progresses in its phases. And I really love that. Something magical about that — just seeing how everybody plays a role into the project. It's not a one-man job and a lot of expertise is involved in it."
The four-day Miss Canada pageant was an enjoyable experience as well and she bonded with the other contestants. Next comes an international phase.
She is certain where her career will take her once her reign ends.
"I do think that Canada is a growing and adaptable country," Borzellino said about the prospects for change in the construction sector.
"We're not going to have numbers changing in just one year alone. It's just not realistic. But you have to start somewhere."
Follow the author on Twitter @DonWall_DCN