TORONTO – Ontario's first mass-timber, net-zero carbon emissions institutional building, Limberlost Place, reached the highest point of construction recently, achieving the topping off milestone.
The final wood and steel beams were installed on the 10-storey facility located at George Brown College's (GBC) waterfront campus in Toronto and project partners and the trades workforce signed a beam earlier this summer before it was lifted into place at the top of the building.
The building was designed by Acton Ostry Architects and Moriyama Teshima Architects with PCL Construction managing construction.
According to a release, Limberlost Place's structure was completed using an intricate installation method including a sequence where each mass timber column and cross-laminated slab band would be placed.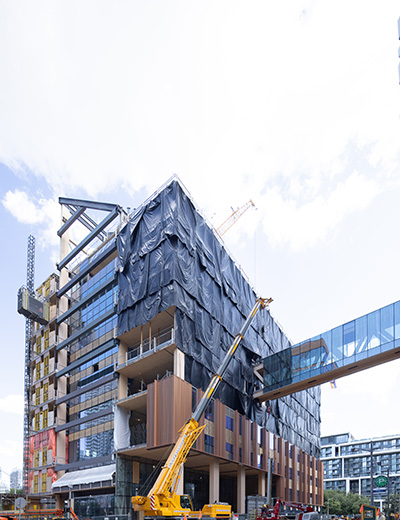 The structure includes three, three-storey mass timber columns which are some of the largest in North America.
The structure consists of made-in-Canada mass-timber components and a structural steel core.
About 139 cross-laminated timber and concrete composite slab bands were prefabricated at an off-site facility before being shipped to site for final installation. Weighing 17,000 pounds each, the cross-laminated timber pieces were prepared with kerf plates, screws, rebar, concrete, M&E sleeves, roof anchors and column bases.
Limberlost Place's structure is made up of approximately 1,190 pieces of cross laminated timber and 571 glue-laminated mass timber pieces. The structure uses 5,850 cubic metres of concrete.
Now the focus will shift from completing the exterior envelope to starting the interior fit-up, which includes the installation of other mass timber pieces such as the learning landscape feature stairs as well as commissioning the building.
Limberlost Place will be home to GBC's schools of architectural studies and computer technology, and the Brookfield Sustainability Institute.
The building has won multiple international awards for design and construction. It surpasses the Toronto Green Standard for reduced carbon emissions and is changing national and provincial building codes for mass-timber buildings over six storeys.