The Ontario Building Trades Council had to find room for two new chairs to add to the executive board table that presided over the council's 66th annual convention this month.
By all accounts the shuffling of the furniture was much welcomed and long overdue.
The new faces at the executive table in Windsor during the Oct. 11 to 13 convention represented LIUNA, which returned to the fold last December, and the International Union of Operating Engineers, which signed on this summer after a 10-year absence.
LIUNA has over 100,000 members in Ontario and the operating engineers represent over 18,500 workers in Ontario and Nunavut. The unions become the 14th and 15th building trades on the council.
"We have that increase in solidarity, we have that increase in stability, and we have that stronger unified voice under a single banner on behalf of the broader construction workforce," said Building Trades business manager Marc Arsenault.
Besides significantly adding to the roster of workers now represented by members of the Building Trades, the addition of LIUNA and the Operating Engineers brings fresh talent, strategies and resources to the numerous challenges facing the Ontario construction sector, Arsenault and others remarked.
"It is the access to the talent pool. All of our trades do certain things exceptionally well. With the Operating Engineers, they have a robust health and safety health program and health and safety initiatives," said Arsenault.
"And having access to the keeners in their organization for health and safety on the LIUNA side, hands down they are simply very good at organizing, they have demonstrated strategies that are successful."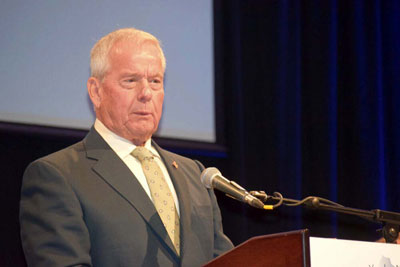 LIUNA has a valuable training facility that provides tunnel mock-up training, Arsenault said: "That is going to be very useful for the heavy civil component for the small modular reactors at Darlington to do that mock-up training."
And both affiliated unions have strong government relations talent and excellent leadership, Arsenault added.
"That makes the building trades stronger," he said.
LIUNA legal counsel Sean McFarling said the Labourers' left the Building Trades council during a period of differences of opinion largely related to the Ontario College of Trades. But LIUNA has maintained an informal relationship and with the creation of Skilled Trades Ontario some barriers to working more collaboratively were removed.
LIUNA has always felt strongly about speaking for itself, McFarling said, but, "We felt that being part of the Building Trades again would just echo that right and make a clear message to government and stakeholders that although we speak for ourselves, we're doing so also in conjunction with the Building Trades."
Operating Engineers Local 793 business manager Mike Gallagher said his union split from the Building Trades when it found it was devoting too many resources to fighting jurisdictional disputes with other members. That discord has largely dissipated, he said, although they still currently have three JDs with LIUNA.
"Our members work very closely with the Labourers' on most occasions and we prefer to have a good, friendly relationship with them," he said.
The Building Trades supported the Operating Engineers during their strike in 2022 with a letter of solidarity, agreeing not to cross picket lines or use replacement workers, Gallagher said.
"We appreciated that. So I think that was maybe the catalyst," he said.
There is a lot of important work to be done, Gallagher said, including fighting for improvements to the WSIB and advocating for affordable housing, and the Operating Engineers believe they have strong allies with the other building trades.
Executive board member David Gardner of the Heat and Frost Insulators union said benefits of the new, larger council include networking and problem-solving opportunities.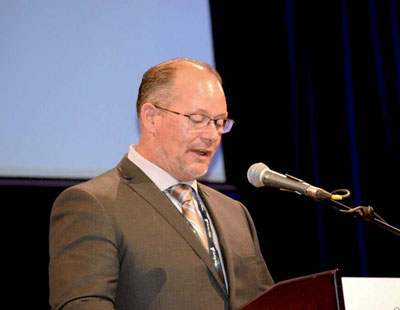 "From my point of view, it's easier to discuss issues right across the table, or you just pick up a phone," he said.
CONVENTION NOTES
Eight resolutions were passed by convention delegates including one calling for the Building Trades to "work closely with employers and government to put an end to the construction workplace carnage…" Another called for a National Prevention Strategy to also address health and safety concerns. Arsenault commented, "Critical injuries, workplace fatalities in the construction industry, are not trending in the right direction. We have to recognize that there hasn't been a noticeable improvement for a decade. And that needs to be dealt with in a collaborative way, that we're all committed to improving those numbers."
Construction Employers Co-ordinating Council of Ontario (CECCO) executive director Wayne Peterson praised the sophistication of the Building Trades Council in recent years.
Peterson urged unionized employers and workers to develop a joint dispute-resolution mechanism to avoid costly hearings at the OLRB, which knows very little about the industry, he said, using strong language. "Considering that 91 per cent of OLRB decisions are resolved without a final hearing, can our money be better spent? On worker benefits?"
Skilled Trades Ontario CEO Melissa Young reviewed STO's newly launched Strategic Plan and noted that a key strategy involved reaching out to young people, in high school, to address the merits of a career in the trades. Last fall over 30,000 students, parents and teachers participated in a series of career fairs and that number will increase substantially this year. The effort will not be successful, Young said, without the hands-on support of the trades, and she urged all union members to participate.
MORE COVERAGE: Ontario Minister of Labour David Piccini and Building Trades business manager Marc Arsenault met to discuss expansion of a labour demand forecasting tool for large projects. Watch for our report.
Follow the author on Twitter @DonWall_DCN