Prep work has started at the site of a sprawling $7-billion Volkswagen electric vehicle battery manufacturing plant planned at an industrial park area east of St. Thomas and southeast of London, Ont.
Construction crews on heavy equipment are currently working on levelling the grounds in preparation for the anticipated start of construction on the expansive facility next year. The structure will cover an area of roughly 370 acres, equivalent to the size of more than 210 soccer or football fields.
Workers are also preparing for infrastructure enhancement measures such as utilities and road extensions.
St. Thomas is planning substantial improvements to nearby roads and expanding Highway 3 from two to four lanes beginning at Centennial Avenue and heading west through neighbouring Southwold Township.
Additional improvements will also be made to various exits to improve traffic flow. The plan calls for a four-lane bypass to be built that will connect to Highway 4 and provide direct access north to Highway 401. An environmental assessment is underway for the expansion.
The plant was first announced in April when dignitaries and federal and provincial politicians gathered with St. Thomas Mayor Joe Preston at the site.
According to company officials, construction is set to begin in earnest next year with production expected to begin at the plant in 2027.
The plant will likely be made of structural steel. Renderings show a number of elongated single-storey buildings connected by walkways. The structures have high ceilings and solar panels will cover the rooftops.
It will be the auto giant's largest cell factory to date in Canada with an annual production capacity of 90 gigawatt hours of electricity.
The plant will create about 3,000 factory jobs and tens of thousands more positions at construction companies and area suppliers.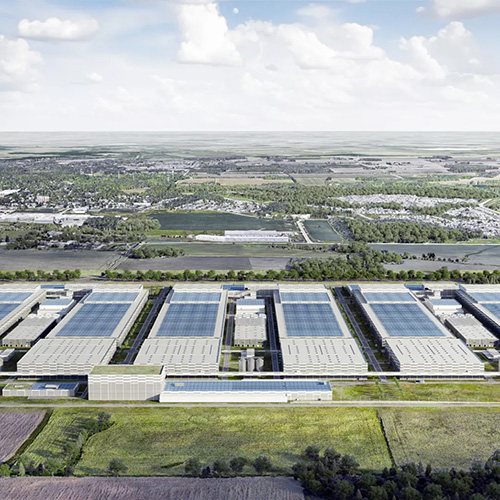 Stefan Ernst, group spokesperson for battery topics at Volkswagen Group Technology, says he's pleased with the progress being made on the plant.
"Progress on the plan is going well thanks to strong support of the City of St. Thomas and all three levels of government," he says.
Volkswagen chose the industrial park because of its strategic location at the heart of the Great Lakes automotive corridor, the fact it will be near Lake Erie, and its proximity to Toronto and Detroit.
The amount of available land and infrastructure were also reasons for the selection, says Ernst, and the fact the municipality was competitive and committed and has an overall high quality of life.
Moreover, Ontario has an established automotive industry with more than 700 auto-related companies and full access to critical minerals.
The plant will be operated by the PowerCo division of German-based Volkswagen and will give the company prime access to a regional research and innovation cluster in the area.
Ernst says the plant will have green and energy-saving features and will run entirely on electrical power.
The brass at Volkswagen believe EVs are the way of the future and are targeting eight to 10 per cent of total deliveries worldwide in fiscal 2023.
"Seasonal effects and significantly shorter delivery times should contribute to a higher share of (battery electric vehicle) BEV sales in the second half of the year," says Ernst.
A graph provided by Ernst indicates Volkswagen is anticipating its BEV sales will increase by 50 per cent worldwide by 2030, that its Europe sales will rise 70 per cent, and its sales in both the U.S. and China will go up 50 per cent from their present levels by 2030.
"Generally speaking, the automotive industry is changing at an unprecedented pace. E-mobility and digitalization are shaping the future," says Ernst.
The Volkswagen Group laid the foundation for the transformation from a car manufacturer to a provider of sustainable mobility in the summer of 2021 with a long-term strategy up to 2030.
Volkswagen has established four technology platforms — car architecture, software, battery and charging, and mobility services — to focus on customer needs and enable its brands to achieve economies of scale.
The St. Thomas plant is an important step towards making PowerCo a global player in the battery business and will provide Volkswagen with cutting-edge cells and new cell technology designed for volume production.
The cell factory is part of a larger plan that Volkswagen and PowerCo agreed upon with Canadian Prime Minister Justin Trudeau's government last August. An MoU signed at that time focuses on creating value batteries and raw material security in order to promote e-mobility across the country.
Volkswagen's new plant is one of two electric vehicle battery plants being built in southwestern Ontario.
The other, a $5-billion factory, is being built in Windsor by Stellantis and LG Energy Solution of South Korea.
Since 2020, Ontario has announced almost $13 billion in EV and battery investments. Canada has committed $700 million in upfront capital costs towards the St. Thomas plant and Ontario has added $500 million.