It took Quebec-based Corbec, a leading player in the eastern Canadian galvanized steel sector, 50 years to make its move into Ontario but it seems there's no stopping its advance now.
The firm had four galvanizing plants in Quebec and Nova Scotia before opening its first in Ontario, in Hamilton, in February 2022.
Now, according to Corbec executive Hellen Christodoulou, there are more to come.
Located at the 100,000-square-foot, $45-million Hamilton facility in suburban Hannon, with its 56-feet-by-six-feet-by-12-feet tank of molten zinc, the firm is now assessing its next steps in the province.
"It's not going to be the last, because our demands and our growth is such that certainly Ontario will be more than one plant," said Christodoulou, the firm's executive vice-president of engineering, sustainability and business development.
On Oct. 16 Corbec held a technical tour to showcase its leading-edge components.
The facility, capable of annual production of 100-million pounds, is said to be one of the most technologically advanced galvanizing plants in North America with a fully automated crane conveyance system.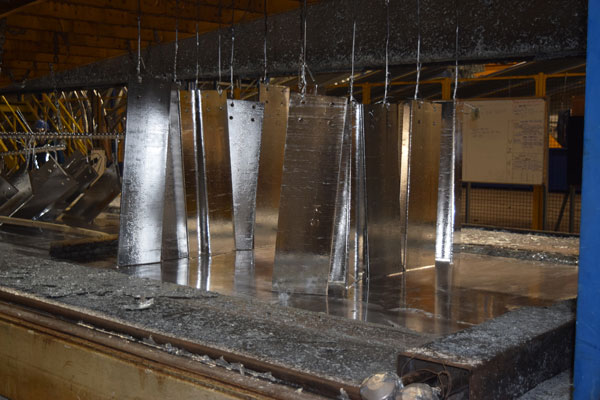 Christodoulou noted after building three new plants in Quebec and Nova Scotia within a decade, with openings in 2012, 2015 and 2021, large fabricators suggested the firm establish itself in Ontario.
They were urged to invest in the most modern metallurgy and reach high for sustainability, she said.
"We knew because of where the industry is moving that the only way we get more is to export what we had in Quebec but also add because we're already known as a leader in industry," Christodoulou explained. "We're the first company in Canada to capture and treat all processing-area emissions.
"It's a risk but really a no-brainer, because the demand was there…Ontario is a key market."
Steel products that are galvanized at the new facility include engineered structures such as bridges, windmills, towers, exposed architectural steel structures, fencing and farming equipment, original equipment manufacturer products and a variety of metal parts and hardware.
The facility treats both new and used fabricated steel.
At Corbec plants there are three steps in the surface preparation process.
First is cleaning of grease and contaminants via immersion in a caustic solution.
Next is pickling — immersion in hydrochloric acid to remove rust or scale.
Third is fluxing in zinc-ammonium chloride to remove oxides and prepare the surface for the galvanizing reaction.
The steel is then submerged in a bath of molten zinc until it reaches 450 degrees, at which point the zinc reacts with the steel to form zinc/iron intermetallic layers on all surfaces.
Unlike paint, which is a surface coating, the zinc forms a chemical bond with the steel.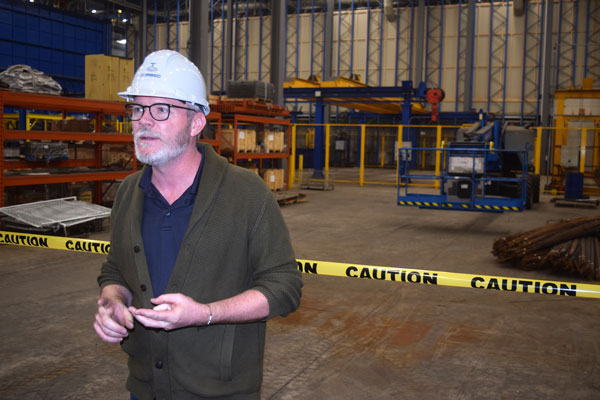 The technical tours were led by plant manager Ryan Gower with other executives and supervisors on hand to answer questions, including company president Nick Papas.
Christodoulou said the event was the first of a series of technical tours intended to serve the GTHA steel sector.
Plant design was undertaken to reflect current government sustainability goals, Christodoulou said. The provincial government contributed financial support for the plant.
"You create state-of-the-art facilities to make sure that you have no waste, you control quality, your air control, all that in a low-carbon facility," she said.
The other sustainability argument is that galvanizing steel extends the life of a product.
Rods or girders transformed into galvanized steel may have a life cycle of 100 years. And the product is recyclable.
Groundbreaking of the Hamilton plant was in 2019 with a stated target end date of late 2020 but the pandemic delayed completion.
"The pandemic delayed everyone, but it didn't deter our plans, it just delayed them," Christodoulou said. "This was the industry showing its resilience, right? Patience was a virtue. But we all found ways to manage."
Staffing has not been an issue, she said, with a full complement of full-time staff committed for the long term.
Follow the author on Twitter @DonWall_DCN