The Carpenters' Union local in Sudbury, Ont. has tapped into a source for recruiting labour that has gone unnoticed by other training organizations through the deepening trades shortage crisis: the prison system.
Local 2486 established its Social Reintegration Program, a pre-apprenticeship initiative for prison inmates, this summer, instructing a couple of dozen men behind bars at the Monteith Correctional Complex, northeast of Timmins, in the basics of carpentry.
A pilot project financed by the Ontario Skills Development Fund, it has surpassed the expectations of the Carpenters' Union, says Alex Cardinal, the program's manager, for Local 2486.
"It is our most successful pre-apprenticeship program to date," she says, pointing out participants in the program had to be near the end of their sentence and jailed for a maximum of two years less a day.
Among the participants in the eight-week course with a four-week job placement, many see the course as a second chance to get their lives back on track as they move into jobs with signatory contractors.
Cardinal says their positive attitudes and work ethic are on display in their workplace.
One employer has been so pleased he asked her to do another round at Monteith and train more people he could hire.
Timmins-based MSN Contracting has hired two participants in the program, one who has been with the company for three months.
"He's been excellent," says the company's owner Mark Norkum. "He's punctual, respectful and he listens and learns quickly."
The more recent hire is working out as well, he says, noting both men have been assigned to MSN's scaffolding division, assembling systems and tube and clamp scaffolding on jobsites in the mining sector.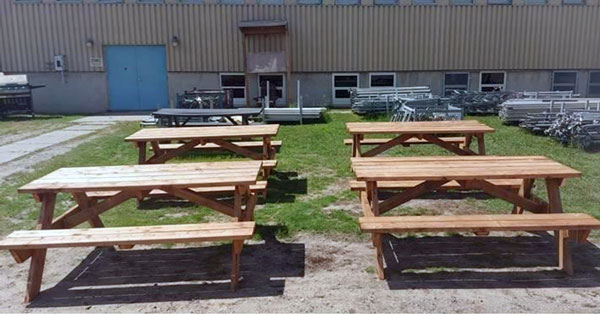 Norkum says neither man had any construction experience prior to the pre-apprenticeship course.
The union local set an "intensive" curriculum for participants, helping prepare them for work in the field. Along with math and geometry instruction, safety training, scaffolding, concrete formwork and metal framing and drywall made up the course.
The participants, some of whom were transferred from other northern correctional facilities to take the course held at Monteith, applied their new-learned skills to complete picnic tables and concrete benches before being placed for four weeks with union contractors, says Cardinal, adding their wage for the job placement was paid for by the program.
Pre-apprenticeship courses don't always meet expectations and retention rates are frequently low.
"It has been very refreshing to see a group of people who were asking questions, wanting to learn and were so grateful for this opportunity," says Cardinal, adding to date two of the program's participants have joined the union, three have registered as apprentices and she expects more to follow.
Cardinal suggests other locals and training organizations should consider correctional facilities as a potential source of training and recruitment.
"It is easy to write off people for one bad decision they made. I think people will start to see that programs like this offer people new opportunities, a new career, a whole new life."
She says the program's graduates won't likely be unemployed much because the north is facing "severe" labour shortages.
"We have exhausted our membership list, application list and in the last year we had to put out at least four Canada-wide bulletins requesting assistance for filling the skilled trades shortage gap."
The labour crisis stems largely from the brisk pace of mining development which has spilled over into towns and cities through other industry sectors, she says.
With "overwhelming support" for the inmates training program from its industry partners, Local 2486 is hopeful it will get financing from the Ontario Skills Development Fund to repeat the program next year with a few tweaks.
"I think we are hoping to add some welding," she says, noting additional post-release wraparound supports for participants will be included.
While logistics has prevented the program being geared to women in prison as well, in November Local 2846 will host a three-day work readiness program for 12 women inmates at the Monteith prison.
It will include safety training such as working at heights and confined space, WHIMS.
The Social Reintegration Program came about when the province offered up funds for "new and innovative" pre-apprenticeship programs in Ontario.
Up to that time, Local 2486 had worked with countless community groups and agencies but never with correctional institutes, Cardinal says.