Business manager Patrick Dillon of the Provincial Building and Construction Trades Council of Ontario has announced that a new treatment facility for construction workers suffering from substance abuse will open in Huntsville, Ont. within two months, part of an expansion of the 16-year-old De Novo Treatment Centre.
Construction is the highest ranked industry for addictions in North America, a recent De Novo newsletter noted, with one in seven construction workers involved in drug use.
The original De Novo facility in nearby Sundridge, treating unionized male construction workers, has suffered from overflows in recent years as demand for its addiction treatment services has surpassed its 21-bed capacity. The Renascent Treatment Centre in Toronto has been handling the overflow and also admits female construction workers.
The Huntsville facility will open with 32 beds for men and eight for women, with the capacity to increase those totals to 40 and 12.
Dillon, the chair of the De Novo board of directors, told trade union delegates attending the Building Trades annual convention in Niagara Falls Oct. 12 the new Huntsville location will open by Dec. 1.
The property, originally built by the Stephen Harper government for a G8 meeting, was purchased from the City of Huntsville for $3.7 million and is currently undergoing renovations. It was previously used by the University of Waterloo.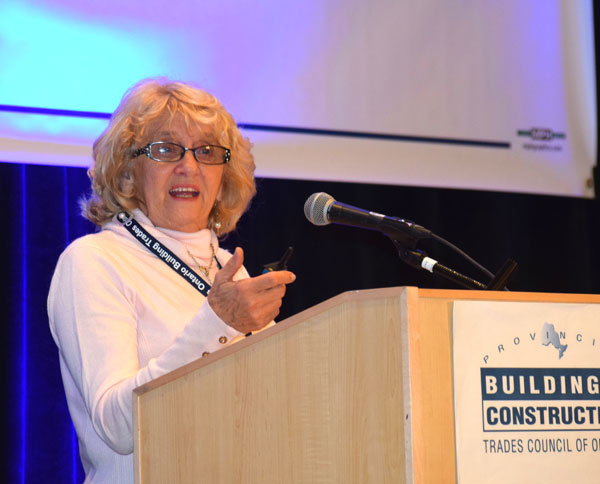 "For me, of all the things that I do, safety training and all this stuff, De Novo is absolutely the most rewarding to be involved in because of how it turns lives around," Dillon said in an interview. "We have a major success rate."
De Novo offers a 35-day residential treatment program and has served over 3,800 men and more than 250 women from the unionized construction trades in Ontario. The program is supported by construction trade unions and unionized construction employers, with workers receiving treatment for free. De Novo has been accredited by the Canadian Centre for Accreditation since 2015.
De Novo is exceptional in that there is no waiting period for workers needing treatment, explained executive director Marie Lloyd. She said once a worker has been identified as a candidate for treatment, all that is required is the permission of a union business manager and a doctor's note.
"I always make a comparison between addictions and diabetes," she said. "With diabetes, you need to be treated immediately or you can die. With addictions, you need to be treated immediately or you can die. So when they're ready for treatment, we need to be there for them."
Dillon urged the trades leaders attending the convention to check out the new Huntsville facility once it opens.
"I would encourage any member in the room to tell members about it," he said in his address on the program. "Drive up. You will be absolutely proud that you own that building and you are doing the right thing by your members."
"The dialogue among brothers and sisters is a strength," he said later.
"It is not like we want more business, but if we have someone who needs assistance, we want them to feel comfortable coming to De Novo. It's totally confidential."
Lloyd praised the leadership of the Building Trades and also the employers, noting Larry Brokenshire, the vice-president of Aecon Industrial and vice-chair of the De Novo board, was attending the Building Trades conference to show support for the cause.
"They are totally committed," she said.
Union members, employers and their families are given access to the treatment programs.
Lloyd's presentation indicated alcohol is by far the number one substance abused by construction workers seeking treatment. She cited statistics indicating substance abuse translates into $7 billion in lost productivity in Canada.
The centre was originally funded by unions representing electrical workers, plumbers and pipefitters, boilermakers and asbestos workers and now has the support of over 70 union locals.