Ottawa-based SmartCone Technologies is ready to deploy its advanced technology on the moon on behalf of the United States Space Force. But improvements in construction health and safety on planet Earth are among the issues the company is already tackling.
SmartCone was launched in 2011 by founder and chief executive officer Jason Lee with the mission of securing assets and making the world a little safer. The company's first effort involved deploying alarm-enabled SmartCones to protect airport employees working around the perimeters of airplanes. Instead of attempting to launch a product in a new form factor, Lee realized that a supercharged traffic cone would be more likely to gain acceptance and regulatory approval.
"The shape of the cone is just a wrapper for the technology inside," says Lee. "Traffic cones are already well accepted in most environments and they're generally empty, so you can introduce new technology in an available footprint."
The cones can contain components ranging from computer processors and video cameras, to motion detectors, microphones, seismic monitors, air quality monitors, thermometers, alarms, solar power cells and wireless transmitters.
One of the company's main construction applications is the creation of 'no go' zones marked by warning systems that can include audio alarms, recorded shout-outs, smart-phone alerts, vibrating wristbands, or lights attached to hard hats that inform users about potential hazards.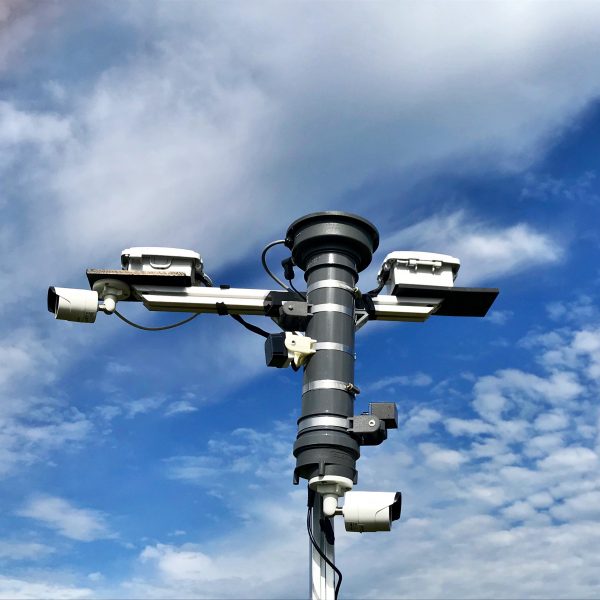 "We can mark a path as a 'no-go' zone so that people stay out of an area that a truck will use to drop construction materials," says Lee. "We can mark off a pit or excavation to keep people away or we can warn pedestrians about machinery such as cranes or excavators traversing through a work zone. A device inside the cab of the vehicle can also inform the operator when workers are nearby. We can even provide the operator with a tablet that shows them where people are moving around the vehicle. It can be as simple or complex as you want."
SmartCone is currently working with IBM and other partners to develop data gathering solutions, including wearables, that will determine if workers in hazardous environments are in danger or at risk.
The company is also working with the University of Ottawa on SmartCone Life Sciences, an initiative that will allow the device to monitor the core heat of construction workers assigned to cold climates.
"The value proposition for construction companies is that they don't have to obtain multiple devices to handle a range of safety solutions," says Lee. "SmartCone is adaptable to almost any application by adding modules to the device. If a construction company is interested in expanding the range of SmartCone's functions, they can talk to us or one of our partners to expand its capability."
Construction companies can buy the devices outright or sign on to plans like smart phones, which include a deposit and a monthly fee.
SmartCone's appearance can also be altered for specific purposes. As a security monitoring system, for example, it can be wrapped inside a skin that looks like the exhaust stack of a piece of heavy equipment.
SmartCone was one of the finalists in the 2019 Hyperspace Challenge, an initiative supported by the Air Force Research Laboratory's New Mexico office to develop Internet of Things technology on the moon. The company has been provided with office space at the research centre to further develop extraterrestrial applications, beginning with SmartAsteroid, a dodecahedron designed to create a purpose-built positioning system on the moon.
"It's based on SmartCone Constellation, a product that creates a dynamic 'no-go' zone for construction workers who may be passing beneath areas where they might be injured by falling tools or objects," says Lee. "Even on the moon, we're showing our construction roots."