A construction worker suffered minor injuries Monday (Nov. 23) evening when a mobile crane sank and toppled with its boom falling across two vacant traffic lanes on Eglinton Avenue in midtown Toronto.  
The crane operator was able to escape from the cab without injuries, stated Crosslinx Transit Solutions director of communications Kristin Jenkins, with the only injury sustained when a worker scrambling to escape the falling boom slipped on ice and banged his knee. The worker was treated in hospital and released.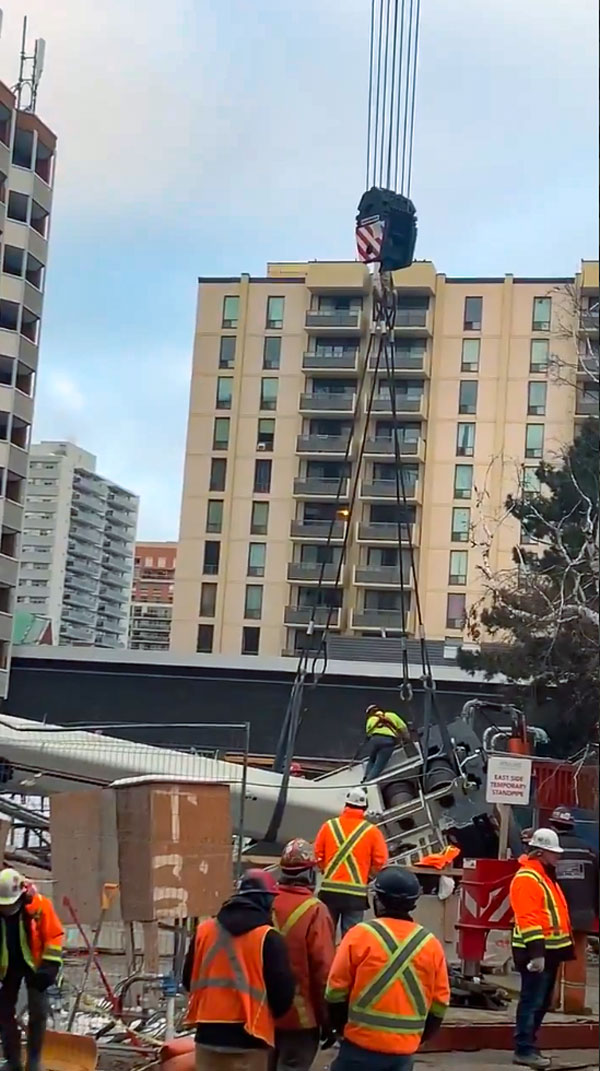 Crosslinx is the consortium building the Eglinton Crosstown LRT project for Metrolinx. The worksite was on Eglinton at Mount Pleasant Avenue.  
"What appears to have happened is that the mobile crane we have been using on the site for the past eight months collapsed into a sinkhole that opened up at the spot where the crane was sitting. The crane sank and the boom tipped down across our work zone," said Jenkins. 
No-one was struck by the falling boom, Jenkins confirmed.  
The site was immediately shut down and an inspector and engineer from the Ministry of Labour called in as a Crosslinx crew devised a plan to remove the crane. A larger crane was brought in and the boom of the collapsed crane was retracted, Jenkins said. Crosslinx is currently finalizing a plan to remove the detached boom and then remove the remainder of the fallen crane. Crosslinx will then backfill the sinkhole. 
Minister of Labour inspectors are onsite and Crosslinx is taking direction from them, said Jenkins.  
The ministry has released a statement indicating the crane was operated by All Canada Crane Corp. One requirement was issued to the constructor Crosslinx and one requirement was issued to the employer, All Canada Crane. 
Jenkins said it is believed the sinkhole developed due to water-related issues underground, possibly related to a watermain. Further investigation will take place. 
It is not known how long work will be shut down. Eglinton is blocked off from Brownlow Avenue to Taunton Road.  
Metrolinx issued a release last evening stating, "We understand Crosslinx engineers and staff are onsite to determine exactly what happened and fully understand the cause and impact of this incident.   
"Safety is critical to everything Metrolinx does. We will continue to monitor and update the situation as we learn more."  
The ministry investigation continues.  
There were two crane mishaps investigated by the ministry earlier this summer. In July, a crane at a PCL site near Simcoe and Wellington streets hit an adjacent building and less than a month later, a crane at a Daniels site fell into the intersection of River and Dundas streets. 
Those incidents prompted a ministry safety blitz of tower crane sites across the province that began in September.
Follow the author on Twitter @DonWall_DCN.