As a construction engineering technology student at George Brown College, Alex Ewing hoped he could someday teach there. In 2012, just two years after his graduation, that dream became a reality when was hired as a part-time instructor teaching construction safety practices.
Ewing estimates he has taught approximately 3,000 students in construction engineering, civil engineering, building renovation, and architectural technology programs, since then.
Comprised of a two-hour weekly session, the one-semester, 14-week-long program focuses on basic site hazards and prepares them to assess and control potential site hazards. Before the outbreak of COVID-19 they would visit actual construction sites and then write policies and management practices based on what they observed. Right now, that component of the program is conducted via telephone interviews, he says.
"My goal is to make them conscious leaders in the industry, regardless of the position they may hold. They will know what is unsafe, how to protect themselves, and their rights and responsibilities."
Every project has a health and safety component and a major aim of the program is to demonstrate, "how not to things and how to do them right. On an unsafe job site budgets and schedules go out the window."
Ewing draws on his experience as senior partner at Aceis Group Ltd. which he co-founded with his father, Gord Ewing, when he was only 18.
"I am who I am today because of my dad."
As teenager Ewing worked summers and weekends for his father, who initially did small residential repair and renovation project, but later branched out into other work. When he was only 14 his father put him in charge of a school waterproofing project.
"He told everyone (visiting the site) I was the manager and they should speak to me. I thought it was joke, but it was an excellent opportunity to learn."
Two years later Ewing started his own company and, operating from a minivan, spent evenings, weekends, and summers renovating and repairing homes. But in 2007 he joined forces with his father and created Aceis Group as equal partners.
That was also the same year he entered George Brown and the combined weight of academic studies and running a business entailed 60-hour work weeks, he says.
"I just knew that I wanted to manage construction projects," says Ewing on his decision to enroll in the three-year construction engineering technology program.
After graduating with an advanced diploma and directing all his energies on the company, he soon realized that some contractors didn't know to protect their workers. He convinced his father the company should pivot and focus on the delivery of safety programs instead.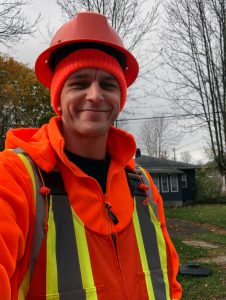 "So, we hung up the tool belts and focused on our energy on supporting the folks that we had once competed with."
That required temporarily shutting down the company so he could acquire the knowledge and accreditations necessary for the transition. That wasn't easy.
"There is no direct route into construction health and safety," says Ewing, explaining he couldn't find an overall post-graduate educational program specifically targeted for construction industry members aiming for a safety management career.
To overcome that hurdle he enrolled in "countless courses" offered by a variety of associations and safety organizations and earned a number of professional designations.
There was also the financial stress of not having a steady income and he and his father were forced to live on their savings. "My father helped us get over the hump. I was living at home at the time and didn't have a mortgage at the time."
However, the transition of the Aceis Group was completed about six to seven months later. Offering services such as training, inspections, audits and program development, the business has had its share of ups and downs. It was initially difficult to attract clients and there were challenges and setbacks following his father's death in 2015 and Ewing's own bout of ill health for about two years.
Nevertheless, during this time, he successfully completed a correspondence course from the University of Bath in England, obtaining a Master's of Science in International Construction. His thesis was on the challenges of COR certification.
Since then the business has recovered, new employees have been added, and in 2020 the company had the distinction of becoming one of a small group of Approved Providers for WSIB's Health and Safety Excellence program.
"We are now able to support businesses with more limited resources as they look to develop their health and safety management systems."
As for his entrance into teaching, that came about with the help of former instructor Doug LaPorte, who Ewing describes a mentor and "a favourite of most students for a couple of decades."
After learning from the now-retired LaPorte that a part-time position was open, he quickly applied.
"I'm not one to let an opportunity to go by," says Ewing, adding that his first few days in the teaching role, "were a bit overwhelming as some of the students were older than me."
While believing his students have learned a considerable amount of safety, there has been a reciprocal benefit.
"My students have made me a much better manager and person. I have learned a great deal about interacting with people, and supporting individuals while achieving group goals. I have also learned far more about health and safety trying to answer their questions."