Provincial Building and Construction Trades Council of Ontario business manager Patrick Dillon closed out a solemn Day of Mourning ceremony this morning with a call for action as he urged the province to appoint a judicial-style council of experts to investigate and report on why construction deaths and critical injuries remain stubbornly high in the province.  
The data is contradictory, he said, with 10-year trends showing lost-time injuries in decline but Workplace Safety and Insurance Board statistics showing there were 22 construction worker deaths in 2020, higher than in 2019, and in recent years, with critical injuries also rising each of the past four years to peak at 355 in 2020. 
"The one thing that is common in all of those deaths is that the coroner's inquest in time will tell all of us that each and every one of those deaths was preventable," said Dillon.  
An independent body of experts, Dillon said, would "recommend what is needed today to immediately bring construction worker deaths down to zero, which is accomplishable. We don't think that the system, the way we have it, is working." 
Dillon was the first and last speaker in a lineup that included Minister of Labour, Training and Skills Development Monte McNaughton, Chief Prevention Officer Ron Kelusky and UA Local 401 organizer Patrick Howes of Kingston, Ont. Howes is a plumber and pipefitter whose son Jeff, a powerline technician, was killed in a helicopter crash at age 26 in 2017 with three others while performing maintenance work for Hydro One north of Belleville, Ont. 
James Hogarth, president of the Ontario Building Trades, served as host. 
McNaughton discussed the numerous challenges his ministry has addressed during the pandemic, noted that the government was in the midst of developing a new occupational health and safety strategy and described the ministry's efforts to recruit and train skilled workers.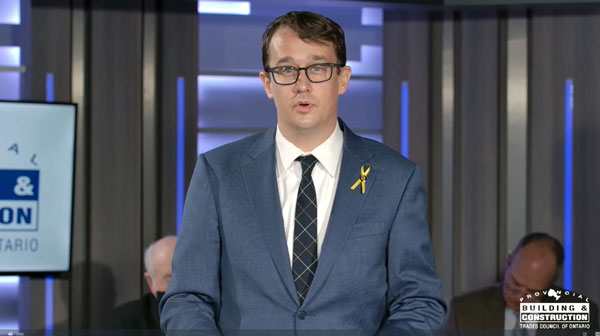 There were eight construction deaths in December alone. McNaughton said these were not only tragedies that could have been prevented but they undermine the sector's efforts to attract young people.  
"I want parents, teachers and students to know that a career in the construction trades is safe with the right training and adherence to safety regulations, but it's up to all of us to improve workplace health and safety," said McNaughton. 
"We honour those we have lost by continuing our efforts to eliminate all workplace deaths and injuries." 
Kelusky said the Day of Mourning is a time to remember workers who have lost their lives on the job, and also to redouble efforts to protect the living and make workplaces a space where people can thrive and return to their homes safely at the end of a shift.  
He noted the new health and safety strategy the province is developing would be evidence-based and would lead to new programs with strengthened partnerships in the sector. 
"We must eliminate the terrible human toll that these workplace incidents take on workers, their families and their friends," he said.   
Howes talked about the deep loss felt by the four families devasted by the helicopter crash on Dec. 14, 2017. He continues to seek justice, he said, after a frustrating experience dealing with the Ministry of Labour and other agencies that ended with no charges laid despite so many obvious technical and training failures.  
Howes will have standing and counsel at the upcoming coroner's inquest. 
"I'd like to be there every step of the way," he said. "I want to make sure that nothing slips through the cracks on this one."  
Dillon followed up by noting there have been thousands of Ontario families who share the sorrow of the Howes family after losing a loved one at work.  
"That kind of stuff has to end," he said. "Patrick, we hope that your story will inspire people to change the way that they perceive construction workers by respecting the work that they do every single day." 
The Building Trades were born in the 1800s to deal with the very issue at hand, workplace safety, Dillon said, and today the time has come for unionized workers to again take a stand in an environment where employers may be well-intentioned on safety matters but their main goal is to make profits.  
"The secret to bringing those numbers down was training, and it still is. We have to make sure that we get the training piece right as we go forward," he said.
Follow the author on Twitter @DonWall_DCN.