Shift work. Access to alcohol or drugs. Long hours. High stress work. The stigma about getting help.
These are just some of the regular factors contributing to an increasing problem in the construction industry: substance use. Add in the ongoing impacts of the COVID-19 pandemic and the numbers paint a clear picture.
A survey released this summer by LifeWorks found construction workers use more drugs and alcohol regularly compared to Canadian workers overall and that number has increased even more since the onset of the pandemic.
According to the report, the increase in drug use for construction workers since the beginning of the pandemic is 31 per cent, compared to other Canadian workers which experienced a 25 per cent increase. The increase in alcohol use was 35 per cent for construction workers whereas Canadian workers overall experienced a 34 per cent increase.
"In the latest report we did a deep dive on addictions substance use and substance use disorder and the reason why we did that is we know we are under a lot of strain. We know that this has been going on for a long time. We know that people have changed their behaviours. Sometimes they have been implementing coping strategies that maybe aren't the healthiest and maybe are going to have implications well after this whole pandemic threat is gone," Paula Allen, global leader and senior vice-president, research and total wellbeing with LifeWorks, told the Daily Commercial News. "Substance use was definitely part of that and not surprisingly we did see fairly significant increase."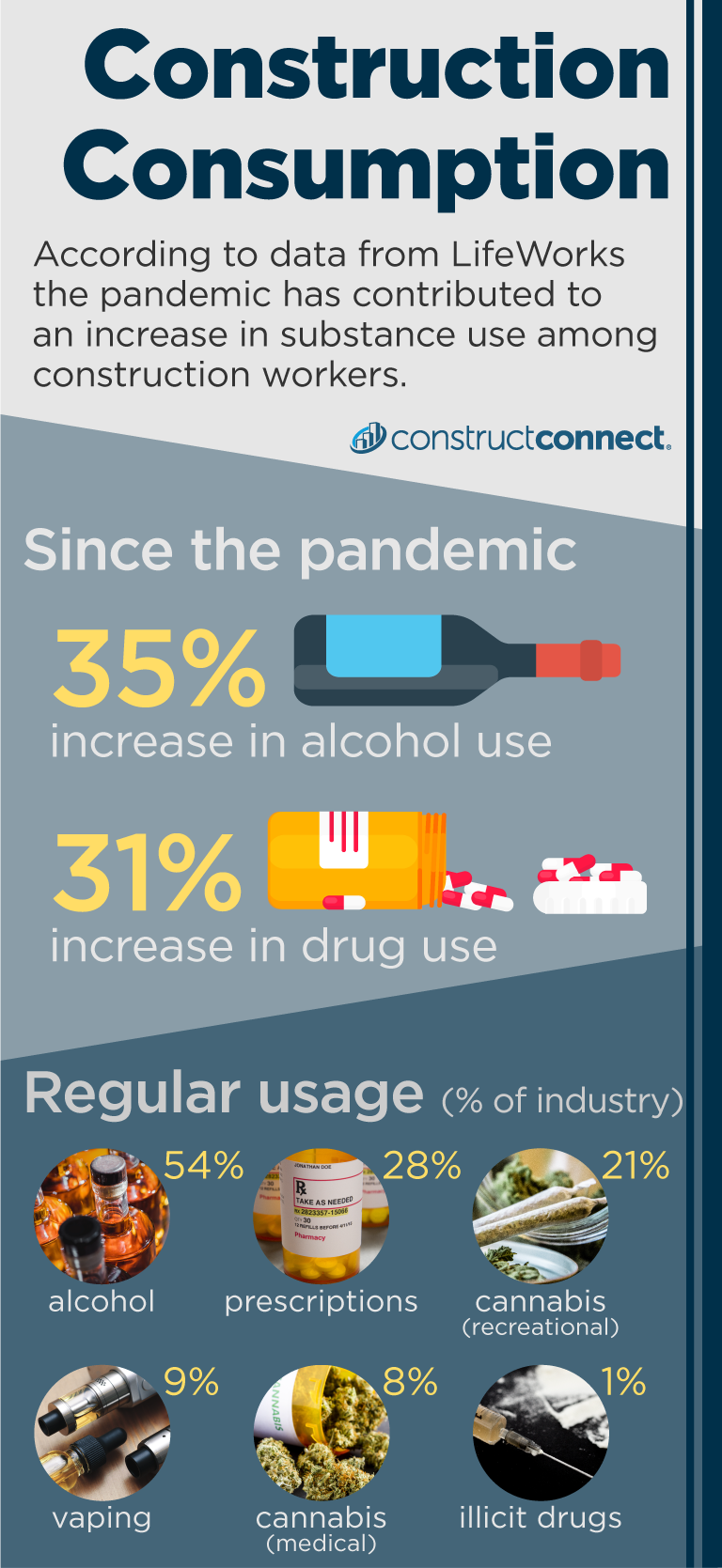 Twelve per cent of construction workers reported regularly having 15 drinks or more a week compared to eight per cent for Canadian workers overall. Pre-pandemic, the average for Canadian workers was two per cent.
"That's really the level where you start to get concerned," Allen noted. "That's the level where if it continues over a long period of time you actually see changes in the brain."
LifeWorks, a provider of technology-enabled total wellbeing solutions, releases a monthly Mental Health Index report. In June LifeWorks partnered with the Hazelden Betty Ford Foundation to release a special edition focused on substance use.
The report includes insights on substance use disorder, treatment resources for employees, reasons people do not seek treatment, the impact of alcohol and other drug use on workplace absenteeism.
"Construction has been pretty much on the mark in terms of mental health overall but there are certain sectors that historically have had more issues with substance abuse: sales professionals, construction, legal profession," Allen explained.
In terms of regular use of drugs and alcohol, 54 per cent of construction workers have more than one drink a week, compared to 47 per cent of Canadian workers. Twenty-one per cent of construction workers use recreational cannabis on a regular basis compared to 15 per cent of workers in other sectors.
Regular use of vaping is also slightly higher in construction with nine per cent, compared with other workers at six per cent.
Construction was pretty much on par with other workers in terms of prescription drugs (28 per cent); illicit drugs (one per cent); and one percentage point higher than the average use of medical cannabis (seven per cent).
The report also found workers, including those in construction, are unaware of supports available through employers.
This is an important trend to be aware of, said Allen, because the workforce is not the same as it was before the pandemic.
"The workforce has gone through trauma. People's behaviour has changed. We're seeing a lot of evidence that people are on edge," Allen noted. "People are returning to offices and to other routines and we are seeing more conflict in the workplace and more frustrations about a number of things."
The survey also showed many Canadians are unaware of substance use resources offered by their employers, with an equal number, 27 per cent of respondents, reporting their employer does or does not provide resources to help those who are experiencing challenges related to substance use.
Forty per cent of respondents reported they either do not know if their employer offers resources or are not sure what resources are available.
"Substance use is actually more stigmatized than even mental health, and that's pretty stigmatized, so the likelihood that people will go out of their way to hide it is pretty high. The likelihood that people will delay getting care we know is an ongoing issue," said Allen. "Given the fact that we see this increase, employers really should pay attention to communicating more, making sure that they do what they did with mental health, which is trying to destigmatize it and essentially give people the roadmap to get help."
For more information click here.
—With files from Don Wall.
*The second article in part one of this special feature series, released on Sept. 8, will take a look at the situation in Ontario and what some industry groups are bringing to the table.
Follow the author on Twitter @DCN_Angela.