Toronto construction worker Floreano Lopes died a hero Sept. 3, saving the lives of a half-dozen of his co-workers by intervening in a shooting incident, says a lifelong friend of the worker and his family.
Lopes, 42, a married father of three who had worked in construction since high school, was pronounced dead in Toronto hospital after the incident, succumbing to gunshot wounds.
Close family friend Cathie Gouveia has started a GoFundMe page for the Lopes family, which includes his wife and high school sweetheart Tania and children Emily, Vanessa and Ethan. She said the family has been told that a black pickup truck is alleged to have sped onto the scene at Steeles Avenue near Alness Street in north Toronto where a paving crew from Ferpac Paving was working and allegedly hit an elderly worker before coming to a stop.
Floreano Lopes was close to the black truck, friends and family were told, saw the alleged driver with what appeared to be a gun and ran to engage him.
"He had that protective thing," said Gouveia.
"He passed away being a hero. He saved about eight other construction workers that were running to the scene. They knew that there was trouble because of the truck, and they all ran to the scene.
"He and all the other construction workers were running to the scene, not knowing that there was a gun. If Floreano didn't do what he was brave enough to do, every one of them could have been hurt."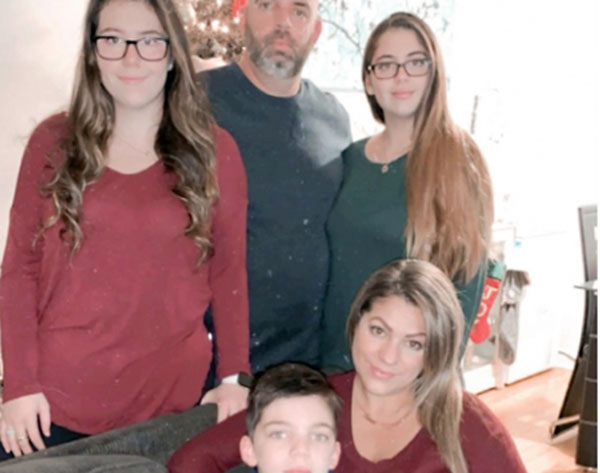 An impromptu memorial was held at the scene of the shooting on Sunday, Sept. 5 and Gouveia said three officers who had been on the scene two days earlier attended and told the family that Floreano died a hero, saving lives.
Jonathon Kozuch, 37, has been charged with second degree murder.
A statement from Ferpac Paving posted on Facebook referred to the GoFundMe effort and said, "We're devastated to lose our dear friend Floreano Lopes to such a tragic and senseless act of violence.
"He was a valued team member and will be greatly missed."
The incident was typical of the way Lopes lived his life, Gouveia said – passionately supporting others, self-sacrificing.
"He had a massive heart," she said. "He was always there if you needed him. His GoFundMe page clearly demonstrates that, his memorial demonstrates that.
"He always, always has been since he was a kid. Hard-working, provided for his family. He was that guy that everybody wanted to know, he had that smile. He wakes up and he lived for life, he lived for his family."
The GoFundMe page was set up in part to help Lopes's children achieve career goals. The eldest daughter intends to take dental training this fall and the second daughter aims to obtain post-secondary education in the arts, Gouveia said. The original goal of the fundraising effort was $15,000 but by the afternoon of Sept. 7 over $35,500 had been raised, evidence of the respect Lopes commanded, Gouveia said.
 "He looked at his crew members like his family," she said. "He worked every day, his whole life. A young guy doing concrete, we all know where that leads, bad backs and everything. He worked in the heat, he worked through COVID, all that to provide for his family. He was just very prideful, caring."
Floreano Lopes was born in Toronto to Portuguese immigrant parents. He loved hockey and played rec hockey right until the end of his life – and as a Boston Bruins fan in a city of Leafs supporters, he enjoyed the rivalry and banter between the two camps.
He got into construction right after he finished school and has been in the business for over 20 years, working on a paving team during construction season and driving a tow truck during the winter.
"He refused to take unemployment or anything like that, because there were jobs out there," Gouveia said was his attitude. "Not when you can work, he said, 'I can work, why would I do that?'"
Besides his family, his other passion was a Harley Davidson motorcycle. He would go for rides out in nature and enjoy the sights, Gouveia said.
Both of Lopes's parents have died and Gouveia said the remaining siblings are very loyal to their memory, going to the burial site every holiday to pay respects.
Now it's Floreano's widow and three children who are grieving.
"He was the glue, not just for his family but for everybody's family," said Gouveia.
Three visitation sessions have been arranged for Vescio Funeral Home in York next weekend and a funeral mass will be held Monday, Sept. 13 at St. Mary Roman Catholic Church in Toronto followed by burial.
Follow the author on Twitter @DonWall_DCN.