Part two of Cracks in the Foundation: Mental Health, Substance Use and Construction, highlights the impacts of living with mental health and substance use issues firsthand through initiatives and personal, gripping stories from frontline workers. They venture to the site, often carrying a heavy burden and not knowing where to turn for help. This series delves into their stories, how they have persevered and what they hope can be learned from their experiences. The first article takes a look at a unique approach to encouraging those in the often male-dominated "macho" industry to get help.
By day, The Lone Hunter is a construction worker lion king with an attitude to match. His fellow workers know he rules the pride.
By night, however, Dave's life looks quite different. After work he returns to a darkened apartment and eats takeout in front of the TV, his only companion his faithful dog Marley.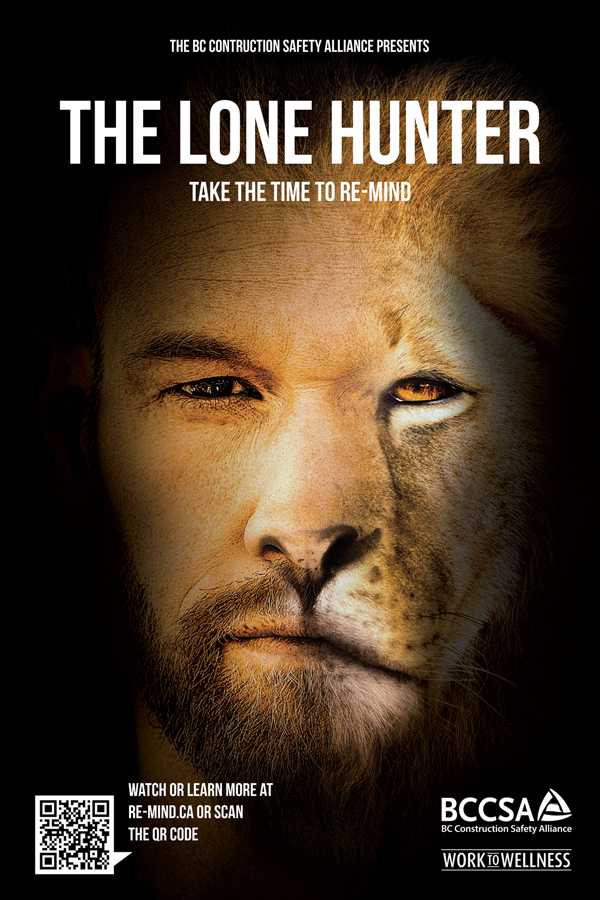 The Lone Hunter is lonely and unhappy. As the summer wears on, Dave's feelings of despair and being cut off from others go into freefall.
He begins to have some very dark thoughts. He even makes plans to give up Marley for adoption after he's gone.
Can The Lone Hunter come out of his tailspin? And what will happen to Marley?
To find out, click here.
The Lone Hunter video is also available on the website of RE-MIND.
RE-MIND is a collaboration between the BC Construction Safety Alliance (BCCSA) and Work to Wellness Rehabilitation Ltd. (Work to Wellness).
The goal of RE-MIND is to improve the access of construction workers to mental health information and services and The Lone Hunter video is meant to balance humor with a serious topic.
BCCSA is the funder of RE-MIND, the main construction sector proponent of the program and the connection with the industry to make sure the video and the contents of the website are relevant and useful to workers.
"Construction is a tough job," said BCCSA executive director Mike McKenna. "Because construction workers are under a lot of pressure on the job, a program like RE-MIND is definitely needed."
McKenna says the construction industry's suicide rate is seven times the Canadian average.
"According to the Canadian Centre for Occupational Health and Safety, 23 per cent of all employees don't want to talk to their employers about mental health concerns," he said. "That's probably too low for construction."
McKenna says the current opioid crisis in Canada is particularly severe in construction. Half of all employed people in B.C. who go to a hospital emergency room because of an overdose are employed in construction.
Diana Vissers, a workplace mental health expert and founder and principal of Work to Wellness, says it's difficult for many men to ask for help if they have mental health issues, especially those in traditionally male occupations.
"The need is great, but too often it goes unacknowledged," said Vissers. "We want The Lone Hunter to be shown at every construction site in B.C. and at every tool box talk. Every construction worker should watch it and then go directly to the RE-MIND website."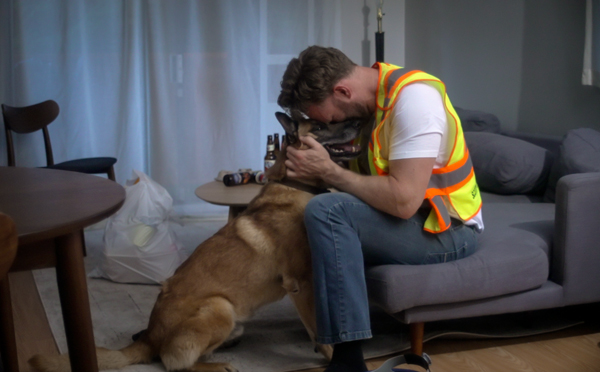 Vissers was invited to show the video at the recent annual general meeting of the Construction Labour Relations Association of BC (CLR).
"Diana's talk was very well received," said Ken McCormack, CLR president and CEO. "Mental health is a big issue in construction now. Thanks to the COVID-19 pandemic, we've seen that dealing with mental health is critically important."
The creators of The Lone Hunter are Josias Tschanz ("Chance") and Jason Thompson, partners in Rareborne Media and Counting Ants Productions in Vancouver.
"Video is an excellent medium for the subject of mental health because it enables us to connect with a large audience," said Thompson.
Tschanz says video is an intimate form of media that enables the audience to identify with the character and go through his journey with him and the changes in his mental state.
"The main challenge in the production was balancing humour and drama, so as not to turn off the audience," Tschanz said.
Locations for the shoot were the Railway Club in downtown Vancouver, a Scott Construction worksite in Richmond and an apartment in Kitsilano.
Contributing to the development of content for RE-MIND was HeadsUpGuys (HUG), a public health project of the psychotherapy program at the University of British Columbia's Department of Psychiatry,
"In addition, we consulted on the development of the video," said John Ogrodniczuk, professor of psychiatry and HUG founder. "We encouraged the video production team to use plain, direct language that would be used in a normal conversation, without any psychobabble.
"We used humour in The Lone Hunter video to engage men in a non-threatening way. It lightens up the subject matter and makes it more accessible. Our goal is not just to inform people, but to make them want to ask for help. Don't suffer in silence; reach out now."
In addition to The Lone Hunter video, RE-MIND has six parts:
Part 1 Recognizing mental health challenges;
Part 2 Alcohol and drug use;
Part 3 Unique challenges of women in construction;
Part 4 Taking action to help myself;
Part 5 How to help a colleague; and
For employers
Part 6 How to respond to your team's mental health needs.