The coronavirus pandemic has created a watershed moment for occupational health and safety in the province, delegates attending the recent Ontario Building Trades conference were told.
On one hand delegates were told of a spike in deaths and critical injuries at construction worksites last year that was characterized as "carnage," and on the other the urgent need to build upon lessons learned during the pandemic.
The first resolution passed by delegates attending the Provincial Building and Construction Trades Council of Ontario conference in Toronto called for the installation of an independent officer for occupational health and safety (OHS), answerable to the legislature and not the government of the day. An independent officer could drive health and safety with politics and partisanship removed, the Building Trades believe.
The reference to "carnage" in the resolution related to statistics showing 22 construction deaths and 355 critical injuries in 2020, both highs compared with recent years.
Ontario Building Trades business manager Patrick Dillon spoke in favour of the resolution.
"The health and safety system in our province…is not working," said Dillon.
"We have a situation where everything is within the bureaucracy. The minister gets great reports from organizations that are responsible for the safety system…they're put into a situation that they want to hit their budget next year.
"How are we going to get improvements to the safety system with glowing reports, but more workers are being killed in the workplace, or there's more serious injuries happening?"
The resolution also called on the Building Trades to conduct a systematic safety review of construction workplaces.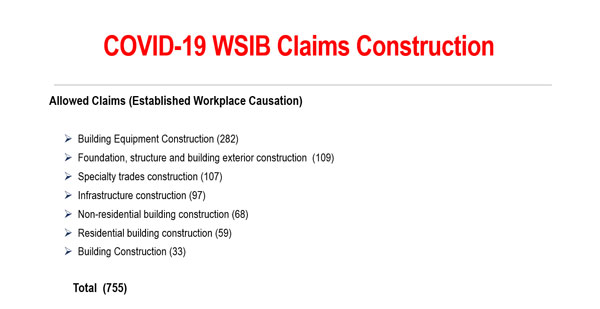 Later the convention heard from Carmine Tiano, director of OHS for the Ontario Building Trades, who discussed his findings on OHS during the pandemic.
"Prior to March 17, a lot of employers would say it was impossible to stagger the workers," Tiano said, referring to the first day of Ontario's emergency orders last year.
"Guess what, what was impossible on March 16 became possible on March 17. I think if we take that approach, we can start to deal with some of the issues that Patrick talked about on the deaths.
"We've got to ensure that we look to the future."
Ontario Building Trades milestones during the pandemic included the April 2020 publication of a COVID-19 prevention strategy, the July 2020 unveiling of protocols for the reopening of trades training centres and the establishment of onsite rapid testing procedures.
"You've got to remember, this thing is fluid. This thing is moving on every given day," recalled Tiano.
"Our local Building Trades councils on the ground were doing some fantastic work, disseminating information. So as a result, our local Building Trades councils were right on when it came to rapid testing. Eventually the rapid testing moved into vaccination."
Among positive outcomes from the past 18 months, Tiano enumerated improved hygiene and site conditions; the hiring of more inspectors; earlier and more detailed worksite planning by employers; fewer workers onsite and less overlap of trades in each work area; tidier jobsites; improved site organization; and overall heightened awareness of OHS.
"I think the biggest one is, we cannot get back to the old ways when it comes to hygiene. We cannot go back to the past when it comes to workplace organization," said Tiano. "If we go back to that, I think you're going to see more issues when it comes to the physical injuries."
The list of negatives includes workers distracted by COVID protocols and not focused on typical health and safety processes; supervisors and workers not following protocols; some workers remaining unconvinced that COVID is a real threat; lack of wage protection, causing some workers to work when unwell and enabling the spread of COVID; the emergence of greater mental health challenges; and resumption of old patterns as COVID fades.
The lack of wage protection is a "big one" that has to be dealt with, Tiano said.
"You have no idea how many times I was getting phone calls from workers saying, 'Listen, I just can't take the 10 days.'
"This is still an issue today."
Addressing opportunities for improvement, Tiano walked the delegates through an extensive set of new webpages the Building Trades have developed to provide better information on a wide variety of topics. The lack of clear information often led to misinformation, he said.
"One of the biggest areas I noticed was a lack of understanding of the workplace, of occupational health and safety," said Tiano, noting reps asked numerous questions starting right from interpreting the Occupational Health and Safety Act.
COVID has highlighted the benefit of consistency, clear messaging and strict enforcement, said Tiano.
The inevitability of fatigue means there will be a need for constant reminders, encouragement and reinvigoration of safety and health messaging. Attention must continue to be paid to work sequencing and ensuring less overlap of trades, he stressed.
Enshrining paid sick leave into collective agreements or legislation will be a priority in the next year, said Tiano, as will measures to deal with mental health. The new Building Trades web resources already outline steps on training, employee assistance plans and organization of work to address the mental health of workers, Tiano noted.
"We must start to stem the tide and deal with the mental health challenge," he said.
Follow the author on Twitter @DonWall_DCN.