Last December Ontario's construction sector was spared the carnage of December 2020, when seven workers died on jobsites in the province, but new statistics show that overall for the year, 2021 was only slightly safer than the year before.
The report, compiled by the Ministry of Labour, Training and Skills Development (MLTSD), reveals 2021 was a typical year for construction deaths in the province with 22 fatalities, tied for the third most in the past seven years.
The study shows of the past seven years, 2018 was the worst with 25 deaths in the sector, followed by 2020 with 23 and 2021 and 2017 tied at 22 deaths.
MLTSD spokesperson Ciara Nardelli explained fatalities and critical injuries include only those reported to the ministry and may not represent what actually occurred.
They exclude deaths from natural causes, death of non-workers at a workplace, suicides, death as a result of a criminal act or traffic accident unless the Occupational Health and Safety Act is also implicated, and death from occupational exposures that occurred in past years.
July was the worst month of 2021 with four deaths, followed by May, June and November, with three fatalities each.
Workplace blitzes and awareness campaigns planned by the MLTSD for 2022 include education and enforcement of working at heights protocols on construction sites, an initiative to prevent struck-by injuries when operating vehicle and mobile equipment, and education and enforcement of safe operation of vehicles and equipment on construction sites including cranes, forklifts and other heavy equipment.
The government also reported that the Chief Prevention Officer (CPO) has completed the five-year review of the Working at Heights Training Standards. It is anticipated that the revised standards will be released in spring 2022 and will come into effect by summer 2022.
The CPO has approved 219 training providers and 235 working at heights training programs as of January. Over 920,000 workers have completed training and over 235,000 workers have refreshed their training after the mandatory three-year period.
Court proceedings for several December 2020 construction deaths continue. Multiple charges have been laid from those incidents.
On Dec. 2, a man in his 60s, working at a commercial construction project in Toronto, fell while on a scissor lift. The worker was tied off and slipped, hitting his head and succumbing to injuries. On Dec. 8, a 69-year-old man working on a bridge project in Georgian Bay fell into an on-site cement/grout batch plant mixer and succumbed to his injuries.
On Dec. 11 part of a low-rise residential building under construction on Wonderland Road in London collapsed, killing John Martens of Langton, Ont. and Henry Harder of Tillsonburg, Ont. and injuring others. On Dec. 14, 49-year-old Andrew Orfanakos was fatally injured when the structure he was on was hit by a piece of concrete that fell while being hoisted at a multi-level residential project in Toronto.
On Dec. 15, 54-year-old Paul Moro was fatally injured when he was crushed by a precast concrete panel that was being unloaded at an institutional project in Oshawa.
And on Dec. 26, a 24-year-old male was fatally injured when he was struck by a falling beam during demolition at a commercial project in Windsor.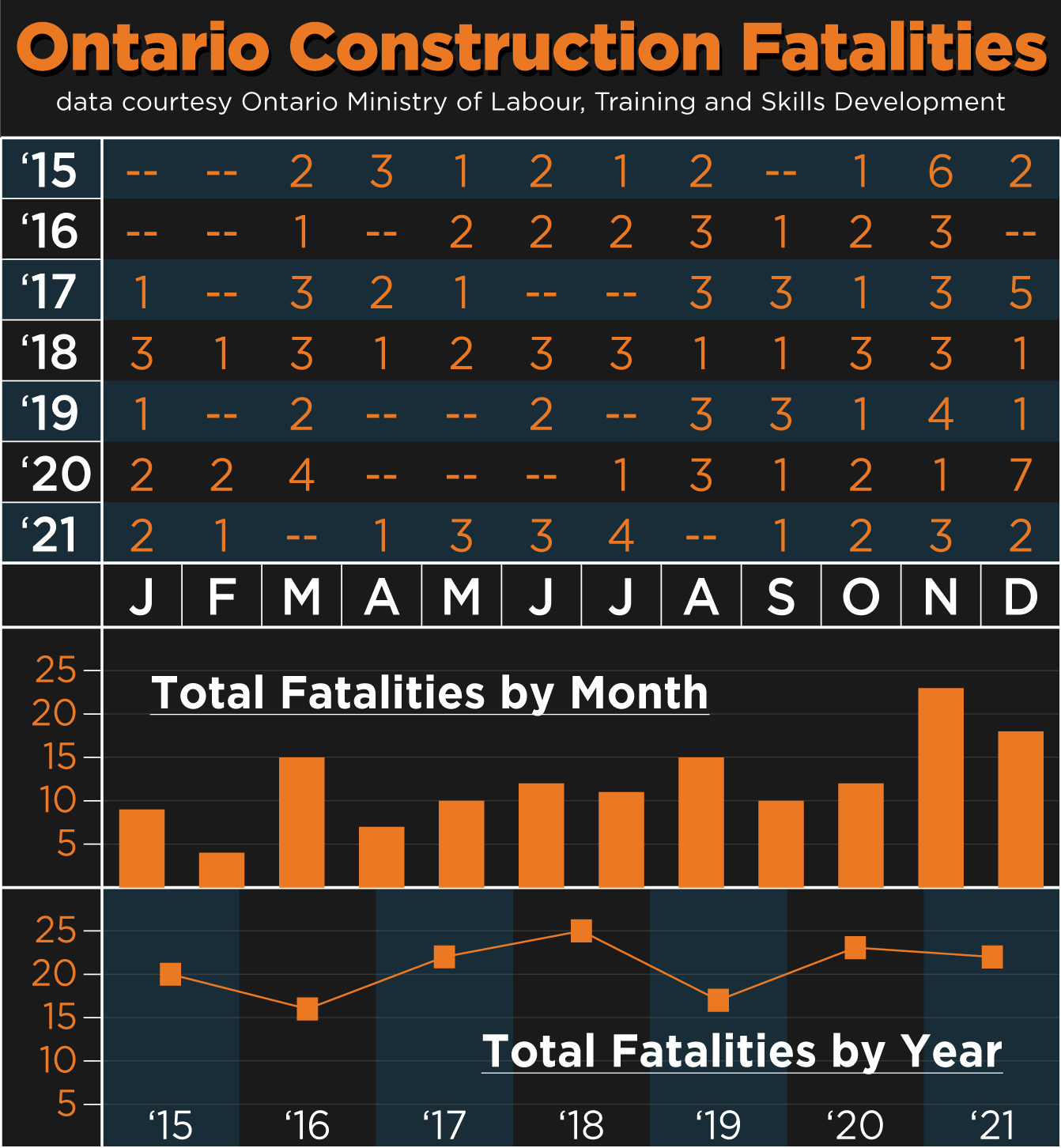 Follow the author on Twitter @DonWall_DCN.