In recognition of the National Day of Mourning on April 28, the Daily Commercial News and Journal of Commerce worked with Threads of Life on a two-part series featuring families directly impacted by a workplace tragedy. They tell their stories of loss, grief and hope. Here is Rebecca and Caitlyn's story.
For Rebecca Orr, losing her husband in a jobsite incident was devastating but she had to carry on with life not only for herself but for their unborn child.
"My whole world revolved around Lance, so when that was taken out from underneath me and all plans, hopes and dreams we had of building a life together so early on in our marriage and with a child on the way as well, your very foundation is rocked," Orr told the Daily Commercial News. "I had to learn how to rebuild a life that had nothing to do with him."
While a workplace tragedy is life-altering, life does go on.
"Yes, my life is forever altered. My daughter's life is forever altered, but that's not where that story ends," Orr said. "There is so much more to life than a workplace tragedy."
The incident occurred on a jobsite in downtown Calgary on May 8, 2009. Lance, 27, was a rigger working for Pagnotta Industries who was subcontracted to do concrete work on an office tower.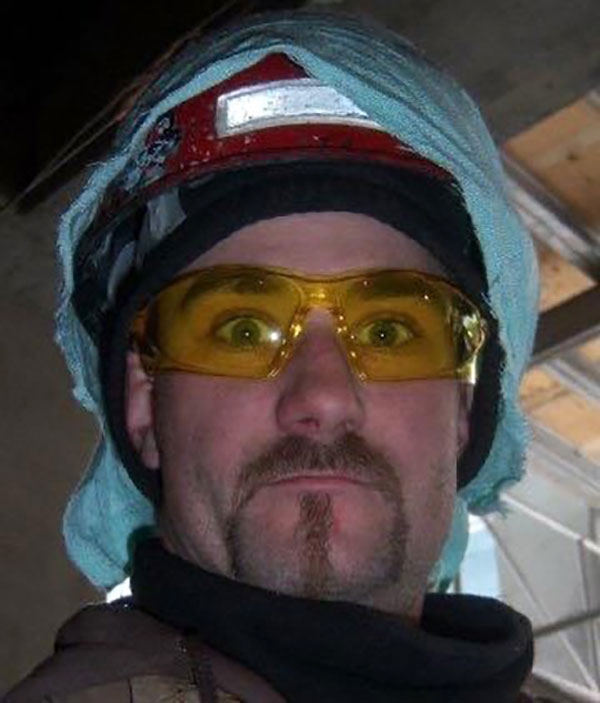 "He didn't really feel like wanting to go into work that day. He was pretty exhausted," recalled Orr. "Leading up to that point they had been working 14 to 16 hours a day for months, so the guys were tired and were trying to push to finish the job so that they could spend some time at home with their families."
She explained what happened that day.
"He used two links of chains to tie down the load and didn't tie it down properly," she said. "When he gave the crane operator the OK to move, the load (of heavy concrete forms) slipped from the sling and came crashing down. For whatever reason Lance was walking directly under the load instead of walking around. It got him at the back of the neck so it killed him instantly. "
"Why he chose to use two links of chains we'll never know," she added. "Why he chose to walk under the load, we'll never know."
At the time, Orr was six months pregnant with their daughter. That day she was at the store making a baby registry with a good friend.
"The first phone call I received was from the cops who were looking for me. They had already been to our house and I wasn't there so they called asking where I was," she said, adding she called Lance and left a message.
"I remember looking at my friend and saying, 'there is something horribly wrong here.' Her response being, 'don't be ridiculous, we both know Lance doesn't answer his phone when he's working.'"
The police met her in the parking lot of the store. She sat in the car with a female police officer who told her Lance had been killed.
"My first response was 'that sounds about right' and I kind of got a funny look from the cop," she recalled. "I do remember her saying repeatedly that she should take me to the hospital…I guess my response triggered a concern for her that I was too calm, that I was too shocked to even process the information."
It took two years for that investigation to be concluded.
"Lance was at fault for the incident and we chose not to press charges," Orr said. "I have a very close relationship with the owners of his company since then.
"They are not only involved in my life but my daughter's life as well so I held no ill will towards them either."
While they are not sure exactly what caused the incident, she thinks it had to do with a combination of factors.
"Lance was one of the safest people I knew, so he wouldn't intentionally put himself or anyone else at risk," she noted. "I do think some of it had to do with fatigue. He wasn't thinking clearly.
"I think weather played a role. I think trying to get the job done played a role, hours of work played a role. But ultimately all those combined…cost him his life and altered the lives of many people."
Orr is a speaker for Threads of Life and sharing her story with others has helped.
"I like to be able to keep Lance's memory alive," she said. "He was a cowboy. He was hardworking. He would do anything for his family and friends.
"He was so excited about being a father and that it was going to be his turn."
She also talks about how workplace safety is the responsibility of everybody and that nobody is invincible.
"If you see something that is unsafe and you choose not to say it you are just as much at fault if something happens then the person who was making the mistake," she said.
For the first seven years after his death, Orr focused on taking care of their daughter.
"I didn't really deal with what that sudden and unexpected loss did to me mentally, emotionally, spiritually, physically until my daughter was in grade school," she said, adding she was lucky to have family and friends to support her.
For her daughter, Caitlyn, the grief is more complicated, she explained.
"She never got to know him, never got to meet him and with that you are more grieving the loss of what you didn't have," she said. "She goes based solely on pictures and stories that she is told about him."
One of Caitlyn's favourite things is to take part in the Steps for Life walk for the families of those who have lost loved ones in a workplace tragedy. Steps for Life Calgary will take place May 1 at South Glenmore Park.
The National Day of Mourning, a day to remember all those affected by work-related fatalities, injuries and occupational disease, is April 28.
Threads of Life will hold an online ceremony on April 28 at 10 a.m. EDT.
To register visit https://threadsoflife.ca/get-involved/national-day-of-mourning-april-28th/.
Follow the author on Twitter @DCN_Angela.