When it comes to making PPE for women's bodies, you can't just shrink it and pink it.
A new report published by CSA Group, Canadian Women's Experiences with Personal Protective Equipment in the Workplace, found only six per cent of women say PPE they wear is designed for them.
The report looks at the current state of how PPE is meeting the needs of women and includes first-hand experiences, said Jennifer Teague, vice-president of standards research and planning with CSA Group. It's based on the results of a survey of nearly 3,000 Canadian women from different sectors.
"What became clear in that report was that this is a longstanding issue. This is something that has been raised for decades, but certainly as society progresses and we get better at really considering the individual needs of populations and greater movement towards equity diversity and inclusivity, we wanted to take a harder close look at the experiences of women in terms of their PPE," Teague told the Daily Commercial News.
According to the report, the three most common problems the women surveyed have are: it does not fit properly (50 per cent); it is uncomfortable to wear (43 per cent); and the selection of women-specific PPE is inadequate (35 per cent).
They reported they use PPE that is the wrong size at least some of the time (58 per cent); they don't wear all the required PPE at work because of issues with fit (28 per cent); and they use a workaround to make their PPE fit (38 per cent).
Thirty-five per cent of female respondents in construction, transportation and emergency services felt very protected by their PPE, the lowest percentage of any sector, said Teague.
"As we are looking at labour shortages in key sectors, we have more women entering the trades and all people should have a right to be protected equally through their PPE," she said.
"It's something that we really need to take a close look at and be mindful of when we're providing PPE for our workforce, that we give women an opportunity to access…the same level of protection as their male colleagues. It's important to their sense of safety but also to feel confident in what they do."
The report is important for those in the standards development industry, government, employers, employees and manufacturers.
"You can't just make an extra small and say that it's for women. Our bodies are different, we have different proportional needs, we have different functional needs."
She used the example of women working in the field with coveralls.
"Coveralls have a two-way zipper to help make it easier for men to take washroom breaks when they need them," she pointed out. "This clearly doesn't work well for women. Women have to practically disrobe in order to use the facilities and what they end up doing instead is just not drinking anything all day."
Thirty per cent of women in construction reported experiencing an injury or discomfort that they perceive to be caused by PPE incompatibility. The women said they pay more for PPE that is designed specifically for women or modify it to make it fit better.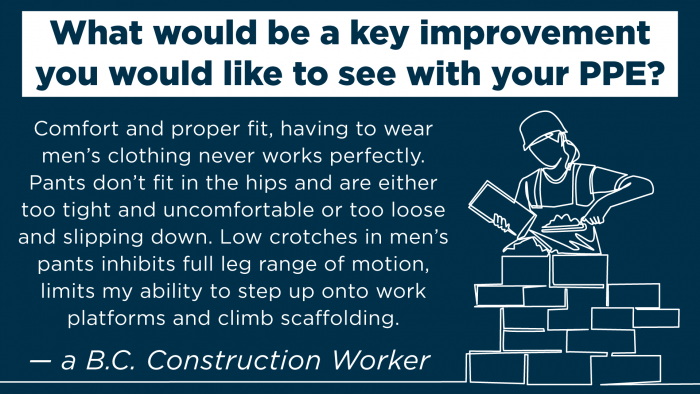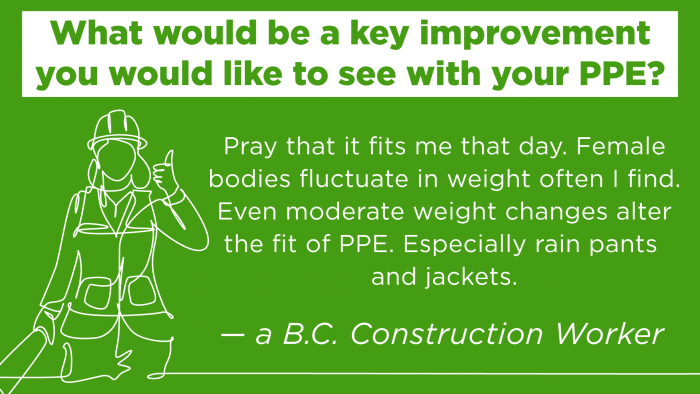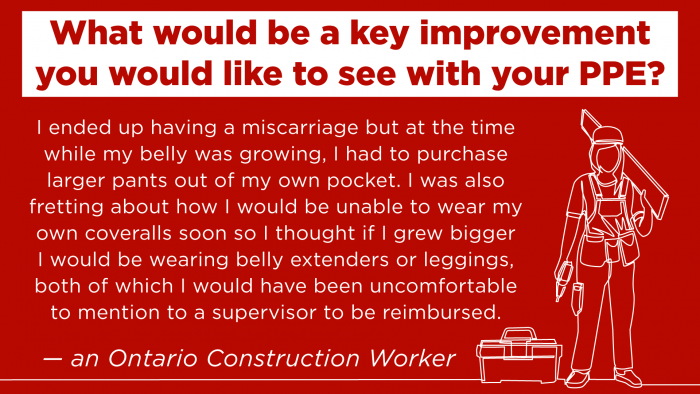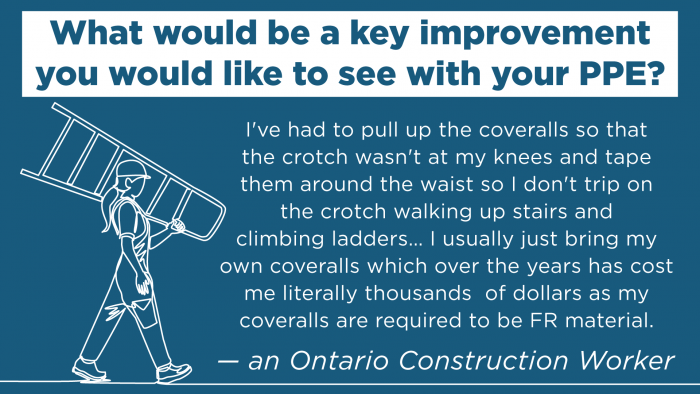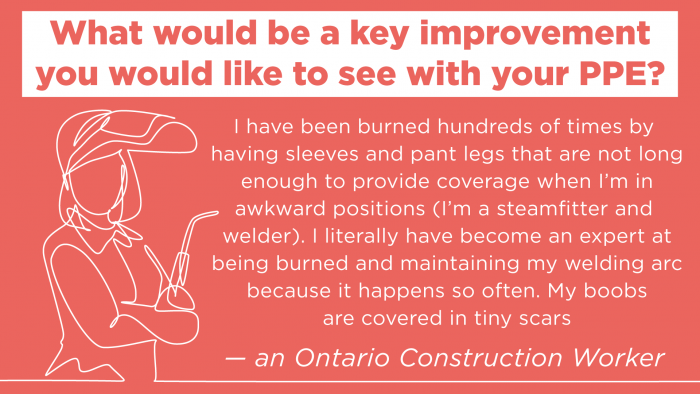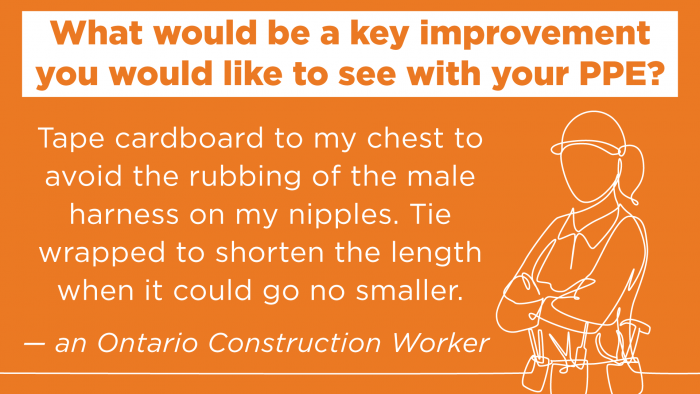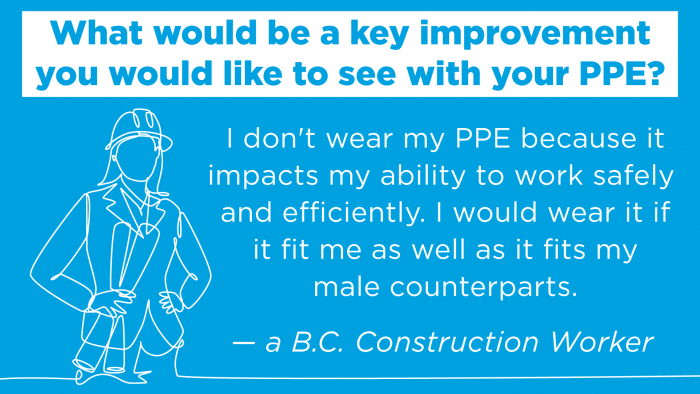 Of the women who wear fall arrest gear only 33 per cent reported feeling very protected by their PPE and 94 per cent of those women had one or more issues with it.
"They are saying they have tissue damage on their torso because of pressure points," Teague said. "Women are using duct tape to modify their PPE or make it fit better.
"What's important to know is that PPE is developed to a standard and then that PPE is certified to that standard, so if they are using a workaround or they are modifying it in any way, it no longer meets the certification of that product. Employers need to know this."
There are a number of gaps hindering the development of gender-responsive PPE, Teague said. One is the collection and availability of anthropometric data representative of the working population that is specific to Canada.
"It's very difficult to develop PPE and develop standards that will address the needs of individuals if you don't have a really good sense of the range of body sizes and dimensions that are representative in your population," said Teague.
Another challenge is the need for consistent PPE regulations across Canada. The research also identifies the opportunity for further co-ordination by government, standards development organizations, manufacturers, suppliers and workplace representatives to increase the availability and selection of PPE available to women.
"Regulations vary across the country in terms of the requirements, in terms of considerations for fit and considering the needs of different populations," said Teague. "In order for us to move the needle on this we really need to have more consistent regulations across the country."
Follow the author on Twitter @DCN_Angela.