MISSISSAUGA, ONT. — Maple Reinders kicked off its 12 Gifts of Safety campaign earlier this month in an effort to make December the safest month of the year, despite it historically being one of the most dangerous in construction.
In the health and safety world, fit for duty is a term used to gauge if an individual has the physical and mental capacity to safely work, states an email to the Daily Commercial News from Maple Reinders, adding if a worker's focus is dominated by the number of personal commitments that December brings or if a person is struggling with loneliness, guilt or financial troubles during the holidays, these situations can serve to distract them and make them complacent at work.
The stakes are high when operating large-scale equipment onsite or working in challenging locations or weather conditions.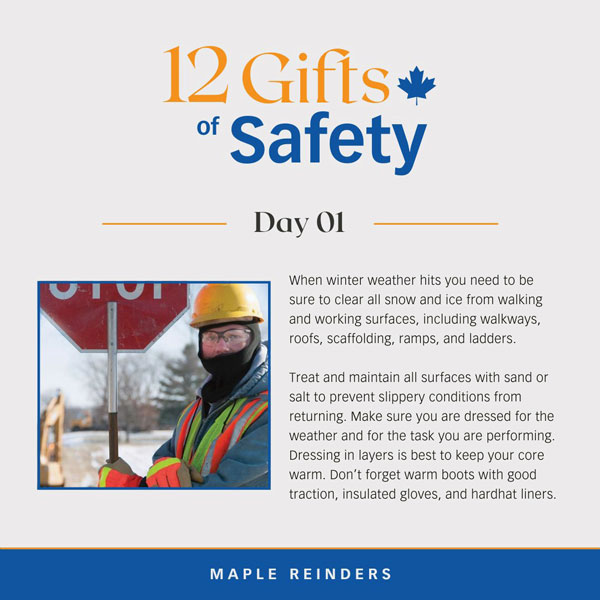 Craig Sparks, director of health and safety at Maple Reinders, issued a challenge to all staff in early December that included:
Making a commitment to yourself and your fellow workers that you will work safe for you, your family and them.
Conducting a daily tailgate meeting with yourself every morning to get yourself focused on your tasks and your surroundings.
Being mindful of others around you and extending a hand to ask someone, "how are you?" or "what are you working on today?"
Being a good listener if someone does want to share with you even if you can't help, be aware of their burdens.
Being receptive if a fellow worker gives you a reminder to focus and be safe. They're making the comment from a good place.
Issuing this challenge to everyone at your project during your December Monthly Safety Meeting.
Making December the safest month of the year in 2022.
The 12 Gifts of Safety focusses on certain topics that are posted on the company's social media and include:
Day 1

— Winter site conditions. Clear snow and ice, salt, sand and create safe working conditions in snowy/icy conditions

Day 2

— Keeping workers warm

Day 3

— Risk of accidents due to reduced daylight hours, have ample onsite lighting

Day 4

— Review emergency procedures and winterize the Emergency Action Plan

Day 5

— Be vigilant about being fit for duty and all the variations this can mean (under the influence, mental state, etc.)

Day 6

— Risk of carbon monoxide poisoning from temporary heating or using internal combustion equipment indoors

Day 7

— Winter driving. Conduct regular vehicle inspections, winter tires on company vehicles, clearing of site roads

Day 8

— Dangers of snow removal — removing snow from heights, roofs or scaffolding, physical exertion, muscular and cardiovascular risks

Day 9

— Know the signs of winter-related injury/illness — symptoms of hypothermia, frostbite and when to get help

Day 10

— Extreme cold and black ice — slippery surfaces onsite, raised platforms, walkways and scaffolding can develop black ice in extreme temperatures and some ice controls such as salting become ineffective

Day 11

— Remain alert to weather forecasts — regular review of local weather forecasts for work planning and scheduling, as well as site clean-up and securing of materials

Day 12

— Site housekeeping — hazards onsite are amplified when covered with snow. Piles of material, tools or debris should be organized or tarped. Maintain an organized site.