A GoFundMe page has been set up for an EllisDon foreperson who was struck and seriously injured by an alleged impaired driver while on the job in Toronto around 12:30 a.m. on Feb. 10.
Graeme Reed, a member of LIUNA 183, was hit while working a night shift on a civil job on Allen Road in Toronto.
His wife of six months Taylor Reed said the first two weeks after the incident were filled with anxiety and uncertainty as doctors performed multiple operations. Injuries included fractures on his right knee and fibular head, four damaged ligaments, five broken ribs, a lumbar spine fracture, punctured lungs, multiple pelvis fractures, a hip fracture, concussion and eye wound.
"The first two weeks were very, very emotional waiting for answers and waiting for surgeries," said Taylor. "Things have started to level out now where we have a little bit more progress."
Graeme is a graduate of the University of Guelph where he was a captain of the football team. He has been working in construction as a surveyor, drywaller, homebuilder and other trades for over 10 years, said his wife. Once he joined LIUNA and started working for EllisDon on civil jobs, she said, he set his sights on becoming a foreperson within five years and reached that goal in three.
"When he met that goal, he worked very hard. He never once complained about work. He was so excited to go to work, so excited to be around his co-workers. His personality is so infectious," said Taylor, who met Graeme in 2019.
"He really enjoys his job. He is really proud of having a pension, his benefits, being able to provide for us."
The police report said Reed, 37, was working on the left shoulder of southbound Allen Road at the Viewmount Avenue overpass. Neither north- nor southbound traffic was affected by the construction. 
The driver of a 2009 Volvo XC90 was travelling southbound on Allen, lost control of the vehicle and struck Reed.
The driver remained on the scene. A 35-year-old Toronto man was arrested and charged with impaired operation of a vehicle causing bodily harm and impaired driving with a blood alcohol level above the legal limit.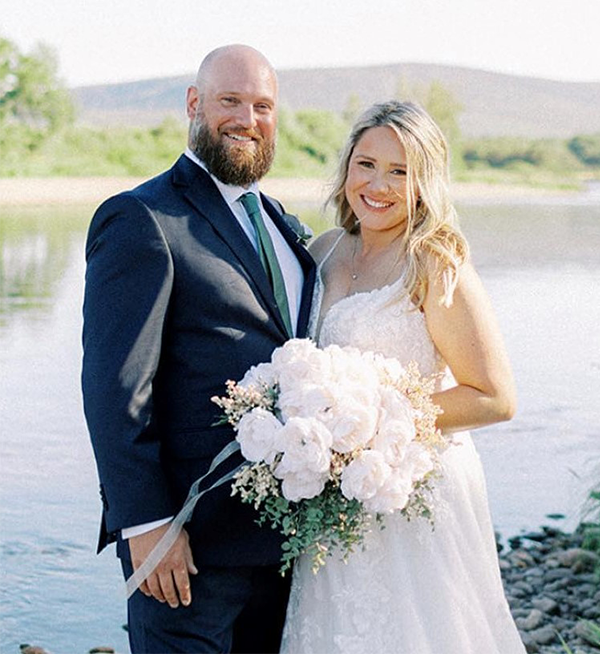 Taylor said she is most upset about the alleged impaired driver, while her husband has been talking about regaining his ability to walk — it's been estimated he won't be able to even put weight on his left leg for three months — and some day returning to work.
"He's in good spirits. He's a very positive person. He talked to a social worker a few days ago and that really helped him address some emotions."
The GoFundMe page was launched by Devin McAndrew to help the Reed family through future days of "uncertainty."
"Many of you know him as the loud and energetic foreman, who is always willing to provide a helping hand in any way he can. The safe and attentive foreman who is always cognizant of the dangers of our work and his duty to ensure his crews go home safe, every night," stated a post.
"This option was unfairly taken from Graeme."
The latest reported total raised was $41,247, out of a goal of $50,000.
Taylor Reed has a background working in construction herself and once worked for EllisDon. Her father recently retired from the firm and her uncle also was employed by EllisDon. Graeme and her father often talk shop.
"That's what motivated Graeme to get into that company," she said.
"He saw how successful my dad was with his time there."
EllisDon has not yet offered comments on Reed's injury nor on the circumstances of the Feb. 10 incident. Taylor said Graeme does not remember anything about the night of the incident, but it has been determined he does not have a brain injury.
"He's very ambitious and he does love his job and he really would like to go back to that," said Taylor, who noted his employers have been very supportive and encouraging.
The Ministry of Labour has reported that one requirement was issued to EllisDon and that its  investigation continues.
The Reeds live in Bowmanville. Taylor said she received a knock on the door at 4 a.m. from Durham Police and feared the worst.
"We talked about it frequently because there's always people who drive horrifically around construction sites without any concept of their actions. He will tell me stories of how someone hit a pylon or how someone was close to hitting one of his guys one day," said Taylor.
"People are very reckless on the road and not mindful that the people working on them have families."
Follow the author on Twitter @DonWall_DCN.