Tracey Csordas, who lost her brother Bryn Stoneman in a workplace incident in August 2020, says the best thing she can do to keep her brother's memory alive is to share his story with others.
"I can't bring Bryn back," Csordas said. "If all the love in the world could bring him back, he would be back here in a heartbeat because we are all lost without him, but I can't. So, to honour him, I know him and I know how much he cares for other people so I know that if sharing his story gets somebody to listen and it makes an impact and it could possibly save a life that's why I really wanted to start sharing my story."
Stoneman and his brother Michael were dismantling the old Blue Bird Plant in Brantford, Ont. on August 17, 2020.
"It's this great big structure and has a steel roof and it has skylights on it, but the roof was so old that it was rusted," Csordas explained. "Bryn walked across a skylight and it cracked and he just fell through and he was killed instantly."
He was 46.
Csordas said she remembers the day of the incident like it was yesterday. As a property manager for social housing, she was working in Mississauga when she got a call from her mom.
"(She) was calling and I was like my mom probably just wanted groceries or something because we had grounded her during COVID," recalled Csordas. "She kept calling and I remember being in a Zoom meeting and leaving, answering and saying, 'Mom, I'm in a meeting.' She said, 'You've got to come to the hospital, Bryn's been hurt and he's on his way to the hospital.' I understood the seriousness of it by my mom's tone."
When she was a block away from the hospital she got a call from her brother Michael who had witnessed the incident.
"(He) called to say to me, 'you have to go to the hospital and tell mom that Bryn is not coming in the ambulance,' because my mom was at the hospital waiting," said Csordas. "He was in shock because he was up there on the roof with him and he saw everything."
Although the brothers did ask for safety equipment they were told there was none onsite.
After she told her mom the news that her brother was gone, it hit her.
"The police were arriving at the hospital and I knew the officer and he said to me, 'Tracey, please tell me you're not a Stoneman.' I said 'I am.'
"That's when it hit me and he had to grab me and stop me from falling," Csordas said. "It was just that moment where I didn't even know where I was or what was happening."
Later in the day Csordas told her friend she needed to go to the scene of the incident.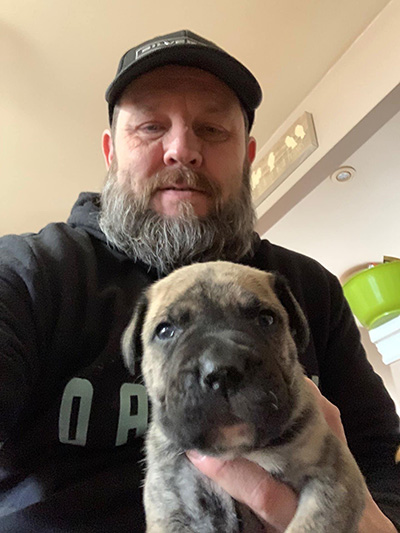 "I just remember saying to my friend I need to go there because he can't lay on a concrete floor alone, I need to go and lie with him," she said. "They wouldn't let me in. I did go. I sat in the parking lot…Somebody needed to be there with him."
Bryn was a long-haul trucker and was home training a puppy when he decided to take a job dismantling the factory with his brother.
"He always took his dogs with him trucking. He loved his dogs," Csordas said, adding he also loved cars, particularly Chevys.
"I miss his laugh," Csordas stated. "I miss being able to see him every day. I miss being able to walk by his house with the dogs and stop and chat with him on the front lawn. The hardest part…was walking by the house and picking up the phone and not being able to have him on the other end of the phone."
Two-and-a-half years after the incident, the investigation is still ongoing.
"A little over a year after the accident happened they laid charges against three entities: a company, a numbered company and a supervisor," said Csordas.
A friend gave her a Threads of Life pamphlet the day after her brother was killed but she said it took a while for her to realize she needed help and support.
She reached out last summer to volunteer for the Speaker's Bureau and did the training in November. She also took part in the family forum in September.
"What a pivotal turning point in my healing process that was," Csordas said, adding the sessions gave her strategies and techniques for coping with the grief.
She has a message for others: A life is more important than a paycheque.
"Nothing can replace you at that dinner table," Csordas said. "Make sure you ask for the safety equipment you need or you ask for the training that you need and don't be afraid to ask.
"People should not be afraid to stand up for themselves and for their lives."
Follow the author on Twitter @DCN_Angela