Choice.
That was the message health and safety leaders who are part of the League of Champions (LOC) brought to the Work Safety Leadership Seminar at George Brown College's (GBC) Casa Loma campus recently.
In a gym packed with students, leaders shared tips for ensuring their workplace is safe.
"It's all about making choices," said Craig Lesurf, co-founder of the LOC. "The biggest thing you have is the choice to refuse unsafe work…You don't have to get killed for anyone."
Lesurf encouraged students to be proactive about their safety.
"Everybody has the power to do the research," he said, pointing out most people have a cellphone and are able to easily access information. "When you are looking for a job, find someone with a good safety record. Question whether or not you are with right company. You can't settle on your future."
He said that he often hears young people say they felt forced to do something unsafe or that they were told "do it or else." Most people depend on that paycheque and feel they can't refuse or say no.
"How are you going to make money when you're dead?" he said.
Lesurf said many people have stories of close calls and not just at the workplace but also at home.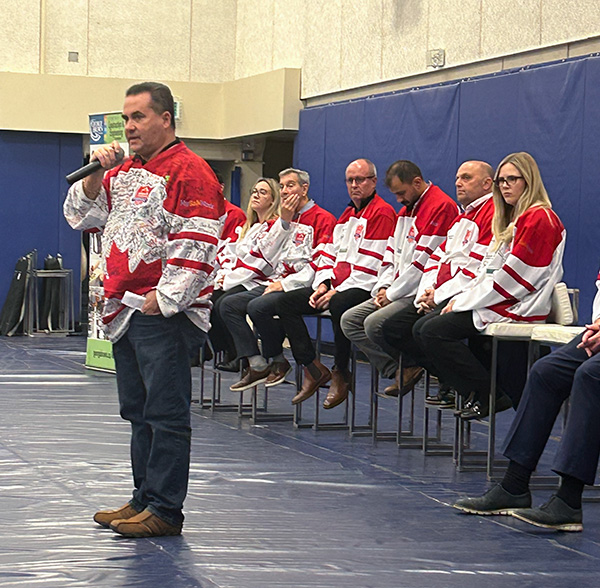 "It literally happens in a moment where someone can get hurt," Lesurf said, adding all it takes is a momentary lapse in judgment.
Dan Fleming, chair of the LOC, said construction workers often do what is considered dangerous or risky work. Most workers, especially those with a lot of experience, have taken risks on the jobsite at some point. The key, he said, is "knowing what level of risk you are taking and putting controls in place to take care of that."
Some of the other recommendations to students were to ask questions during the interview process, look out for and help new and young people onsite and look for companies with a health and safety management system in place like the Certificate of Recognition (COR) program.
Many of the leaders shared tragic stories of people who lost their lives in workplace incidents.
Enzo Garritano, president and CEO of the Infrastructure Health and Safety Association, said having to return a worker's belongings to their family is not something he wants others to experience. He also talked about Threads of Life, which helps families who have lost a loved one in a workplace tragedy.
GBC was the first post-secondary school to join the LOC.
Dr. Adel Esayed, dean of the centre for construction and engineering technologies, thanked the leaders for taking the time to speak with students about workplace safety.
"They are here to share their experience with you," Esayed told the students. "We want you to be safe in the college and when you leave the college."
Dr. Gervan Fearon, president of GBC, said safety is a priority at the college and it's a shared responsibility, something that is achieved together.
"It's not just ourselves, it's also what we do together," he said. "It's not only what you do in the classroom but what you do in the industry."
The event concluded with students asking questions and signing LOC jerseys to show their commitment to work safely.
Follow the author on Twitter @DCN_Angela