The Labourers' Pension Fund of Central and Eastern Canada (LPF) is undertaking its second venture in Hamilton's downtown core with a massive new development comprised of two 30-storey towers proposed for over half an acre of land for a total project value of over $300 million.
"This is an investment from our pension plan," explained Joe Mancinelli, Labourers' International Union of North America (LIUNA) international vice-president and regional manager and chair of the LPF.
"Our pension plan has a number of alternative funds from real estate, to a development fund, to a conversion fund. This is a project being done under the conversion fund and that is a fund that takes commercial properties and converts them into residential properties."
The first downtown Hamilton project the LPF invested in was the William Thomas Student Housing Complex, a 400-bed residential student building that involved blending a new building with a historic one.
Mancinelli said the new development is significant because of its size and the many benefits associated with it.
"We've done quite a bit of homework on this," he said. "The return we're anticipating to be pretty strong so it's a great investment for the pension plan.
"The other returns, of course, are not as tangible but they're significant. We're creating a lot of work, construction jobs as well, many of them for members of LIUNA but, of course, they are construction jobs for many other trades as well that will be created during the construction process."
The city will also benefit, he added.
"Once you're housing thousands of people in those structures, pouring out into the sidewalks and the core of the city, that's a pretty significant economic development tool as well."
The project team includes the Hi-Rise Group (project managers); Graziani & Corazza Architects Inc.; Urban Solutions Planning & Land Development Consultants; and Bryan McWatt, president and CEO, Bryton Capital (manager of the LPF Conversion Fund).
The new development will be located on the southeast side of Hughson Street North between King Street East and King William Street, the former site of Kresge's Department Store and Delta Bingo. As proposed, it would include approximately 500,000 square feet of residential space contained in two 30-storey towers resting on a five-storey podium, with approximately 20,000 square feet of retail space on both King Street and King William.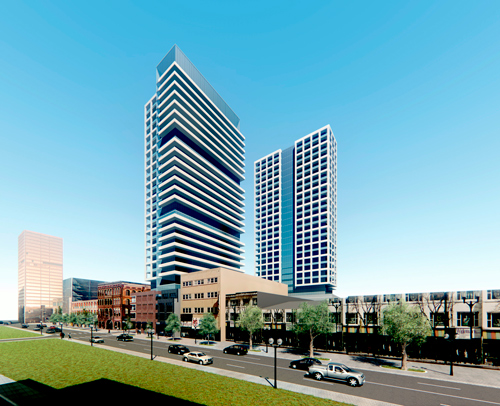 "One tower will house condos and those condos will be on the King William side and the other tower on the King Street side will have renters," explained Mancinelli.
"The condos are going to be sold and we envision keeping the rental component including the commercial retail. Rentals seem to be attractive nowadays because the price of housing has gone up substantially so rentals are in demand as well."
Mancinelli said while the street elevation of the building is designed to reflect the heritage look, feel and scale of buildings in the core, the two towers will feature a more contemporary architectural design.
"What we will incorporate on the streetscape is a traditional look so that folks feel fairly nostalgic when they see the streetscape. It will be really nice with some heritage type features but the towers are going to be fairly modern and avant-garde, new, fresh, leading-edge architecture," Mancinelli explained.
The development is currently in the rezoning stage from commercial to commercial/residential. While the City of Hamilton has been "good to deal with to date," going through the approvals process at city hall is always a bit challenging, especially when it comes to the time frame, Mancinelli added.
"I think you just have to be patient and go through the process," he said, admiting he would like the process expedited.
"We would love to build 35 storeys but I don't think they're going to give us 35, I think they'll give us a maximum of 30 storeys to build which is still significant but those are the challenges of negotiating with the city…I feel fairly optimistic that we'll get this done in a good time frame."
Demolition and environmental work has been completed on the site, Mancinelli reported, adding architects have also done some design work. The project will not be tendered out until drawings are finalized but Mancinelli said he is hopeful construction will begin next summer.