Toronto's first office building constructed of wood under the 2015 amendments to the Ontario Building Code will be on the rise early next year in the west end neighbourhood of Liberty Village.
The project, known as 80 Atlantic Avenue, consists of four-storeys of nail-laminated timber (NLT) — two-by-eight and two-by-10 lumber nailed together — with glulam beams and columns above a one-storey concrete structure. The elevator core and stairs are reinforced concrete.
To build the unusual structure, a mockup was created.
"When you are innovating, you want to make sure everyone understands what you are doing, what you are building, how it goes together and what the esthetic expectations are," points out Michelle Xuereb, project architect with Quadrangle.
"The mockup allows us to work out any of the challenges of construction ahead of time," adds Ryan Desjardins of Eastern Construction, who is the construction manager. By comparison, steel and concrete construction is straightforward because "you have tried and true methods."
He says the mockup represents "the entire structural bay of a key corner of the building…including a cantilever."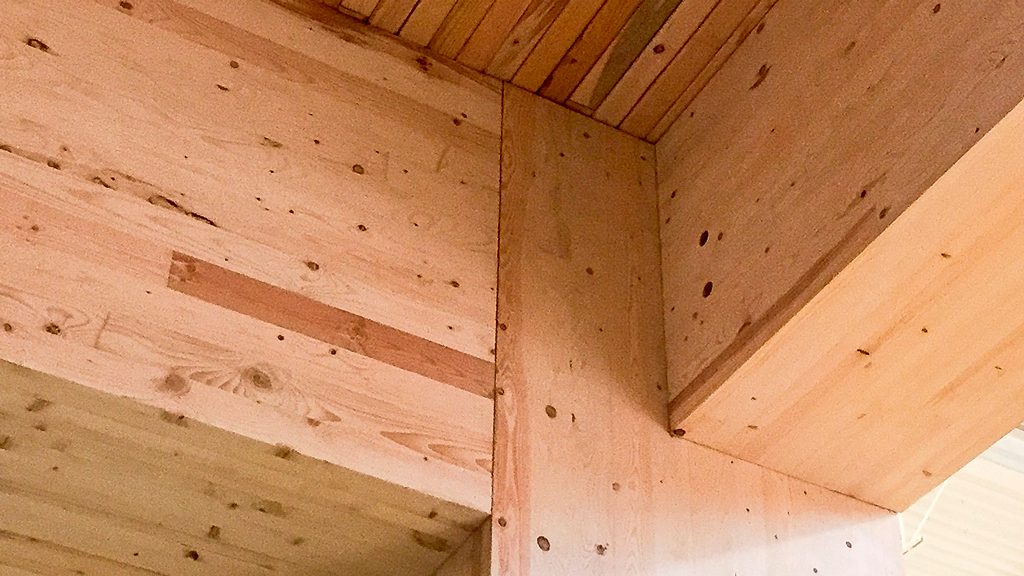 Along with illustrating the NLT, columns and beams in connection, the mockup also reveals how the curtainwall, windows, exterior structural studs, rainscreen cladding, access flooring and other elements of the building assembly meet and connect with the wood, says Desjardins, adding the mockup is being developed in phases as construction progresses.
The original building plan called for cross-laminated timber but NLT was preferred for cost and esthetic reasons, he says. NLT consists of lumber stood on edge, sandwiched together with nails to form panels.
Construction of the wood structure early next year should go up "relatively quickly, similar to a precast concrete structure where you are lifting large components into place, one at a time. A lot happens in a short time," Desjardins says, noting the wood structure is scheduled for completion next spring.
Timmerman Timberworks Inc. is the installer and design assist firm working in collaboration with RJC Engineers. The glulam columns and beams are supplied by Nordic Structures.
The exterior features a thinset porcelain tile on an aluminum honeycomb rainscreen backing.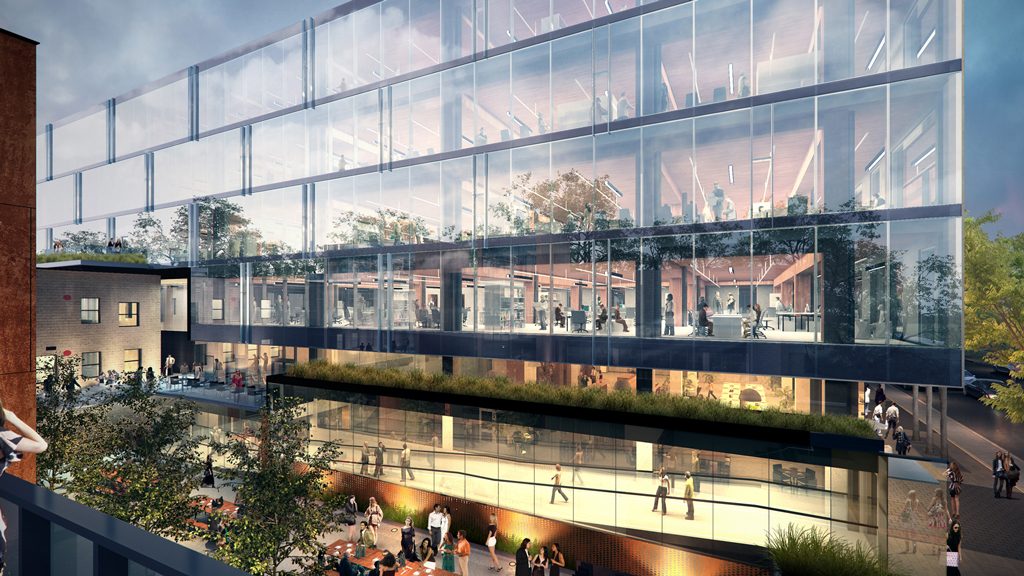 The south facade incorporates "high-visibility glazing" allowing passersby to see wood features inside the building, says Xuereb.
Calling it "the modern brick and beam building," a reference to late 19th and early 20th century brick and beam buildings, the architect says new technology allows the skin (facade) to be separated from the structure.
"We're taking our cues from a heritage building but it is designed in a very modern way," says Xuereb.
Desjardins says the College of Carpenters and Allied Trades' (CCAT) offered its training centre in Vaughan, Ont. for the mockup assembly.
"It gives us an opportunity to collaborate with them…Their carpenters (members of Carpenters' Local 27) will be increasingly involved in this type of construction in the future," he says, adding a lot of planning was involved in getting 80 Atlantic Avenue to meet the city's approval.
It is a misconception that heavy timbers are "a highly combustible material," says the builder.
In a fire, a char layer forms on the timbers that insulates the bulk of the wood from the effects of a fire to meet fire code standards. There are three types of wood construction: panelized, stick frame and engineered heavy timber.
The project's developer is Hullmark. Desjardins says Eastern Construction has been in discussion with other developers proposing woodrise buildings.
"We get phone calls pretty regularly about this type of construction," he says.
Xuereb says climate change is an important consideration in architectural design and wood buildings like 80 Atlantic take that into account.
"To me this is one of the solutions for the future," Xuereb says.
"It is the only renewable structural material we have…some people see it as a very good climate change solution."