Flying under the radar in an era when Metrolinx is spending billions on light rail transit (LRT) and many multiples of billions on GO RER electrified rail, the City of Mississauga and Metrolinx have wrapped up their 18-kilometre, 12-station Bus Rapid Transit (BRT) project.
The Mississauga Transitway was completed with the official opening of the Renforth station at the eastern end on Dec. 18.
The east-west corridor starts at the Winston Churchill station near the Oakville border and combines new dedicated roadways with reserved lanes travelling alongside Highway 403 for a portion of the route as it heads east, continuing to the City Centre transit terminal at Square One mall and eventually parallelling Eglinton to the Renforth stop, where there are connections to such hubs as Pearson airport and the Bloor-Danforth TTC subway line.
The corridor will be used by municipal MiWay transit, Metrolinx's GO buses and the TTC. Metrolinx is the owner of the Winston Churchill, Erin Mills and Renforth stations among the 12.
Construction started in 2010 and proceeded in phases with the first four stages opening in November 2014.
Scott Anderson has served as the manager of Transitway construction for the City of Mississauga since 2007 and said he initially thought BRT was inferior to LRT, but came around to understanding each system can be a good fit depending on circumstances. BRT, of course, is considerably less expensive, he noted.
"The great benefit that I see with the busway, you are able to use sections of it, and buses can get on the section and off, whereas the LRT is very linear, you are going from one end to the other, and it doesn't allow for flexibility," he said.
LRTs are more appropriate for highly dense corridors, said Anderson.
MiWay transit director Geoff Marinoff said in a note another advantage of BRT is that it can be opened in stages.
Examples of flexibility, he said, are "express services that run exclusively on the Transitway or local services that travel on the Transitway for a time and then leave to serve a neighbourhood or business park. Connectivity at the stations to the local network is key."
Another key is a high-frequency schedule, Anderson said. At peak times there will be 25 buses per hour at the City Centre, Dixie and Renforth stations with time savings estimated at 15 minutes on a trip from the Winston Churchill to Renforth stations.
Five million rides are expected annually on the Transitway and Marinoff said statistics indicate this goal will be achieved or exceeded.
The final cost surpassed initial estimates and the City of Mississauga has calculated its portion of the build at just over $328 million including land acquisition.
The major funders were the Government of Canada, $59 million; Metrolinx, $31 million; the Government of Ontario, $64 million; and various municipal sources, just above $174 million.
Metrolinx spent additional funds on its share of the project.
Among contractors and consultants, McCormick Rankin was involved early on and the firm's successors MMM Group and WSP continued to provide consulting expertise. B. Gottardo Inc. was awarded the contract for the first phase of construction and Dufferin Construction worked on later phases and also undertook the Renforth station for Metrolinx.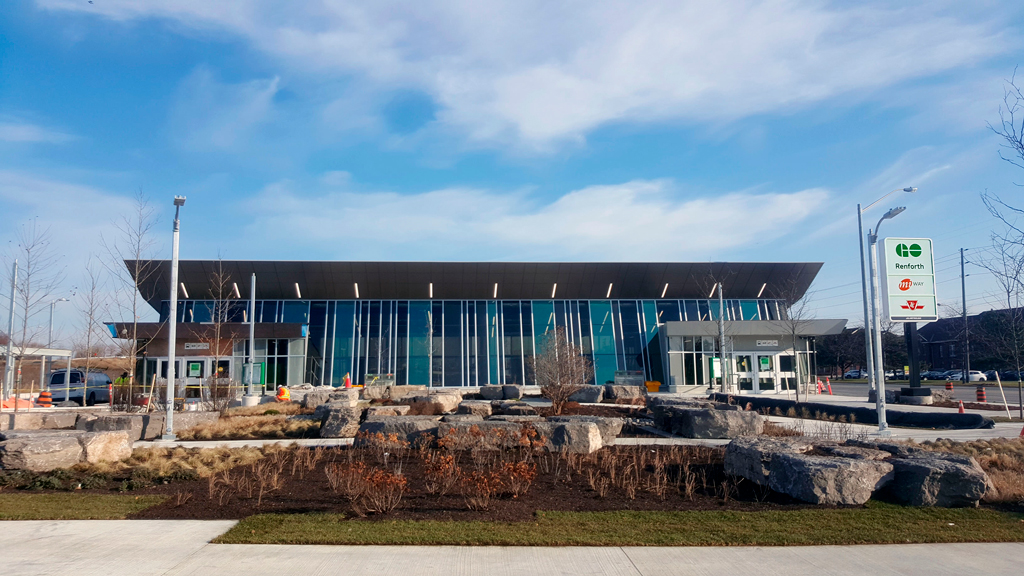 Anderson acknowledged extra costs and delays from the earlier versions of plans and attributed them in part to constant encounters with utilities and problems dealing with soil conditions.
He said the problem with utilities is there are so many operators and while aboveground systems are easy enough to deal with, when they are below ground operators can guarantee horizontal profiles but not depth. Even along the 403 there were pipelines to contend with.
A notable instance of cost and delay occurred while building the Tomken station, Anderson said.
A pipeline located along the back wall was found to be considerably higher underground and closer to the station footprint than anticipated. It required a major redesign.
"There is always a cost involved when you get into redesign, and the cost of the work to do it," he said.
As for soil conditions, Anderson said crews found a lot of shale. There was no blasting but the use of jackhammers, for example, in busy corridors meant extensive consultation with landowners.
One laser eye surgery clinic along Eglinton had continuous project monitoring with low tolerance and whenever vibration thresholds were exceeded an alarm would be sent to constructors. Construction and eye operations were co-ordinated.
The stations are unmanned, with paging systems and security cameras onsite to provide security and assistance.
IBI served as station architect and Anderson said "they did a great job," with emphasis placed on design esthetics which, he said, have been shown to generate respect among users.