Cannabis producers have a tough problem.
Waste vegetation at growing operations is composed of rigid fibres that are difficult to break down, while any resulting process water may not meet the level of quality required to discharge it into municipal drains. The result: organic waste material is often trucked to municipal landfill sites.
Vancouver's Micron Waste Technologies Inc. aims to solve that problem with a modular system that pretreats plant waste and produces water that will meet municipal effluent discharge standards. Aurora Cannabis Inc. was so impressed with the company's technology that it recently completed a strategic investment in Micron that will see both companies work to optimize the technology for cannabis production.
Micron was founded in 2015 by Bob Bhushan, a wastewater veteran with expertise in processing food waste. Typical technologies for organic waste include grinding, digestion through enzymes and microbes, and ultraviolet light (UV) to kill bacteria.
"The end result of those processes is an organic sludge that is often forced down the drain, passing the problem down to the wastewater utility," says Alfred Wong, who is responsible for corporate development at Micron. "Effluent standards were designed to prevent bad actors from dumping this sort of waste down the drain."
Micron's value proposition is providing a complete wastewater plant, including a digester, mechanical processing, and UV treatment inside a standalone unit delivered to the client. The company promises all water produced during its optimized process will meet local effluent discharge standards.
"We're not revolutionizing the industry," says Wong. "We're taking existing solutions, improving on them and adding water treatment. The dry material that was once sludge will be reduced to about five per cent of its former volume — it most resembles sand with a little moisture in it. That small residual can be landfilled or used for other purposes."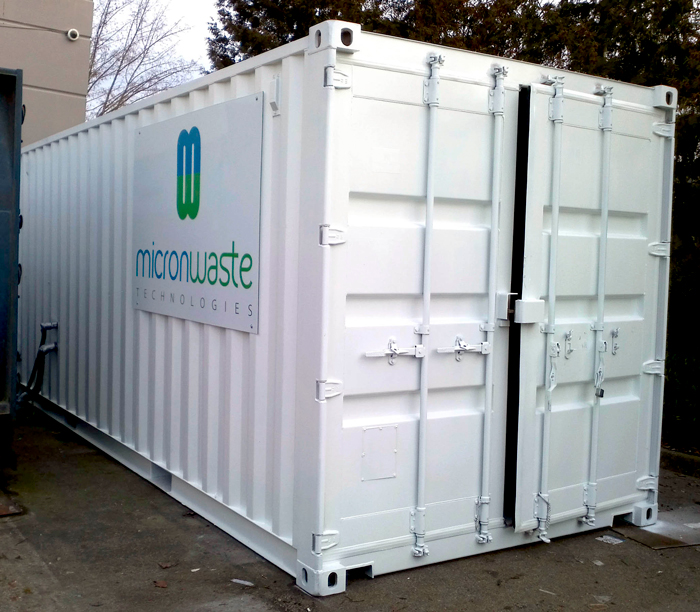 The technology was first successfully demonstrated in a pilot project for a British Columbia supermarket chain, part of the company's strategy to perfect its equipment in key industries before going to market.
While that unit was housed inside a 20-foot shipping container with room to spare, Wong envisions next-generation units will be built on mobile trailers as small as eight by 10 feet. The units will be remote monitored and will require little work on the part of the user, except inserting organic waste. Micron will renew enzymes and microbes in the units every two to three months.
Aurora previously attempted a year-long pilot to compost cannabis waste in a 53-foot trailer with little success.
Micron is currently assembling a prototype unit, complete with a grinder to break down tough stalks, for delivery to Aurora's facility north of Calgary. Aurora also has a financial stake in the success of the pilot. It will receive a royalty for any unit sold to licensed cannabis producers worldwide.
"Disposal of cannabis waste is a challenge to which there's not currently an optimal solution," says Cam Battley, chief corporate officer with Aurora Cannabis, who is now a director with Micron. "There are a number of ways accepted by Health Canada for the disposal of cannabis waste, including incineration and shredding. Believe it or not, the only method prescribed in regulations, which was published prior to the Access to Cannabis for Medical Purposes Regulations, is to take waste cannabis and mix it with kitty litter so it can't be used."
Micron and Aurora teams will be working at the Alberta facility to develop the most effective microbial mix to quickly break down cannabis waste.
"We want to validate that the Micron digester unit, optimized for cannabis, will be able to handle the toughest elements of the cannabis waste," says Battley. "We believe it could be a more elegant, more environmentally friendly and more economical solution that would be good for the cannabis industry as a whole."