MONTREAL — Three partners in Montreal's Quartier international project have unveiled plans for a $200-million condo project.
Cogir Real Estate, DevMcGill and the Fonds immobilier de solidarite FTQ announced the condo phase of the Humaniti real estate project in a recent media statement.
The Humaniti project will be built in an area bordered by Viger, de Bleury, de la Gauchetiere and Hermine streets and will be the final component of the Quartier project.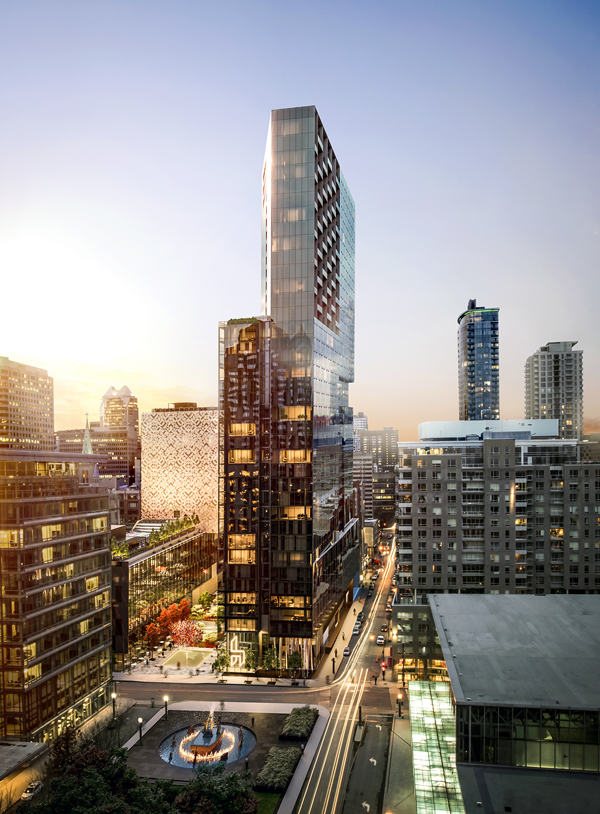 The project will target LEED and WELL certifications, a first in Quebec, said the developers.
The 158 units will range in size from 400 square feet to 3,000 square feet, and will be located on the upper floors of the Humaniti project's large vertical tower.
Amenities for residents include a swimming pool and sky lounge, private elevators and parking as well as access to the services offered by Marriott's Autograph Collection Hotel, including a fitness centre, spa, housekeeping, concierge service, valet service, laundry service, meal service, a business centre and a shared work area.
Lemay is responsible for the architectural design of the condos.
The units went on sale April 26 and the first deliveries are scheduled for summer 2020. The project is expected to create 1,700 jobs, the statement indicated.
"The Cogir Real Estate and DevMcGill teams are combining their respective expertise and know-how to build a 'smart vertical community' where people can live, work and socialize in a high-quality, sustainable living space," said Stephane Cote, president of DevMcGill, and president of development for Cogir Real Estate, in the statement.