After four years supervising the construction of models of thousands of Canada's most notable structures and sites, Our Home & Miniature Land co-founder Dave MacLean has gained a new appreciation for the complexity of some of the nation's iconic buildings.
"There were 22 types of stone used on the Parliament buildings," said MacLean in an interview. "These are the fun things you get to know.
"Building structures, even in miniature, takes a tremendous amount of time. Building the Parliament buildings, we put 3,500 hours into that. The Rogers Centre with a fully operating roof took 2,500 hours.
"Right from concept to design to fabrication and the assembly, there is such phenomenal detail that has to go into them."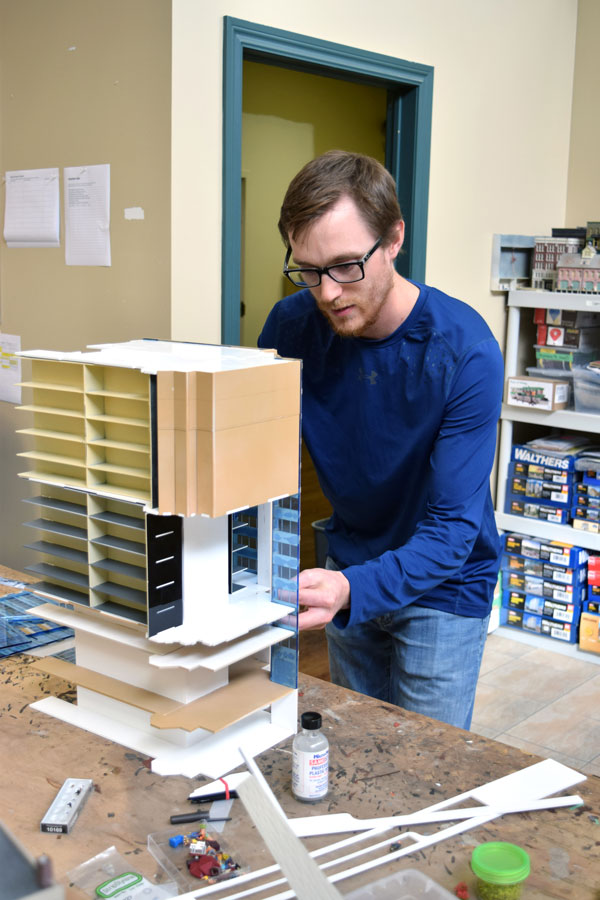 MacLean and Miniature Land co-founder Jean-Louis Brenninkmejier recently announced they plan to secure a prime property in downtown Toronto this fall with enough space — 40,000 to 50,000 square feet — to house the thousands of miniature buildings, streetcars, bridges, heritage structures, flora, fauna and more that their team of designers, engineers, artists and computerization and electronics specialists has been assembling in workshops in Mississauga since January 2014.
MacLean said he and Brenninkmejier are certain they have a winner, with the potential to attract hundreds of thousands of tourists per year. Another miniature world in Hamburg, Germany has been declared the number one tourist attraction in the country by one travel website and one in Times Square is a major hit.
The plan for Our Home & Miniature Land is to open to the public around March 2020 featuring six "destinations" — Toronto, the Golden Horseshoe, Ottawa, Quebec City, Niagara Falls and the North — with additions to come in future years.
MacLean is a civil engineer who worked on highrises in downtown Toronto so he speaks with experience when he compares creating Miniature Land with larger real-life structures.
"There is a similar process," he said. "There are no trades, no mechanical, but there are elements of it. You need to make it strong enough to stand up, you need a team that builds architectural features. If the building is lit you need a whole electrical infrastructure that goes in. You need road infrastructure, rail infrastructure.
"So there is a blend between civil engineering and architecture. And there is a need for a lot of creativity as well."
The typical scale sought is 1:87, but with structures such as the CN Tower, a smaller version, 14 feet high, had to be built just to enable it to fit into the workshop. The team relies heavily on architectural modelling supply outlets and other modelling sectors — model train enthusiasts have proven to be huge supporters of the project, and a source of volunteer workers — but most structures require further customization so the Miniature Land designers draw up the extra features in autocad and the sections are output on an in-house laser engraver.
Other structures are created in autocad from scratch.
For the Parliament buildings, Miniature Land obtained plans from the government in CAD format but that was just the beginning of the design challenge, MacLean said. The drawings had to be modified and deconstructed to start the process.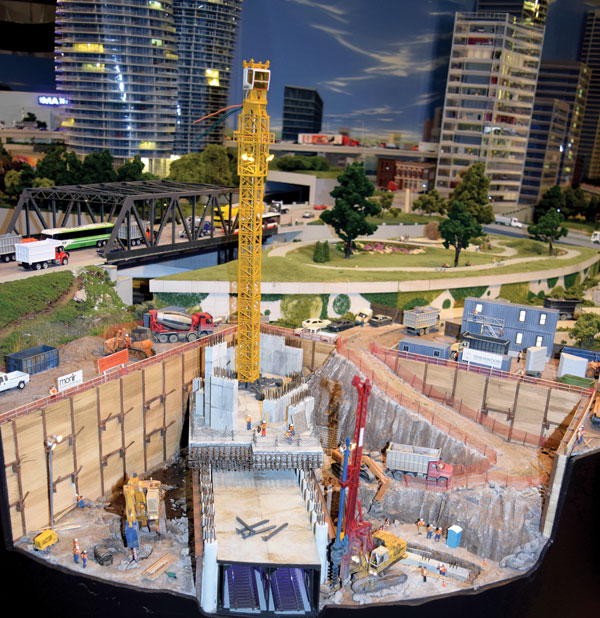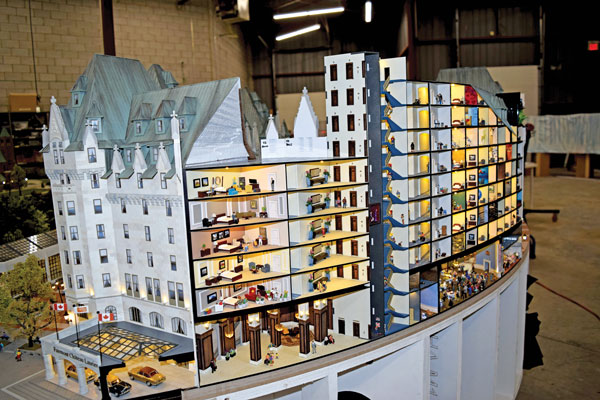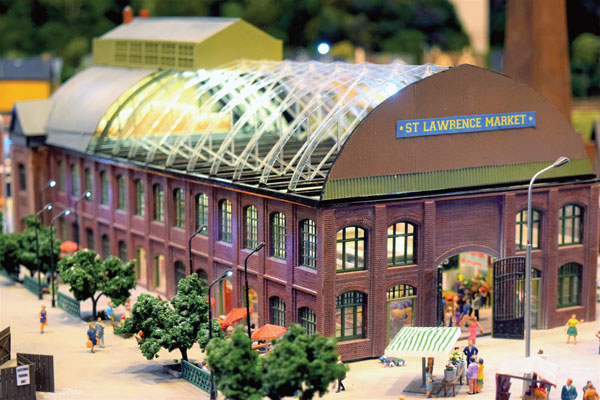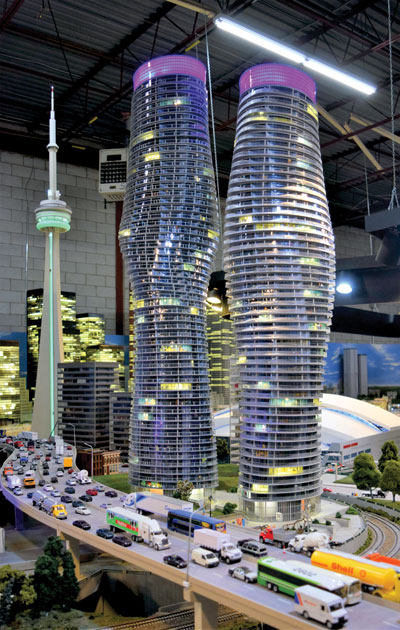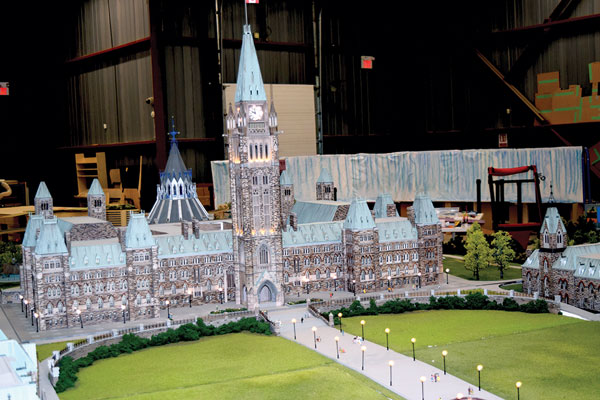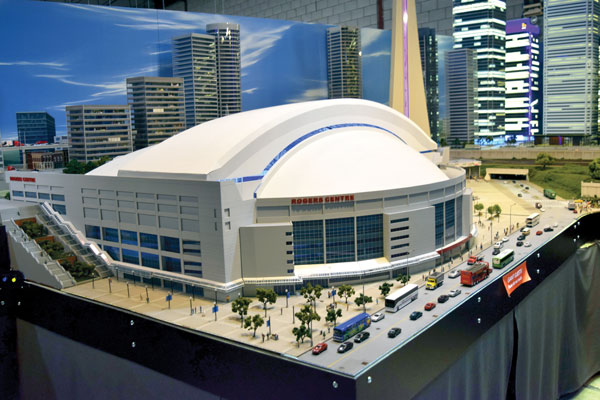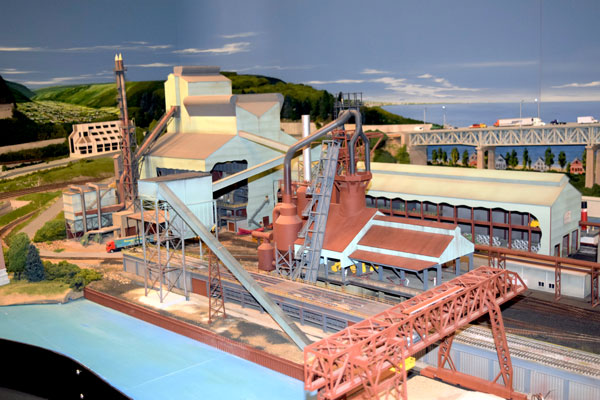 "It is one thing to have a drawing, then you have to actually design something that can be made into a miniature and assembled," he explained. "There is quite a process around that. It took one of our designers many months to create the drawings that we could fabricate from."
Four buildings in the Parliamentary precinct were recreated. The laser engraver was kept busy transforming eighth-inch medium-density fibreboard sheets obtained from an architectural model supply shop with a pattern resembling the stones on the Parliament buildings.
Camille Wodka has two functions for Miniature Land, in marketing and modelling. She spent seven months painting the bricks on the Parliament Hill models.
"We should have counted, I would love to know how many bricks there are," she said while leading a tour of the Miniature Land warehouses.
Giving life to the displays are lighting schemes and animation, with numerous cars, trucks, streetcars and GO trains traversing the Miniature Land landscapes. The Chateau Laurier model, created out of 700 printed pieces and completed this summer, features 473 LED lights in total while the downtown Toronto towers contain many thousands.
"Animation is one of the hardest things," said MacLean. "Using model trains, that is easy to animate because the system is relatively simple and the product has been around a long time. What gets hard is when we have cars and trucks, autonomous vehicles."
The trains are operated using a digital command control system familiar to model train operators. The autonomous vehicles are controlled through a GPS-type system, MacLean explained, that triangulates where the vehicles are. Then a third system, using magnetics, enables individual pieces to move.
MacLean said about $5 million has been spent so far on the project with "significantly more" to come before Miniature Land opens to the public downtown.
For a video showcasing Our Home & Miniature Land, click here.